The 2018/19 season is great. Snow levels are over the top this year.
Did a quick video of the ski conditions on Vail Mountain on December 23, 2015. Here's what we found. With Mother Nature's help the powder will keep dumping on us this season.
Considering a different ski area?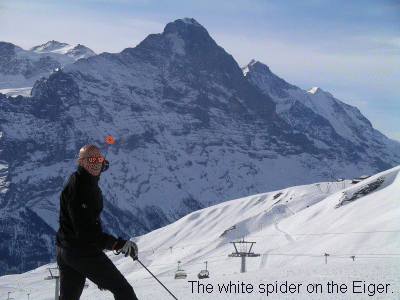 Here's a review of a 2001 trip to our sister city of St. Moritz.
You've connected to a specialized site based in the Vail Valley.
If you're headed up here snow sliding this season and new to the area, start with our Vail Mountain Insider page
There's extensive ski area information in the winter months including a daily snow report , slope grooming, "What's Open Today", lift status update, and views of snow conditions and web cams on the hill
You can read a few equipment suggestions, check out some ski tips, and see a skier's exercise program and also select from a compilation of skiing videos of friends and ski clients.
Sometimes we fly fish a bit in the cooler months too. Here's our fishing updates page with other reports going back into the 90s as well.
In 2002 we visited Whistler. That was followed by a 2003 vacation to Taos.
Europe and Grindelwald, Switzerland was the ticket for 2004 repeated in 2007 by a trip to Lech, Austria.
We stayed in the states in 2005 doing the "Colorado 5 in 5", and then traveled to Montana and Wyoming in 2008.
In January, 2009, we were off to Snowbird, Solitude, and Deer Valley in Utah.
Boot Fitting Technology -Then and Now
Just for fun compare the custom Strolz boot fitting done In Lech, Austria in 2008 in the upper video -
- to the latest technological advance below - an Ertlrenz fitting done in Vail in 2012.
Both operations produced great fitting boots - albeit at fairly tasty prices.
(Here's a note about this product in March of 2019. Apparently there are some servicing problems from Germany about the Ertlrenz boots. Stay tuned.)