You're connected to a "we like to travel" site based in Vail, Colorado.
There's extensive local ski area information during the winter months including a snow report, lift and terrain status, and the daily grooming report. Take a look at the mountain web cams - or those in the town itself.
To get a heads up on the current weather conditions click here.
Skiers and riders do not need to use the reservation system for Vail and its sister resorts for the 2021/22 season as it has been at least temporarily discontinued.
Winter sports are always on our mind, but sometimes we do a bit of fishing this time of year as well. You might find some interesting outings on our fly fishing update page.
The Mountain
Our 2022 season is finally getting some great snow after a somewhat slow start.  Here's a helmet video cam powder day at Vail.
---

Thinking about another ski area?

This is a review of a 2001 trip to Vail's sister city of St. Moritz.

In 2002 we visited Whistler. That was followed by a 2003 vacation to Taos.

Europe and Grindelwald, Switzerland was the ticket for 2004 repeated in 2007 by a trip to Lech, Austria.

We stayed in the states in 2005 doing the "Colorado 5 in 5", and then traveled to Montana and Wyoming in 2008.

In January, 2009, we were off to Snowbird, Solitude, and Deer Valley in Utah.

A view of the Eiger at the top of the Railway from Kleine Scheidegg to Jungfraujoch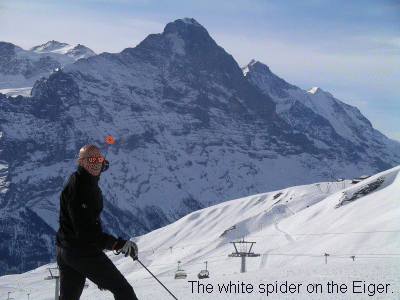 ---
Just for fun compare the custom Strolz boot fitting done In Lech, Austria in 2008 in the upper video -
- to a later technological advance below - an Ertlrenz fitting done in Vail in 2012.
Both operations produced great fitting boots - albeit at fairly tasty prices.(Here's a note about this product in March of 2019. Apparently there are some servicing problems with Germany about the Ertlrenz boots. Stay tuned.)

How about some international travel destination trip details and videos?

If you've ever thought about visiting Turkey,
here's the 2011 trip to that country
.

Or maybe Spain?

This was a 2012 fall visit.





Some great paella on the boardwalk in Barcelona.

A different path was the trek
to Croatia in 2013.
We were adrift at sea in 2014 on the way to
Polynesia.
For 2015 the fall trip was to Dubai and Mauritius - both very interesting .
Bucket list stuff - W Hotel in Barcelona and Emirates Palace in Abu Dhabi - July 2017.
In May, 2018, we visited Lisbon, and then hiked part of the Portuguese Camino de Santiago.
---
Even better are a number of world wide salt water fly fishing destinations
It was back to the Maldives in January. 2022 with a new twist - a motor yacht fishing trip. In April it was a return to Punta Pescadero Resort in Mexico.
2021 started well with a January visit to Atmosphere Kanifushi Resort in the Maldives. A return to St. Georges Caye in April was less successful. June's trip to Cocoa Plum was a mixed bag. I made another good, but solo trip to Alphonse in October, 2021.
In 2020 after a week in January's trip to Kiritimati (Christmas Island), the C19 virus shut us down until the fall when we traveled to Punta Pescadero in Mexico in September and Rancho Leonero in November.
2019 started out with a lousy lodging, but interesting fishing trip to Christmas Island in the South Pacific. In March we headed back to St. George's Caye for some decent tarpon hooking.
April took us to San Salvador Island in the Bahamas. June brought us again to St. Georges where the tarpon fishing was even better than in the spring. In July it was back to Kamalame
2018 began with a January trip to Swain's Cay in the Bahamas followed by Hopkins Bay in Belize in March, and St. Georges again in April. More fishing - Kamalame again in July of 2018.
In August of that year Rancho Leonero in Mexico. Last outing for that year was again at
St. Georges Caye
.
June of 2017's first trip was to Kamalame Cay in the Bahamas followed by a September week at our favorite place in the Seychelles, Alphonse Island.
March 2016 was the start of our many years of fishing destinations, first to El Pescador in Belize followed by a second visit to Belize in September to Banyon Bay.