Trip to Whistler - January, 2002
Sue & I had scheduled a vacation to Val d'Isere this winter, but my November meniscus operation caused us to opt out of that trip. As it turned out the knee skied just fine, so we decided on a short week at Whistler/Blackcomb (W/B) as a decent alternative getaway.
The following is a rambling narrative of our experience there. Some of the information may be of use to a prospective or near term visitor to the resort.
Getting There: We took a direct flight on United from Denver to Vancouver. Despite the short distance between these two cities, there's no way to avoid spending a complete day to reach the destination and/or return. Vancouver airport is quite user friendly and we had no difficulties passing through customs - in either direction. To get to Whistler we strongly advise using the shuttle bus system known as Perimeter. Getting from the airport to the ski area involves driving completely through downtown Vancouver and then traveling a twisty, winding two lane road in generally nasty weather. It's just not worth the stress to rent a car - particularly when the vehicle would be superfluous once you reach the village.
Another little known & definitely unadvertised fact is that if you do travel by rental car, once you get to the resort, you're faced with nightly parking fees at every lodging facility. and those fees can range from $10-20 per day. So leave the driving to someone else.
Accommodations: We did quite a bit of research ahead of time, both on the internet
and with travel agents. Given our basic requirement of being within walking distance to the lifts and in Whistler Village, we chose a package at the Holiday Inn Sunspree resort. It's not your normal H.I. The room had a full bath with oversized whirlpool tub, complete kitchen, dining table, large screen TV, and best of all, a gas fired fireplace near the queen bed. It ran roughly $100US per night & we'd highly recommend the place.
More upscale lodging directly at the lifts would be the Pan Pacific Hotel, the Westin, or the Fairmont at Blackcomb.
The Village(s): Whistler Village is very nice, apparently something of a knockoff of Vail Village. It's a brick paver experience of curved pedestrian walkways and actually it can be quite easy to get lost trying to find a specific shop, etc., given its convoluted nature and large size. I found the village to have an almost annoying "sameness" in each block of buildings. Every lodge and condominium complex seemed to have almost identical sets of shops and/or restaurants located within the commercial spaces. The ski and snowboard shops were particularly generic.
These village walkways are very popular during the day and through the night for that matter - we always knew when the bars closed at 2 in the morning from the sounds in the street six stories below our room.
We also walked through Blackcomb Village and skied once to the Creekside area. Blackcomb particularly seemed dead and quite frankly very sterile - even more so than our Lionshead Mall if that's possible. Retail and food service facilities were limited in this part of the resort. Creekside too appeared very quiet.
Dining: There's a decent variety of moderate and fine dining establishments throughout the resort. We had surprising difficulty in finding anyone who would strongly recommend one place or another. So we ended up doing our own research mostly by analyzing menus.
Given the historically strong Japanese tourist market, there are numbers of sushi and related restaurants. We tried one that was recommended - Sushi Ya, a spin-off from the more well known Sushi Village. The tempura was OK but nothing we'd choose to repeat. Cost was moderate.
One night we revisited a memory site from our earlier years - the Old Spaghetti Factory. It was exactly as we remembered it from 30 years ago. For $9.95Cdn there was bread, a salad, main course, and dessert, an inexpensive wine list, nice owners. The place was perfect. Eat early and avoid the crowds (& kids). We'd die & go to heaven with a restaurant like this in Vail. (How about in the old Chart House space?)
A really excellent lunch spot was Milestones. Red Lion sized portions and a very nice menu. Good prices. We did have breakfast at a nondescript place by our lodge & it was forgettable.
For a fine dining evening we did lots of research and were somewhat baffled about the perfect place to try. Our first choice was the often recommended Rim Rock Cafe. It was a $15 cab ride to the Creekside area, so we passed on that. We walked to Blackcomb and looked at the highly regarded La Rua & really didn't find the menu appealing. Eventually we simply walked around the village & went in Hy's steakhouse which did have a more eclectic menu (albeit pricey). Once inside we were turned off by the odor & atmosphere so didn't sit down.
Finally we ended up at a large, upscale restaurant called Araxi. Excellent staff, seating arrangements, and a great waiter made for a superb experience. We went the whole nine yards from the mussel appetizer through duck & steak and an excellent cheese plate for desert. A variety of good wines by the glass plus a bottle of cabernet & a wonderful ice wine at the end. We'd highly recommend it.
Shopping: OK, I'm not a great shopper, but I did trail along as urged. On balance we weren't overly impressed with what we found here - although the quantities of shops were high, the quality of what they contained was nothing special. The ski/snowboard stores were virtual clones of one another. Jewelry shops were generally unimpressive. The Plaza was the only art gallery of note. Some of the specialty clothing stores were interesting. The most fascinating thing is that these operations all must be doing fairly well financially. We didn't see one single space available for lease. Contrast that with the situation we have in Vail Village and Lionshead.
By the same token there really were no shops that could reasonably compare to a Gorsuch, Pepi's, the Golden Bear, or Kenny's. With the exception of The Plaza Gallery, no other art galleries were in the class of most of Vail's. Jewelry stores like Gotthelf's, the Squash Blossom, & Currents are miles above what exists in Whistler.
The best part of shopping was for the basic food items. We opted to mostly have breakfast in the room so needed those types of items throughout the week. In the mall there is a small grocery store called "The Grocery Store". It's tiny but excellent. How they managed to pack that much good stuff & fun products in a space half the size of our (basically worthless) Clark's Market is amazing.
Adjoining this store was the mall liquor mart & it too was great shopping. We very much enjoyed the local Okanagon Valley Canadian wines. We're basically "value" wine drinkers, and of particular note were the Copper Moon Chardonnay, the Sumac Ridge Meritage, as well as their sauvignon blanc & gewurtstraminer. At the lower end of the scale the Colona Chardonnay & pinot blanc were also fine. We did bring home a pair of famous Canadian ice wines.
While we didn't need to shop there, a large, superbly laid out & stocked I.G.A. grocery store is located at the lower end of the village. Its offerings are extensive, upscale, and decently priced. It makes any super market we've ever seen in the states look like junk.
Real Estate: Clearly there's a very active, definitely upscale market for homes, lots, and condominiums in the Whistler area. Prices in Canadian $ terms are quite comparable to those here in our valley. But lest the casual American speculator get the idea that paying $.60 on those dollars for any of these properties is a slam dunk, be aware that foreign ownership faces some hurdles and problems.
While we don't know the exact law on sales transfers per se, there's a strong indication that property purchases by an American will have a heck of a time being sold back to a Canadian - apparently because of rules governing the payment of property & other taxes. So the potential buyer has to exercise even more caution in considering property up in British Columbia.
Also there was an indication that any condos in Whistler Village may have to be kept on the rental market for a major portion of the season. While that's obviously good for keeping occupancies high in the village, it may pose some restrictions on personal use that buyers could find objectionable. Since this type of approach creates a "security" type property in the USA, there might be some other tax implications.
Cross Country Skiing: A major disappointment. Touted as Whistler's best kept secret, it should remain so. Trying to charge $10 per day for an poorly prepared track with rotten snow conditions is almost criminal. We normally enjoy an afternoon hour or two of skate skiing after coming off the mountain, but engaging in that sport was impossible. The low base elevation inevitably will cause problems of a similar nature off and on throughout the winter.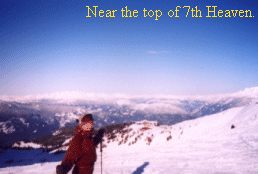 The Mountain: Let's get down to more serious business. This is the real reason we came to Whistler/Blackcomb. And visually are these mountains ever impressive. They're not clones of one another, but similarities do exist. From a shear physical standpoint both "hills" offer the user an incredible variety of terrain experiences unmatched by any place I've ever skied. With the base at 2,000 feet of elevation (more on this later) and a top of 7,000 feet, there's a ton of vertical to play with. Apparently over 7,000 acres of terrain are declared skiable.
From what I could see just off to the left of the 7th Heaven Express lift alone, we could probably
fit a dozen of Beaver Creek's Royal Elk glades in the forests there. Blackcomb Glacier is wonderfully massive in scope. The chutes at the top of both mountains are steep & wild as are the bowls up by the peaks.
Lift operations are excellent. We rode only one fixed grip lift, and all the detachables run all the time. There were probably no more than a handful of short delays in the four days we skied. While that may have been a fortuitous happenstance, I would compare that record to our Vail lifts where we might have that many slowdowns or shutdowns just trying to get up the Vista Bahn once in the morning. Since the lift designs are virtually identical in all resorts, I can only assume Vail's problems are primarily operator related. Lift operators at Whistler are friendly and more proactive in loading the customers. Mazes are well laid out.
The only drawback to the movable aluminum fences commonly used in the mazes is that the boarders tend to congregate here & cause congestion problems. The few T-bars are well maintained with good wide, daily groomed tracks. Speaking of overall mountain grooming, it too is excellent - and also necessary given the snow conditions. Vail's grooming this year is easily equivalent in extensiveness and is far and away the best it's ever been. W/B claims to groom more terrain daily than any other mountain in North America.
The on mountain food services are outstanding at least compared to ours here at home. W/B prices versus Vail in equal-equal dollar terms are still lower than at our facilities - without considering the fact that the Canadian dollar conversion is roughly $.60. There's a wide variety of food at all the large eateries along with different themes & many smaller specialty facilities exist strategically around the mountain. Food service workers are friendly, competent, and actually spoke English.
For whatever reason we just don't do "food" well on our mountain here in Colorado. At least our mountain food service management's approach makes it easier for the restaurants in Vail Village to stay filled at the noon hour. The only thing we could find that Vail Mountain does better is French fries and soup. We seem to have given up on the specialty "kiosk" type restaurants like the China Bowl, Dog Haus, & Black Forest Grill that at least gave the mountain dining experience a small measure of character.
A definite advantage W/B has versus us stateside is that workers are widely available. British Columbia had a 9% unemployment rate during our stay & several locals noted that workers line up for $7.50 per hour mountain jobs. Apparently employee housing is available and relatively decently priced.
Let's examine some other issues related to the mountain. Ski patrol presence is not very high on either hill, but we didn't see very many "wrecks" either. There's little sign of emergency phones. Several slopes each day were mid slope signed for slower skiers, but there was no enforcement in these areas despite the presence of some guest service personnel.
Dangerous or hazardous cliff areas are generally marked or roped off, but the Canadians take the more cavalier European approach & don't worry about ropes being cut. While we forgot to take our cell phones with us, it would make sense for all skiers to do so simply from a safety standpoint.
Cat walks (roads) are everywhere on both mountains. Even though the roads mostly are steep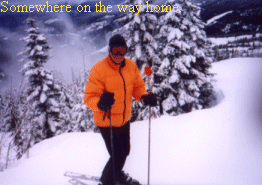 enough to not have to pole to get around on them, they are very annoying. Even coming out of that wonderful run down the Blackcomb glacier, we must have been on a road for 4-6 miles. It's no fun. There's just no avoiding these roads. It's a negative part of the experience.
40% of the snow riders at W/B are apparently now snowboarders. There really are not major conflicts between the two groups, but this fact could be a negative for those skiers who simply don't want to be surrounded by the other type rider. We were very surprised at the lack of telemarkers.
More Issues: Now let's get down & dirty and talk about the weather and the snow conditions. The base area of W/B is 2,000 feet, and it's obviously close to the Pacific Ocean. Over a period of four days before we showed up, a "pineapple express" weather system roared through the region & dropped rain on the entire mountain. When colder temperatures coincided with our arrival, the mountain didn't quite turn into a giant ice cube, but it was close. One might suggest that this bad bout of weather was simply an unusual aberration, but discussions with locals & other visitors indicated that rotten weather is more common than not.
For our ski days the weather and snow conditions respectively were as follows:
Day 1: Two inches of heavy snow during the day. Fog and clouds from base to top. Zero visibility near the top where the best snow lay. Ice from mid mountain to base.
Day 2: Six inches of wet, heavy snow. Fog and clouds at the top in the best snow. Impossible visibility with wind and blowing snow. Ice from mid mountain to base.
Day 3: No new snow, but hazy, foggy flat light everywhere all day long. Ice from mid mountain to base.
Day 4: Some sun, some hazy clouds in the morning. Flat light, but skiable near the peaks. Good chop skiing on the very upper chutes & bowls. We were so tired of the lower mountain that we downloaded from the gondola two thirds of the way up the mountain at the end rather than suffer through any more ice skating.
In hindsight we really should have gotten a clue about what to expect from reading the lift status boards. They not only have lift line status lights but also visibility rating lights and wind speed lights. The weather truly can be ugly. When we queried visitors & locals about the conditions, the general responses were like "You should have been here in mid December." or "If you want some sun, come back in March".
Apparently one of the main reasons for so much flat light is the latitude at which Whistler lies. The sun simply is at a bad angle throughout the winter months.
In retrospect, as we consider the 7,000 acres which apparently is the skiable acreage here, our sense was that the lower third of the mountains or perhaps 2,500 acres is basically useless terrain for skiers of intermediate level up. It's either all roads or flat runs with either ice or slop for snow. I'd compare that to Vail where the lower mountain actually has decent intermediate and some advanced skiing all the way to the base - with relatively good snow conditions.
The middle part of these mountains containing perhaps 3,500 acres has mostly intermediate terrain and a few short bump runs. Grooming is good in this region and the majority of skiers seem to be located here. The snow quality was still just marginal in much of this section.
At the very peak of both mountains there may be 2,000 acres or so of intermediate to very advanced terrain. This is the best and highest quality skiing at W/B. On good weather days with even average snow conditions, there may be no better place in North America to ski. The reality is that this is also where the absolutely worst weather will always be found. If it's not possible to see, it's not possible to ski.
For Vancouverites who can pick & choose their days to head up to the hill, bad weather and wet, heavy snow are not major issues. But for the destination traveler who must plan a vacation two weeks to a month in advance, playing a kind of Russian roulette with weather and snow conditions is not a lot of fun.
Our Trip Highlights: Strawberry and blueberry waffles at the Crystal Hut at 10:30 one morning - wonderful Skiing the super steep couloir into the Blackcomb glacier & then down the glacier itself. Dinner at Araxi. Enjoying the local Okanagon wines.
Trip Lowlights: Drive to & from the airport. The weather. The snow conditions. The bump runs. The roads. The lower mountain. The quality of the skiing in general. The cross country trails.
Conclusion: There's nowhere in the world we've skied that we would not happily return to at least one more time - except for Whistler. We simply would never come back here. Any number of things can somewhat make up for poor weather and lousy snow conditions, but for us this resort just doesn't offer enough other desirable, attractive alternatives. Basically we start these trips wanting to love the experience, and unfortunately that didn't happen this time around.