Lech, Austria Trip - January 11-22, 2007
For a couple of years we'd thought about another European ski trip, and Lech was always near the forefront of our discussions. While that was mostly due to Lech being a sister city of Beaver Creek, clearly it's a world class resort by reputation.
So despite our awareness that the Alps area was already having a poor snow year, in early November we went ahead with lots of internet research to find a travel service that would do a competent job for us. With no previous experience in winter Austria, we were flying blind when it came to any working knowledge about the resort.
The analysis wasn't an easy task. We received lots of wildly different quotes for a variety of hotels, most of which we immediately rejected. When we finally found a package that worked at the four star Gotthard, the agent shortly came back and wanted more money for an upgraded room in which we had no interest, so we had to start all over again.
I'd about thrown in the towel on the project when Sue took over the fight -- and to shorten that part of the story, she finally found an acceptable combination of flights, ground transfers, and half board meals (breakfast plus daily five course dinner) at the hotel. Lift
tickets were optional and had to be purchased separately. That turned out to be fortuitous given the conditions we encountered at the resort.
Our trip overseas was mostly uneventful. Except for a couple of unplanned delays getting out of Denver and then again out of Atlanta, we arrived in Zόrich just a bit late for the first bus to Lech, but the next one got us there in good shape for a mid afternoon check in.
With no intention of skiing Saturday afternoon despite finding out that the lifts remained open until six o'clock on that day of the week, we did a lot of exploration of the the village. (A short video thereof.)
It would be dishonest of me to say we found the village to be particularly interesting from a shopping or dining standpoint. There's a lot less to this town than we had expected. Given the fact that Lech purportedly has more four and five star hotels than St. Moritz, we thought the shopping and restaurant options would be equally robust, but that was absolutely not the case.
There are are a handful of shops nominally worth visiting and a magnificent one not to be missed - the Strolz store.
Apparently the latter has recently been renovated and from our perspective it is easily the finest sport/ski shop we've encountered anywhere in the world.
Housed in a typical Tyrolean style building roughly four stories in height, there's a clear glass elevator in the center of the shop with various levels of hard goods and soft goods sections radiating out from around that center point.
A short series of steps take the visitor to what seemed like eight different levels throughout the store. The merchandise selection is astonishing and the activity in the store equally so. I can't imagine the gross dollars that must be generated here.
Sue managed to blow through low four figures of Euros in fairly short order. A Bogner jacket here, a new pair of Strolz boots there, and lots of accessories added to the tab. Happily I was able to contain my own urges in that regard.
Eventually we made it back to the hotel and continued our exploration. The Gotthard is very pleasant and attractive and has a friendly staff.
With only a couple of minor exceptions we'd definitely rate it as pleasant a four star as we've previously enjoyed in Europe.
The recent history of the hotel is quite interesting, and while I may have a few of the facts slightly distorted, here's the gist of the story.
Roughly two or so years ago a massive mudslide came down the Zursbach River which flows directly past one side of the hotel. It caused several million Euro's worth of damage. At that juncture one of the Walch brothers who owned the adjoining hotel – the Central – sold his interest to the other brother who was operating the Gotthard.
A major renovation project ensued that resulted in both hotels being combined into one with the latter's name prevailing. The remodeling project was very creative, and I'll have to admit it took me a couple of days to figure out that we were actually staying in the Central Hotel portion of the building rather than in the original Gotthard. (A video of the dining area.)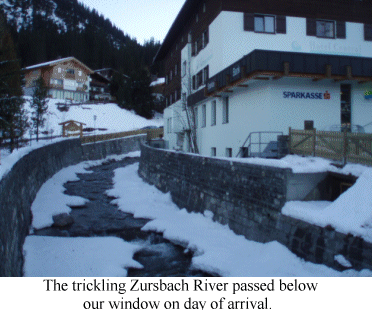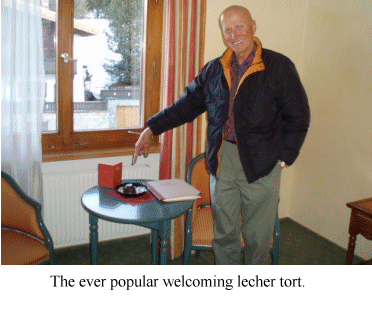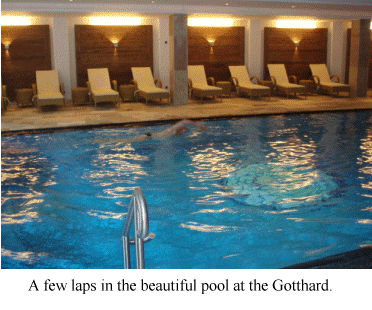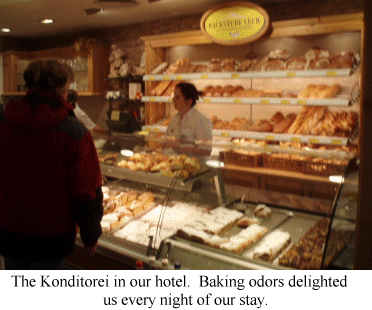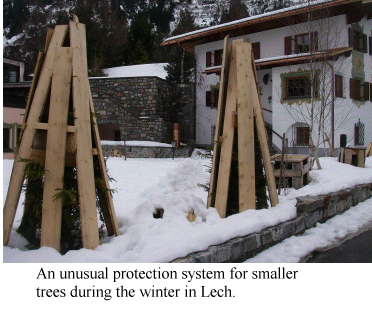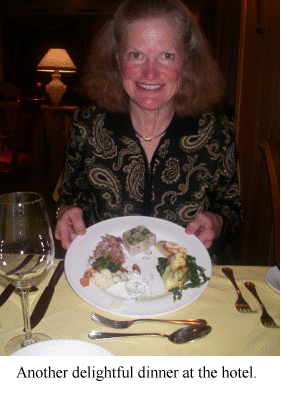 The combined hotel facility sleeps roughly 100 persons. There are a couple of private dining rooms for guests who either are on the breakfast only or half board package, plus a comfortable bar area that's open to the public. In the basement is parking, the ski storage room, a very large commercial bakery (we enjoyed the wonderful baking smells each night), a beautiful pool, modest exercise room, sauna, children's activity room, wine storage area, conference room, and probably a number of employee sleeping areas.
Upstairs and separate from the hotel operations are a branch banking facility, another restaurant named the Lecher Stube, and a konditorei.
As noted, our room was in the Central Hotel section one floor up and directly overlooking the previously named Zursbach River. For the first five days we enjoyed delightful, gentle river noises throughout the night – the water noise decibel level elevated dramatically the last couple days of our stay.
Since Sue had priced new Strolz boots Saturday afternoon, she opted to get fitted for a pair on Sunday. The initial fitting would be early in the morning, and the actual foaming later in the afternoon, which would allow us to ski midday. However, when we woke up Sunday morning, it was drizzling and unpleasant which suggested we defer any skiing and just take care of business.
We're both addicted to Strolz boots despite their expense, and both of us have bought many pairs over the years at our local Gorsuch store. It was interesting to compare how the measuring and foaming processes differed between our store in Vail and the one in Lech. Sue's fitter was an Austrian who spoke only limited English, but was a professional who'd been fitting those boots for over fifteen years, the last eleven at the store in Lech, so he was outstandingly qualified.
The morning measuring process was much different than how it is done here in Vail. It seemed much more technical in nature using computers and scanning plus physically measuring several parts of the foot and various lengths of the lower leg. If the fitter encountered a person with an unusually shaped arch, the customer actually walked over a type of pressure plate where the footprint was again recorded digitally.
We assumed these unusual steps were taken to make certain the custom foot bed was correct. See the Strolz video for a more complete description. Whether or not the more complex fitting steps here were more efficient is problematic.
Sue's fitter said the store does roughly 30 pair of boots each day throughout the ski season, and he personally does at least six pair daily. They even fit boots all summer, doing roughly 500 in the off season. Each job takes about 1 ½ hours to complete.
After the measuring process was finished, with the middle of the day to kill we walked further around the town and spent some of time at the local centerpiece church with its typically onion shaped steeple section.
A tiny, but very impressive graveyard surrounds the church itself and contains the remains of the obviously more important members of the community. The nave of the church was fascinating and beautiful (See video).
After lunch we enjoyed our only session of the trip in the exercise room, pool, and sauna – learning that those kinds of amenities are really not something we need to concern ourselves with on future trips of this type.
The late afternoon boot fitting went well, and since the boots needed to be skied the day following foaming, we purchased a pair of three day lift passes – the timing of our only skiing days turning out to be absolutely perfect as the weather cleared and was ideal for that exact period on the mountain.
After the fitting and before the 7:00 dinner bell rang, we took our first trip on the cross country track that began about 100 yards from our hotel entrance.
The touring was OK but not exactly what we were used to. There is purportedly about twenty two kilometers of prepared track leading from Lech to Zug and Alpele and beyond, but it's a linear type track without any loops and more importantly without space to skate ski, which is our preferred form of cross country ski travel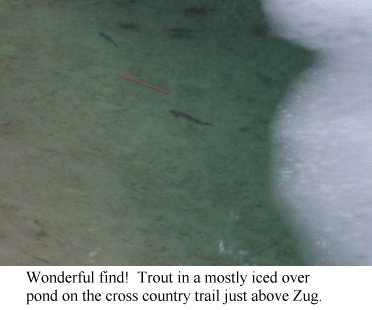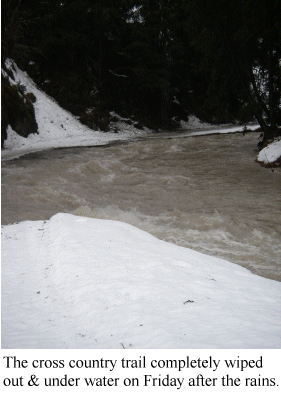 So while mildly disappointing from that standpoint, the track's gentle incline (I'd guess averaging two to four percent uphill) along the Lech River, it was ideal for practicing double pole pushes using only the upper body muscles.
Even better, when we got to Zug, there were a couple of partially frozen ponds that contained trout! Why didn't we know this before we left? We could have brought along our pack rods – and probably would then have been arrested by the local Polezei.
Anyway we enjoyed the cross country workout and engaged in that kind of sliding every single day of our stay. (Video)
Our alpine efforts only lasted the three days of the pass we bought on Sunday, but the skiing turned out better than we'd anticipated given the very sparse snow conditions. The local snow report said that 100 centimeters of schnee had fallen season to date and that roughly 40 centimeters were at the mid point of the mountain. That's not a lot of inches of base much less centimeters which suggested that we'd probably ski over rocks and other crud from time to time. We had planned ahead for this eventuality by bringing along skis that we had no intention of taking back with us to the states. Sue had an old pair of Volant chubs and I, an equally well used pair of Salomon ten-eighty's. (Day one video)
Cleary neither of these skis were perfect for the sometimes rock hard and/or breakable crust conditions we found in places, but it really was a treat to know we didn't have to worry about damage to the bases.
The region surrounding Lech is known as the Arlberg and encompasses several large and small resorts, among which are obviously Lech and Zurs which are more or less joined together economically, and a separate couple of fairly equal, but poorer cousins, St. Christophe and St. Anton. The ski pass is good for all these resorts and is usable on 80 some different lift systems with access to massive amounts of skiing terrain.
It's possible to ski back & forth between Lech and Zurs although a bus is required to use the lifts at the latter two areas.
Here are a few photos of the three days we spent on the slopes.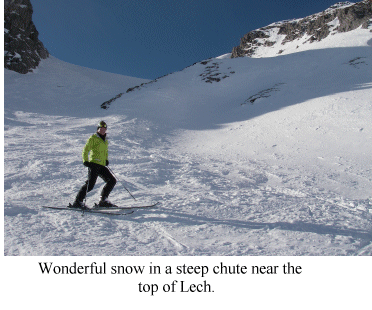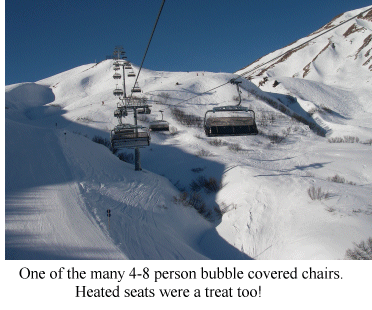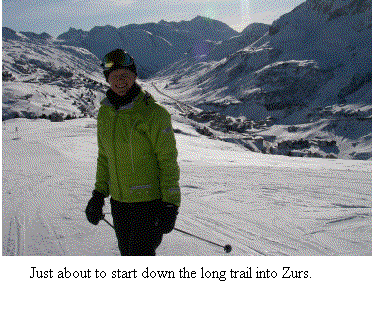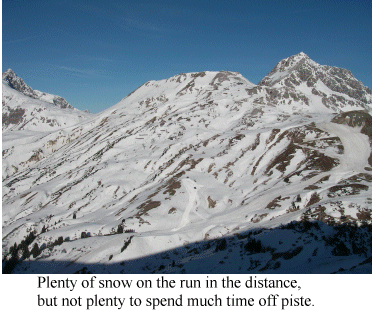 Mountain restaurants everywhere were wonderful - as was the variety of beer available. If only we had these quality options at our resorts here in the states, we'd die and go to heaven.
While we knew the water was fine throughout the mountains, it was a lot more fun to sample the local suds. Combined with a platter of crispy pomme frites, lunch was always a nice break in the middle of the day.
The two main things we have found to be really superior in European resorts are the above noted mountain dining options and secondly, lift systems that do a great job of getting people quickly out of the villages onto the slopes and then move them about the area without further hassles - and of course the heated chair pads were a great bonus! (Day three video)
When we woke up Thursday morning, it was raining – and coming down in buckets. That pretty much ruled out much fun on the slopes so we discarded any thought of skiing that day in the hopes that Friday might bring some much needed snow to at least the upper portions of our mountains.
As a diversion, we boarded the St. Anton bus and spent the day foot touring that town. Much larger than Lech, I'll have to admit we found it to be more fun to explore. With a cobbled walking village (no cars allowed), similar to what we have here in Vail, the shopping was interesting and diverse - if not quite as upscale.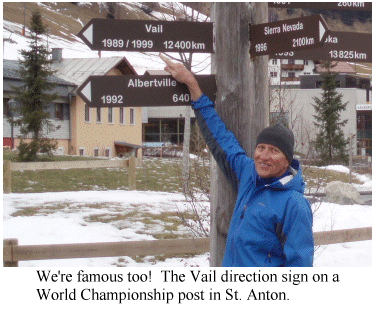 The only problem – aside from the lack of snow in St. Anton – is that smokers seem to have free reign in this town. While both Lech and Zurs attempt to keep smoke from many of the restaurants and bars, or they at least attempt to segregate those users from most of the other guests, in St. Anton, there were no such restrictions.
I suspect we entered and exited at least a dozen different restaurants before we found one where the smoke was minimally intrusive.
St. Anton is famous for it's extreme skiing and seems to draw a younger, less affluent crowd – sometimes it was described as the ski bum capital of Europe. That certainly is not a problem. The real problem in St. Anton was the lack of snow. Apparently at the base it is much lower in elevation than either Lech or Lech's up the hill cousin - Zurs.
When we awakened back in Lech on Friday morning, unhappily the weather was almost a mirror image of the rainy prior day. In fact it probably was worse. Most lifts in town were completely shut down, and the local rivers were in a rage. The roar of the water outside our hotel was such that we could no longer leave our bedroom window open during the night.
So with downhill skiing not worth considering, we made one last attempt to locate the local museum.
Having searched in vain on several of our walking outings, we finally found it - and found it open - on Friday afternoon.
Interestingly it's hidden away on the highway out of town on the top floor in the back end of the local fire station of all places.
With a nominal focus on skiing there's far more in the way of exhibits on the history of the town itself, the geography of the area, local animal life, and the denizens of the Arlberg region. It's worth a quick visit - particularly when the weather's rotten.
That was pretty much it for the trip. Some decent skiing, some wonderful food, and another visit to a place we'd not yet been. It was definitely worthwhile coming over. Had our expectations been for perfect powder each day, we'd have been bitterly disappointed, but based on past history, we know not to come to Europe for the skiing alone.
Ah, one last comment. As the return flight from Zurich was impossible to catch Saturday morning due to its early departure hour, we had to spend that night at a local airport hotel. We found one - the Moevenpick - to be absolutely wonderful. While the building architecture was blocky and downright ugly on the outside, the rooms were a delight - spacious and airy with wonderful furnishings and a beautiful white marble bath. Definitely would recommend it to anyone passing through with a need to be close to the airport.
Miscellany for Lech itself. There are two decent small grocery stores in town. The Super Markt near the center of the village has a wonderful wine selection. It (that store) also accepts credit cards for purchases exceeding 35 Euros. This is a good thing for travelers to know. The Spar store directly across the main street from the Gotthard is less pricey but does not accept credit cards. I'll admit that having to deal with currency issues and never knowing when a credit card will be accepted is no fun.
The rest of the shopping in Lech we found to be pretty pedestrian. The Pfefferkorn shop, while not matching the Strolz store in either quantity or quality of merchandise, is still fun to explore. Most of the balance of the town's shopping is more or less disinteresting. There are a couple of extraordinary jewelers, but unfortunately for the casual visitor, unless the potential customer is considered a good prospect to enter, no admission to the interior is possible.
Things we find better in Europe than at home.
The top opening windows in the hotel and the same features on many doors is fascinating and very functional. Somehow a strong lower hinge allows the window to be open just a bit at the top which allows for better air circulation in a heated room. That feature also keeps snow or rain from entering the room should the weather be inclement.
While snow quality is obviously not on the "good" list, the lift systems in the Alps just seem to work more efficiently than here at home. The "paddle" door openings at the loading stations are great in making certain all the skiers are lined up properly to board the chairs. Heated chair pads are a real treat especially for the women in the group as are the covering bubbles that provide protection during really bad weather.
Plenty of capacity at the base of the mountains gets people up and going far more quickly than here in Vail. The conveyer belt system used in loading terminals that don't have detachable chairs really helps the loading process and prevents the chair from slamming into the customer's backside (think chair 14 at Vail!)
Lift operators are older and more attentive than those here in this country. Although they lack the occasional friendliness of the young kids we employ here in the states, they clearly know their job well and take it very seriously.
A separate entry lane for younger children's ski classes also worked extremely well. Here in Vail all classes and private lesson clients enter through a single ski school lane and when very young children must be loaded on the chair requiring an adult with every child, a slowdown always occurs, and frankly it becomes maddening when that happens.
We especially appreciated being able to pay for our lift passes at the hotel front desk and have those days of lift use somehow be imprinted on our hotel room pass key. It was an amazing way of multi-tasking entry not only to our room, but to lifts on the mountain. And of course the European method of lift pass scanning is much quicker and more efficient than how we do it here.
Summary. OK, what did we come away with beyond the general experience this time? Several things come to mind.
First, we'll probably no longer use a travel agency to put together a package for us - we're comfortable enough now with the process to book directly the various parts and pieces. Next would be that rather than stay at a higher end hotel, we'll likely take either a nice pensione that offers a simple breakfast – or just rent a small apartment with a kitchen.
While we initially enjoyed the fine breakfasts and dinners at the Gotthard, eventually those became a case of too much of a good thing being not a good thing. We'd rather eat more lightly at breakfast, possibly stop at a mountain bistro for lunch – or not – and then vary our dinners between simple and fancy as we see fit.
OK. So would we return to Lech? As with all but one of our previous European ski trips, the answer is unhappily no. A part of the explanation for that statement is the fact that we want to enjoy a wide array of experiences when we travel, and that means trying someplace new each time around.
To be perfectly honest, a part of our mild negativism towards Lech was clearly related to the poor snow conditions this year. Despite the extraordinary terrain made available by the extensive Arlberg lift system, if most of that terrain is inaccessible or unskiable due to poor snow conditions, then the on piste skiing quickly becomes very boring.
Unfortunately, and strictly from our perspective, we did not find there to be much to the town of Lech itself – and as a last comment, while we find Switzerland to be very English compatible, Austria seems significantly less so. That fact caused a few problems for us that would have been avoidable had we been in the - sorry for this statement - more English language friendly country. So it was a fun trip – we're glad we went – and once is enough.