A January, 2003 ski trip to Taos, New Mexico
Way back in the 60's I remember driving into Taos Ski Valley and being absolutely awed by the steepness of the lower runs on this famous mountain. When Sue & I pulled into the parking lot this past week, the famous bump runs called "Al's", "Inferno", and "Snakedance" still looked intimidating, but maybe not so much as on they did on our first visit.
We had three days to spend exploring one of America's truly expert ski areas but unfortunately, the lack of recent snow made the trip a lot less fun experience than what we'd anticipated. Apparently the resort had wonderful early season snowfalls, but with only one modest storm in the past couple of weeks, the steeper terrain was really unpleasant to ski. A major problem was the weird shape of the bumps on many of these double fall line runs - plus the concrete-like texture of the snow - and lastly it was impossible to concentrate on skiing a logical line when you had to check out every single trough for exposed rocks & branches.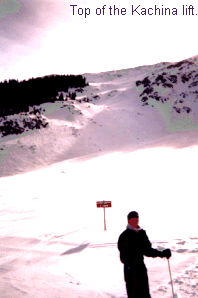 Had we been willing to do the "ridgerunner" climbing thing doubtless we'd have found some soft stuff, but we left that job to the few locals still trying to find some "freshies".
The runs we skied that normally would have been tough and fun but now were truly ugly were: Upper Pollux, Reforma & Blitz chutes, Lorelei, Spencer's & Jean's glades, and lower Inferno. Al's was only open for a half day & we missed our chance at it.
Best snow conditions and skiing was on the runs off the #4 Kachina Lift. Hunziker, High Noon, Staub, Showoff, and Papa Bear seemed to have decent snow & good bump shapes - even though none of these runs are particularly difficult.
Clearly this is a great mountain, but under current conditions - and despite our love of bumps - it's just too much work and too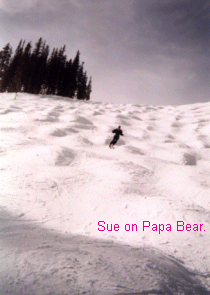 hard on the skis to be enjoyable. The lifts all seem pretty slow although two of them were declared "high speed". Mountain dining is pretty typical and very nondescript. By far the best lunch we had was at the St. Bernard deck at the base. The cheeseburger and pomme fritte were outstanding and worth far more than the $6 price tab - in fact this is the best of that genre we've ever experienced.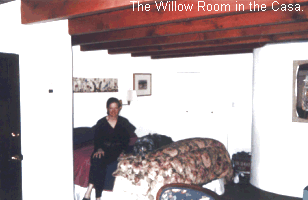 We stayed in the town of Taos opting for one of the nicest B & B's we've ever seen. The Casa Europa looks like a dump from the outside when you pull up, but the interior spaces are simply wonderful. Each room was individually crafted in typical Southwest style with rounded corners and many nooks & crannies - plus kiva fireplaces. The art throughout was absolutely museum quality. The owners allowed us to bring our Australian Shepherd with us. Marcia, the hostess, made superb breakfasts & provided a variety of cheeses & fruits for afternoon happy hour. Spending three nights here was a highlight of
the trip.
Our main dinner out was taken at the Villa Fontana - probably Taos's finest restaurant. It's considered one of the top dozen Italian restaurants in the USA. Extremely limited seating capacity calls for an early reservation. Our meals were almost perfect. The only complaint would be with the very generic quality of the bread and a severely limited wine list. Heavily into super Tuscans, the list simply doesn't offer enough variety.
We also were impressed with the local gourmet super market - Cids. Having an outstanding variety of very high end meats, produce, fresh deli goods, breads, vegan items, canned goods, and state of New Mexico products, we were able to easily find the makings of a wonderful dinner to enjoy in our hacienda.
Aside from the marginal quality of the skiing, perhaps the biggest disappointment was in what we perceived as a decline in the quality of the product offerings in local galleries and stores. Having enjoyed shopping in Taos in the past, this time we got the feeling that there simply were too many "junk" shops. Even with a few notable exceptions, the overall browsing experience was not particularly positive.
So on balance, while it was fun to revisit a resort that provided us with nice memories in the past, we both agreed that there's no place like (our) home.