The Northern Five Trip in 2008
1/21/08: When we drove away from the condo in Belmar (Denver) on Monday morning, it was with some trepidation due to the Weather Channel's forecast of a nasty arctic front dropping down through Wyoming during the day - and that was precisely the direction we were headed.
Colorado's weather was bad enough, and the drive up I-25 in the pre-dawn darkness was made worse by a slushy leftover snowfall from the previous night coupled with a gummy windshield caused by too much mag. chloride on the highway. So it was not a fun start to our trip up north through Wyoming to Montana and back again. Our plan had been to spend the first day on the road getting to Red Lodge where we had a couple of night's free lodging in a friend's house in that fun mountain town.
The rest of the drive actually wasn't too bad even though we had very high winds and lots of blowing snow all the way up through the cowboy state. Worst part of the trip was just south of Sheridan where the freeway was heavily snow covered for several miles and quite treacherous. But we arrived safely in Red Lodge around 4:00 in the afternoon, did some shopping for a nice meal at home, and enjoyed relaxing at our very nice place in town.
Unless we run into a weather related snag, our intent is to ski the areas of Red Lodge, Bridger Bowl, Big Sky, Grand Targhee, and finally Jackson Hole over the next five days and then return home to Vail.
Red Lodge
1/22/08: Today the Red Lodge ski area was our focus, though we took our time getting out the door and making the short six mile drive up the hill outside town to the base area. We'd previously been warned by a long time Vail instructor (from Red Lodge) that this was the wrong time of year to try skiing up here due to generally poor early season snow conditions.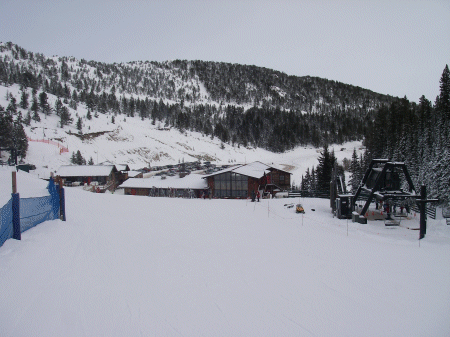 His prediction was pretty much spot on, but we ended up enjoying the experience anyway. Red Lodge qualifies as one of those throwback types of areas with mostly slower, old Riblet lifts and what we'd term more or less primitive base facilities.
At a certain point in the day these lifts without the benefit of either safety bars or foot rests eventually got the best of Sue's dangling feet, and we probably exited the area earlier than we would have had those more modern lift features been available.
Since we were at the area on a Tuesday - and the month also being January - the place was not what you'd call deserted, but there was plenty of room to roam for the couple hundred or so people here. Several of the lifts were not in operation. Apparently a couple were down for maintenance, and I suspect another two or three weren't running either because of the lack of a crowd or because there really wasn't enough snow in some places to permit safe skiing.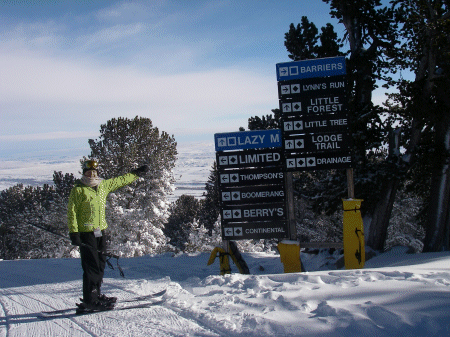 OK. Let's talk about the skiing. The slow lifts are a negative - particularly since they lack foot rests. That may sound like a ridiculous grievance, but when one is used to having that support underfoot, when it's missing, a dangling foot eventually starts to go to sleep - or otherwise misbehaves.
Frankly the slope coverage was also a big problem. Despite significant snowfall here just before we arrived and apparently earlier in the week, the depth is just not good enough to hide many of the rocks and snags on the runs.
Here's my take on part of the problem. Apparently this area was first built in 1960. As the slopes were all cut from the nearby woods around that period of time, young evergreens have begun to take over many of the runs, and I suspect the owners of the area simply don't have the financial resources to do the major brush cutting that almost every slope seemed to need to make it really skiable with the modest snow cover that we experienced.
Interestingly there are substantial snow making guns virtually everywhere on the terrain that was available - all the way up to the top of Grizzly Peak. But even with that being the case, the steeper black diamond runs from the top were really only marginally usable, and scrapes with rocks were pretty much commonplace throughout the day.
I'll have to admit it's disconcerting to spend most of the run downhill looking to avoid the tops of the small trees growing on the runs and the granite that poked through in the troughs of many of the bumps. View a short video of the area.
But the quality of the snow that was here was nice and dry and soft, so when we found some skiable sections, fun could be had. We really did enjoy skiing off Grizzly, and also the groomed run called Lazy M which seemed very comparable to our Riva Ridge at home, actually with a nicer, more consistent pitch, but not quite as long as Riva.
We also skied the Miami Beach beginner terrain lift and found the area there to be outstanding beginner teaching terrain - far better than anything we have at Vail. Sue's working on some of her level two instructor moves, and this area was ideal for skiing "switch" and doing other technical maneuvers.
We had lunch at the cafeteria in the base lodge around noon as we always like to rate the food quality at the areas we visit. To be honest my burger had sat around too long and I'd give it a 2 on a scale of 1-5, but the fries were delicious - rating at least a 4. They were thinner - not so much so as true pommes frites - but definitely delicious.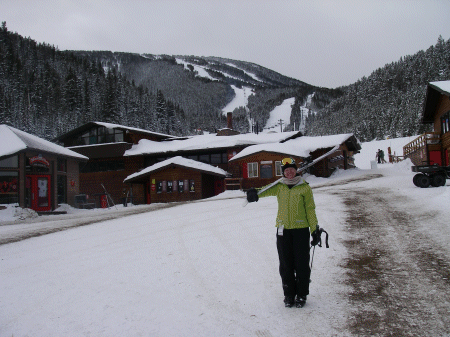 The wind came up in earnest shortly after lunch, and too much dangling from the lift led to our exiting the area shortly after 1:00, but we had a good time here.
I suspect that once snow levels improve, we'd enjoy a lot more of the area we didn't get to visit this time around. Tomorrow morning we leave on the three hour drive to Bozeman and then up the valley for a half day or so at Bridger Bowl.
Bridger Bowl
1/23/08: The dog & I arose well before daylight. After the morning stretches and crunches, I walked the dog for a mile or so in the sub zero temperatures. Sue had her coffee; we cleaned up the house and drove out of Red Lodge at around 6:45. Back to Laurel we drove, turning left on I-90 towards Bozeman and our next ski experience. Arrived in the latter city near 10:00 after an easy drive at full freeway speeds. We made no stop in town - just up the Bridger Creek road to the ski area. It was immediately clear that Bridger had a bunch more snow than we saw at Red Lodge. In fact the morning snow report indicated five inches overnight and a total of seventeen in the past 24 hours. Hooray for us.
After a quick trip to the ticket office and a quicker change to ski clothes in the car we were off to the slopes again. Our sense is that the area's owner/operator - the town of Bozeman - was reluctant to invest in modernizing the lift operations. While the lift ticket costs can be considered a bargain by anyone's standards for today, the lifts almost all reflected on bygone days. Virtually all were older 1960 vintage Riblets - only one or two even had a safety bar and foot rest. Unfortunately we're spoiled by the type of equipment we enjoy at Vail in this regard, but there was no denying the fun skiing these ancient people movers took us to.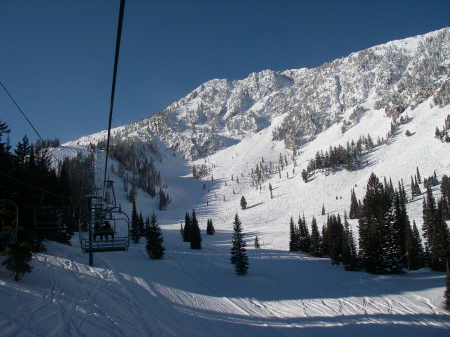 It had been probably 40 years plus since I had last visited here, and the terrain above the highest lift, where most of the locals then hike to the ridge top is impressive indeed - and also pretty intimidating. We were plenty content to enjoy the quite steep black diamond runs from the top of the Bridger Lift and Pierre's Knob.
The snow was absolutely wonderful. It was mostly choppy when we got to it, but there was still plenty of relatively untouched stuff near to and around the trees to enjoy. We skied all the available lifts today and found terrific conditions everywhere.
If they ever run a lift to the top of the ridge, the terrain that opened up would be amazing - but they'd probably also start losing a few more skiers to unintentional drops off cliff faces, etc. so I suspect no lift will probably ever be built to the top of this mountain.
We lunched at the on mountain restaurant, again with the intent of rating our "hamburger and fries" against those fast food items elsewhere. As it turns out the experience was almost identical to Red Lodge. The burger was precooked, wrapped, and then zapped before serving, but the fries again were outstanding. Larger "home style" this time, but the coating was great, and they were very enjoyable. Ratings identical to the first day - a 2 and a 4 on that same scale of 5.
Bridger as an area was much busier than Red Lodge - probably due to what looked like every good local skier being out and thrashing around in the wonderful dry powder. The quality of the skiers here today was outstanding. Only a few lower intermediates were visible on the mountain under these conditions. A video of skiing here.
Clearly this is a ski area we could enjoy visiting quite often. The variety of the terrain and steepness of much of the mountain is really wonderful. After a quiet evening tonight in Bozeman, we'll be off to Big Sky early in the morning.
The quiet evening. Researched dining establishments in Bozeman. We chose a place called John Bozeman's Bistro.
Here's Sue's narrative about the experience.
"The Bistro was housed in an older building with 20 foot ceilings, long and narrow. The wine list was no bargain, but we selected a nice Oregon Erath pinot gris. Our appetizer was beer battered walleye fingers, something we don't see often on Colorado menus. It was an entree size serving that we shared, and it was excellent. I chose the house salad that was very nice with poached pears. The Asian chicken salad was borderline obscene. It was huge. I ended up eating some of it, and half was left on the plate. We decided to skip dessert, although they had some very interesting ones. The service was OK. It appeared they recruited from the local college. I'd give it another try."
Big Sky
1/24/08: Let's be direct. Really direct. Big Sky is BIG. As in really big. I digress. We left Bozeman early Thursday morning and arrived at the ski area (Mountain Village) south of 10:00 in the morning. It was cold. As in really COLD. Somewhere lower than -10 degrees. Too cold for Sue to start skiing and probably the same for me. We parked in the (free) parking lot and hiked up to the ticket office to get what were smallish discounts based on our already being resort employees elsewhere. Given the super cold temperatures, Sue suggested we head back to the Meadow Village for a latte and/or breakfast burrito at the Hungry Moose in the lower village. I agreed - without hesitation.
She sipped. I ate. We were warm. The dog walked. The dog pooped. Yeah!
We drove back up to the mountain parking areas and (happily) arrived at the base of the (only open on weekends) gondola at just before 10:30 and queued up with another group of first timers to Big Sky who also knew not how to ski this area. After an hour or so of listening to trail run descriptions by the volunteer mountain hosts, we simply had to break off and try to find some more difficult skiing.
First we headed to the Challenger Lift to try the steeps off the top of that one. New snow made the 40/50 degree slope accessible. Don't remember the name of the run, but it qualified as steep.
Eventually we headed back to the base of the mountain. Hopped on another lift leading up to the top of an adjacent area called Andesite Peak where we found a really wonderful sit down restaurant called the Pinnacle. Rather than my attempting to describe this experience, I'll defer to Sue who will describe what we enjoyed there.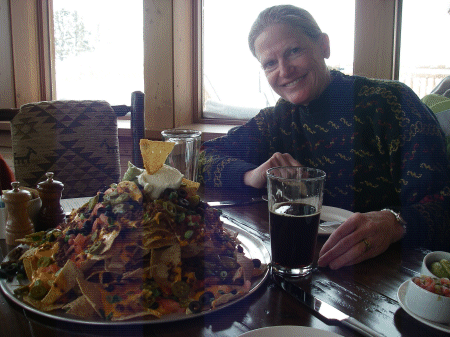 "Well, when you're traveling with a dog, you don't stay at high-end hotels. So, I like to make up for it by going to nice restaurants. This was Platinum. A log cabin style restaurant and bar with a large fireplace that probably seated about 100 people.
The dining room chairs were leather and tapestry. The lighting was a mix of candle and electric chandeliers - very rustic. We were seated by the window and looked over the menu. While there were several items I would have liked to try, we opted to order tap beer and share nachos.
The nachos were truly OBSCENE. They were served on a 16 inch diameter pizza pan and mounded easily 12 inches high. It was accompanied with a side of sour cream, guacamole, and pico de gallo. I'm not sure six people could have eaten it. We clearly left more than half. I engaged with the family at the next table over and they were intrigued by our nachos. The father and son decided to order them - we regretted not giving them our leftovers. Upon further discussion with them, I discovered they were from Fargo, my mother's hometown, and indeed we knew lots of people in common. Big Sky seems to attract people from the Midwest."
A video view of the restaurant and the ride up to the bowl beneath Lone Peak.
Eventually we skied most of the intermediate and hard stuff on the lower mountain before heading up the hill to the tougher stuff. A quick run down the bowl from the top of that lift that accesses the tram gave us a taste of what might be happening when we tried the descent from the top of Lone Peak - all of which runs were labeled black or double black. The ride up the fifteen person tram from the base of Lone Peak to the top was energizing.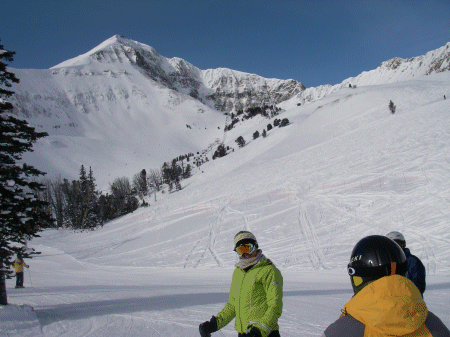 The run down the backside of Lone Peak was anything but. I'd guess the slope from top to bottom at 50 degrees. If I had to compare it to a run in Vail, it would be Genghis Kahn on steroids and possibly tipped up a bit and exxxxxxtended three times as long. A video thereof.
A few more black diamond crud runs finished off with a couple of groomers to give Sue a chance to try to perfect her switch skiing and pivot slips got us done with the area early in the afternoon.
Big Sky, the resort itself is quite interesting, and its combination with Moonlight Basin now offers a joint lift ticket to more terrain than we have here in Vail, but the mountain base village at the area doesn't seem to have much depth or character. Some other comments. There's lots of very upscale building in place and also new stuff going up all over the area. This can be attributed to the land all being privately owned so Forest Service restrictions are irrelevant.
The resort was very quiet, I'd guess being due to our being there mid week and also during the January off season. It seemed strange that very few instructors were in evidence on the slopes, but again, the off season may contribute to that issue. Looking at the license plates in the day lots, most guests were from the Midwest with a smattering from Canada and elsewhere.
From my standpoint as an instructor, the teaching terrain was absolutely outstanding for beginners and low intermediates - far better than we have here in Vail. The steep stuff and couloirs off the top of Lone Peak were frankly, very intimidating to both of us. We'd have to explore the "Headwaters" and other runs off the top of that mountain very carefully until we got used to that much exposure. On the other hand we found very little in the way of good bump runs. Possibly that was because we simply didn't have time to visit the Moonlight Basin section of the resort.
I'll have to admit we really like this area. It's breadth and diversity certainly rivals what we have at home and goes way beyond what Vail offers in terms of steepness. We absolutely will come back here and spend more time enjoying all the resort has to offer.
Later in the afternoon we drove out of Big Sky, turned right on 191 and made our way to West Yellowstone for the night. With the nachos still weighing lead like in our stomachs, we passed on any dinner here and simply enjoyed a bit of wine and apps. It snowed quite heavily overnight, and we awoke to a good five inches of nice powder on the car.
The drive the next morning south on highway 20 towards Ashton and our next destination of Grand Targhee just above the down of Driggs was pretty sketchy until we got well down from the Yellowstone area.
Grand Targhee
1/25/08: To be honest we expected Driggs to be more of a town than it turned out to be. Just a pretty typical small rural farming community with very limited infrastructure despite the presence of what we anticipated to be a well developed ski area.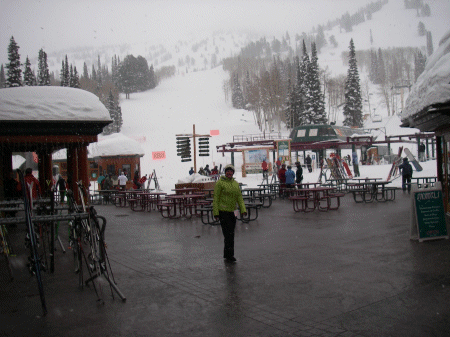 Looking out at the plaza area at the base of Grand Targhee. The heated pavers were a plus.
We turned off the main highway and made our way - slowly - up the twelve mile dirt road to the ski area. It's not in truly bad shape, but I'll have to admit it's not a lot of fun to deal with snow covered switchback roads to get to skiing.
Despite Aspenites snidely describing Vail as "A freeway runs through it", I'll take that kind of easy access any day of the week.
As we approached the base area, the snow started coming down a bit harder, and as we were about to discover, the visibility condition at the crest of the mountain was virtually impossible. When we got to the top of the Dreamcatcher lift, we literally could see maybe ten feet in front and to either side. Given the fact that we knew nothing about the mountain, it was something of an unpleasant situation. Eventually we worked our way along a cat track to a bowl that appeared to be groomed, and we "felt" our way slowly back down to the base of the mountain. See short video.
Unhappily the lack of visibility definitely impacted not only how long we skied but also how we perceived this area. It really does deserve another chance though I'm not sure we've an interest in trying it again. With that one run under our belts, we headed to the local coffee shop to warm up and think about what to do next.
Since we'd already paid for our tickets, it made no sense to quit completely, so we chose another shorter lift - Blackfoot - and rode this old Riblet a couple of times, coming down one of the many black diamond runs that radiate from the top of the lift. It continued to be lousy visibility, and we adjourned early for lunch at the Targhee Steak House at the base area. There is no on mountain dining and really doesn't need to be given the fact that the base is only a single lift ride up and down the hill from anywhere.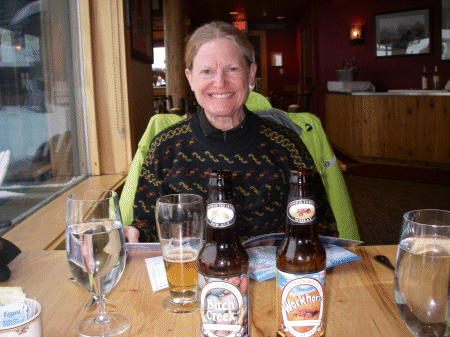 Lunch was fun. I had the best burger of the trip, and the home fries rated another 4 with Sue. Coupled with two decent artisanal beers, our spirits rose - a bit.
So we popped back into the skis and rode the last two lifts available a couple more times and called it a day around 1:00 in the afternoon.
This area by reputation, supposedly has some of the best powder skiing in the country, but you couldn't prove it by our experience today. Admittedly it was a flawed day of skiing. Had we been locals - or at least had we been experienced at sliding here, we might have found some very nice skiing - but it just didn't happen.
In retrospective the presence of two high speed lifts was a real treat, given what we've found elsewhere on the trip. The lousy weather was a real negative.
Although we'd planned to spend the night at Driggs, it just made more sense to continue over the pass to Jackson Hole, which is where we are right now - and enjoying more civilization. We had a really fun dinner tonight in Jackson. Hopefully it will be a similarly decent experience at Teton Village tomorrow, and then we'll be back home on Sunday.
Jackson Hole (Teton Village)
1/26/08: We arrived in Jackson at roughly four in the afternoon following a harrowing drive over the pass coming in from Driggs. Those ten percent grades either up or down the pass are no fun at all given the ongoing snowfall that we experienced coming over from Targhee.
With little effort (on my part), Sue found a nice motel for the evening - the 49'er - which was in our price range and also close to the historic district of the town. We checked in and walked around the village for a couple of hours. A major international sled dog race was starting here later in the day. The shops we entered were wonderful - Sue bought lots. The art galleries were simply spectacular. We have nothing even vaguely comparable to them here at home. The art and sculpture was out of this world - and obviously out of our price range as well.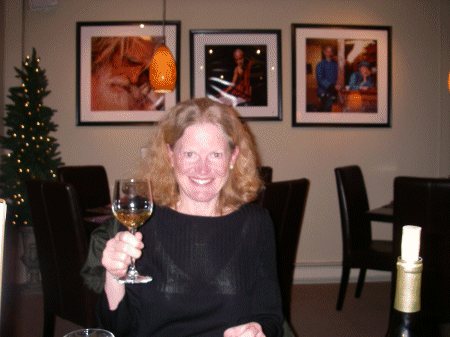 Sue found a gem of a dinner spot. It's in the back end of an off beat gift shop called "Earth and Vine".
The place makes absolutely no sense. An oversized space up front with an eclectic inventory of more or less home decor gift items - in the back is a very small restaurant space - maybe 30 seats at most.
She looked at the menu and wine list and declared this as our dinner spot.
We were the first to enter the restaurant that evening. Interesting table settings, an unusual and reasonably priced wine list, and a simple but inviting menu.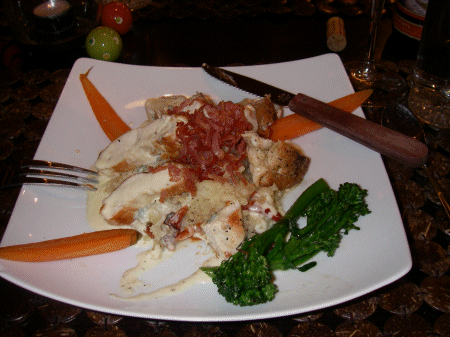 I chose the chicken main course (see photo), Sue opted for pheasant. Both dishes came with a perfect risotto and various vegetable accompaniments.
The pheasant was a bit dry and gamey (we both agreed) but my chicken plate was simply outstanding. A limited production Idaho chardonnay of all things was recommended and was wonderful with both meals.
What a find this place was. We both agree it probably won't continue to exist forever. Unless the owner is truly a trust funder, there's no way a tiny restaurant of this character with this modest kind of pricing can possibly survive.
So much for a wonderful evening.
Next morning we again awakened early. I walked the dog and we exited the motel before 7:00 A.M. Drove out towards, and then beyond, the road to Teton Village to the town of Wilson and had a typically local's breakfast at Nora's.
Back we motored to the turnoff to Teton and made our way to the village parking lots - happily paying the $10 fee to park close to the lifts.
Walked to the ticket office, got our day passes, and spent some time shopping and looking around the base area. Much more interesting than what we'd seen at any of the other areas on this trip, the ski shop at the main lodge was simply wonderful.
Probably the best selection of clothing and accessories I've seen anywhere. Much better than anything here in Vail.
The lifts opened. We started up the mountain on one of the only two high speed lifts at this resort. Rode a second lift up into the clouds and spent a handful of runs trying to find out way down through the overcast. OK. We have great respect for Jackson. The area is by reputation one of the toughest in the country. We agree. Not knowing what we might encounter high on the mountain we elected to stay on runs on the lower two thirds of the area. And that was enough of enough tough stuff.
We found good early morning skiing on forty degree groomed runs that are labeled double blue. There was nice chop skiing under almost all the lower lifts. When we ventured uphill a bit to the Sweetwater and Casper lifts, we found all we could handle in narrow tree runs and some open modest bump runs like Ashley. A Jackson Hole video.
It was fun and challenging skiing. There's just no way we'd try skiing off the top of Rendezvous under conditions similar to what we experienced at Targhee. It would simply have been stupid and imprudent to do so.
After a nice lunch at Casper's near the base of that identically named lift, we took a couple more steep bumpy runs near Sweetwater and headed back to the barn (our car). We drove the four hours to Rock Springs in the afternoon, spent the night, and were home in Vail by noon today.
==================================================================================
What a nice trip! That's all either of us can say. To be honest we enjoyed this one far more than we did our "Colorado 5in5" way back in 2005.
The road mileage on the loop of the trip was roughly 1600 in all. The ski areas were all fun to visit. Each is different, and each has its own allure. As skiers, we're all different. Sue & I tend to enjoy lots of reasonable sized bumps and that's the one thing we found lacking up here. Those kinds of bump runs must exist at the larger resorts, but the only place we found them on this trip was at Red Lodge.
So how would we rate these ski areas - much as we did those on our last trip to five different ones in Colorado way back in 2005?
Here's my take on the order from top to bottom and the reasons therefore:
1. Big Sky. Just too much good terrain and the possibility of even more that we didn't have time to explore. Love the expansiveness of the whole resort. (Maybe it just reminds us of what we have here in Vail). However, there's also lots more challenging terrain at Big Sky than we have at home.
2. Jackson Hole. We barely scratched the surface of this iconic resort. It's actually fun to be intimidated by the steeps of this mountain. As Arnold would say, "I'll be back".
3. Bridger Bowl. The new snow may have rewarded us with more than we deserved. Wonderful steepness even on the slopes where one does not have to hike to find great skiing.
4. Red Lodge. Nice bumps despite the relative lack of snow. An easy drive from a town that offers great dining, good shops, and interesting exploration even though it qualifies as truly being way out in the boonies.
5. Grand Targhee. Didn't live up to its reputation - mostly because of the difficult weather conditions we encountered. Not much of a base area and from our perspective, the local town of Driggs is just that. Sorry.
==================================================================================
What did we like and what did we not.
Probably the most unfortunate limitation at all these resorts is the lack of high speed detachable quad lifts. We get so spoiled here at home with those more modern conveyances that not having access to them all over a mountain really negatively colors our impressions of other ski resorts.
Even though each of the resorts we visited had a charm of its own, most lacked enough interesting base area infrastructure to move us to "move" there.
The "likes" are finding new places to enjoy that are steeper, tougher, and more challenging than what we have here at home.
Overall it was a really fun trip that we'll definitely repeat again in the next two or three years.