Five in Five in 2000+Five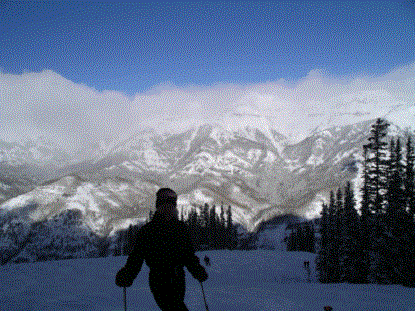 We'd originally planned this winter's ski escape to be a few days of testing ourselves at Jackson Hole and Grand Targhee up in Wyoming. Neither Sue nor I have spent any time in the snow at either of those resorts.
But with somewhat iffy road conditions due to major recent storms, we decided to minimize the possible problems from a somewhat long and difficult drive and chose instead to play a game here in Colorado by trying to ski five different areas in five consecutive days.
It turned out to be a lot of fun but took some modification of the schedule right out of the box due to major snow slides in the Southwest part of this state which kept us from completing our originally scheduled plan.
Our intent had been to ski Telluride, Purgatory (Durango Mountain), Wolf Creek, Monarch, and Cooper Hill. Once we arrived in Ridgway we found that travel beyond that point to Durango or to Wolf Creek was out of the question due to massive "slides of the century" on all highways heading South. So we revised the program, and here's a quick report on what we found at the areas we chose to ski.
Telluride
Frankly we got off to a terrible start at this resort. Arriving early in the morning we found Lift #7 (at our parking lot) to be delayed in opening by a good 30-45 minutes. Even with the snow that had come down the night before, it really didn't seem to make sense for this kind of delay to occur. Then when we made another inadvertent mistake by skiing down to Lift 1, that lift too was down, this time with mechanical problems. The adjoining Lift 10 was also down to clear snow, so we were basically stuck in "no" motion for another hour or so.
Finally #10 opened, and we welcomed the escape into higher terrain. And wonderful terrain it turned out to be. With a good 16 inches of freshies on the surface the powder skiing was outstanding. Unfortunately the recently developed Prospect Bowl was unavailable this day due to problems with avalanches, so we spent most of our time on the 6 and 9 lifts.
All the advanced terrain was fabulous. We went crazy for Giant Steps, Apex Glade, Kan't Mak'm, Spiral Stairs (see below).
Zulu Queen, Plunge, Power Line, Cat's Paw, Powerline, etc. All these runs are really out of the world and were made even better by the extraordinary snow conditions.
Would loved to have skied Prospect Bowl too and will try that area next time should return here.
While we enjoyed the skiing, there are some lower notes as far as we're concerned about Telluride. The more advanced terrain that we prefer is only served by slower, old fashioned lifts, some of which don't even have foot rests. That may sound like way too much whining, but the length of a lift like # 9 without a rest makes for a very tedious, much less than comfortable ride than would be had with a faster detachable quad.
Lodging charges were very high both in Telluride and Mountain Village as were food costs on the mountain. Partially because of having our fido with us, we found more reasonable prices in the satellite town of Ridgway - and staying at the lodge there offered the added bonus of discounted lift tickets.
It's worth mentioning a wonderful restaurant in the dirt street town - a Chinese restaurant named Sun Palace - that we can recommend without qualification. The restaurant's completely out of place in this rough edged community but was as good of its type as might be found anywhere - at least from our perspective.
Spending that night again in the lodge at Ridgway, the next morning we got up early and drove North and then East from Montrose and Gunnison to.....................
Monarch Ski Area
Clearly one of the classified "gems" of Colorado, Monarch offers a very nice overall experience. It had the driest and best snow of our trip probably because of the high base area and overall elevation. The area is laid out in more or less a wide bowl facing the East.
Lifts are older and there are no high speed ones. High winds the day we were here was something of a negative although it did fill in gaps in the chop almost every time we skied runs on what is called the "Advanced" lift.
Am reluctant to compare this area to Breckenridge in terms of the layout, but there are some similarities - good steep single black diamond runs with lots of flats just below the runouts. There's definitely a high percentage of advanced, albeit not extremely steep skiing all around the bowl.
We did have a great time virtually every run and found lots of good powder, tree skiing, and what would have been fine bump runs had there been less recent snow.
Although the skiing was very enjoyable, the variety of runs is really not extensive enough to spend more than three hours or so on this hill - again, at least from our perspective. On a positive side we found the lift operators and ticket checkers to be by far the friendliest of all the places we visited.
In early afternoon we headed back down the pass and spent that evening in a motel in Gunnison, again opting out of trying to find reasonable lodging at our next destination................
Crested Butte
Drove the highway to "Crusty Butt" early the following morning and gained a lot more respect for this part of Colorado's reputation as an icebox.
The mountain village center is surprisingly reminiscent of Snowmass. That's not really a compliment, but at least one can obtain the basic needs here.
Using the heavily discounted lift tickets that Gunnison's Chamber provides to guests staying in motels in that town, we made only a couple of runs before heading directly to a mountain restaurant for a cocoa break and a warm up. There's no early sun on these slopes.
As we explored this resort, it was fascinating to reflect on how very different all the areas are in the state. CB has a wonderful variety of groomed terrain and at the opposite end - a well deserved reputation for some of the toughest runs in Colorado. We found a bit of all of the above during our day here.
There were some super steep, but short chutes right off Ruby Road, and what I believe was called the Commander bump run at the top of the Silver Queen lift is certainly steeper at the top than anything comparable in Vail. We enjoyed Monument, Crystal, and Twister off the lift of that last name. On balance there are probably more and better bumps here in Vail, but the ones we found at CB were enough to keep the quads burning for at least a while each day.
Most interesting was some of the "extreme" terrain that was opened after blasting the ever present avalanches.
Just as we were nearing the top of the Silver Queen lift this "out of bounds" area was reopened after closures due to slide issues.
Probably only a dozen or so people preceded us into the double diamond runs called Upper Peel and Forest before we somewhat tentatively headed into that wild realm.
And edgy terrain it really was. Very steep avalanche chutes clogged with lumpy remains from the blasting process followed by sections of truly bottomless powder where the skis would sink easily four feet before gaining any purchase.
A fascinating descent around rocks, cliffs, some debris from broken trees followed by an equally difficult trek through the "Forest" section. Needless to say, we were not only steaming with sweat by the time we finished up these runs but also exhilarated by having made it through unscathed. Quite a fun and interesting experience compared to anything we're regularly able to ski here in Vail. Our only similarly difficult slope would be the upper part of Prima Cornice.
Apart from this adventure, the best part of skiing the Butte was the presence of high speed detachable quad lifts serving all the terrain in which we had an interest.
So on we traveled again after a fine day of skiing at this destination resort.
Headed back down Highway 50 to Montrose and then turned North to Grand Junction where we spent the night at the local Holiday Inn. Next morning after a massive breakfast at "Starvin' Arvin's" we drove the short distance to that city's local day ski area..............
Powderhorn
At this point in our travels it hadn't snowed in three or four days and the early day conditions at this resort were probably as bad as we ever want to suffer through. Even worse, and this is not an indictment of snowboard riders in general, but the way the local riders carved up and mis-carved many of the better looking steep runs was really a problem for us and the few other local skiers willing to venture to the more difficult places.
Eventually the day warmed and so did the some of the chunky snow on the runs. Most of the tougher terrain was so lightly visited by most of the snow riders present this day that bad chop remained bad chop all day long. The skill level of the local skiers here was clearly not as high as at the destination resorts.
Lifts - as is the case with probably all the "gem" type areas were slow speed older Riblets and Halls.
Grooming was truly minimal. That's not a particular issue for us, but I suspect it might be for the general skier population that enjoys these lower priced, more easily accessible day ski areas.
On a more positive note. We made a hamburger & fries test of all the places we skied this week. Powderhorn won the contest hands down. The burger had a great right-off-the-grill flavor and the coated fries were crisp and perfectly cooked. Would recommend them highly. After a couple of runs following lunch we drove back to Sue's place in Glenwood Springs, spent the night, and the following morning drove to our last destination......................
Sunlight Mountain Resort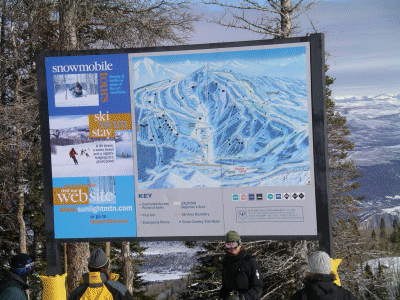 This was the third of our "gem" ski areas and probably is not only the most well rounded in terms of terrain, but would be our favorite if we were trying to entertain a group of differently skilled skiers.
Located just a few miles from Glenwood the area works hard at being a year around resort and does a very nice job of keeping lots of different riding skill types happy within its boundaries.
Plenty of open "green" slopes appeal to the beginner. Adequate "blue" runs are offered to the intermediate, and there's enough black and double black terrain to give the better rider more challenges.
Our "hamburger and fries" experience here was less rewarding than that of the one at Powderhorn, but this was the best value of all the areas we tried.
On balance, if we had to choose a "gem" to ski, Sunlight would probably be our first choice.
OK. So what did we learn from our trip? We know the destination sized resorts provide a superior experience from not only variety of terrain but also from the standpoint of the quality of the lifts they employ to get us up the hill. That comes with the obvious increases in costs to the individual.
How would we rate these ski areas? From top to bottom here they are:
Telluride
Crested Butte
Sunlight Mountain
Monarch
Powderhorn
While we enjoyed this experiment, the likelihood that we'd return to the "gem" type areas more than rarely is quite small. To be honest, while most of us grew up skiing these smaller, more localized resorts, the reality is that - if we can afford the price - we almost all crave the amenities and terrain variety and facilities afforded by the major resort developments.