A 2011 Trip to Turkey

(happily done before the "troubles" started here later in the decade)
How did that title of the 1969 movie go? If It's Tuesday, This Must Be Belgium.
In our case the title would read If It's Saturday, This Must Be Urgup.
Doesn't sound quite as intriguing, does it?
Except for Sue, it did – and to top it all off, we spent two nights in a cave in the strangely named city Urgup.
It was her 60th birthday you see on that Saturday in July, and she insisted that we spend it in Turkey.
So we did.
Our trip started with a flight from Denver to Chicago O'hare followed by a great circle nonstop to Istanbul. Arrived late afternoon in this bustling metropolis (12-13 million inhabitants). We were met at the Ataturk Airport by a representative from our tour operator who got us into a van and headed down the main boulevard to our hotel in old town.
Checked into our Megara Palace Hotel, unpacked, and walked into town do do some quick sightseeing and a bit of shopping plus a quick dinner before hitting the hay.
We did a bit of both, had a forgettable meze meal, albeit with some cold Efes Pilsen beer that we learned quickly to enjoy every afternoon, and returned to our hotel to catch up on some sleep. Next day was planned as a freebee to try to recover from a bad case of jet lag. So we chose a cruise boat trip on the Bosphorus to give us some down time. It was an interesting float. Lots of unusual commercial and residential properties line the shore.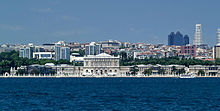 Particularly attractive was the Dolmabahce Palace built by Selem III and the Rumeli Hisari fortress ruins. The more modern very long suspension bridges were also impressive. We rode the boat well down the Bosphorus, eventually opting to hop off at a local town for lunch and some more sight seeing. Probably a mistake to take three hours there, but at least that killed some time.
Loading on the cruise boat, we motored back to Istanbul, exited and walked around the main part of the city and visited the bazaar among other things. It was way too crowded and noisy for me but right up Sue's alley.
The greatest annoyances for both of us were the relentless harangues of the restaurant criers and shop keepers. It was impossible to go by any place without being verbally mauled by those people.
Eventually that evening we found a wonderful restaurant, by chance, the Pasazade in the Erboy Hotel. The dinner was so delightful we repeated the experience on our last night in the city.
Next day we were picked up at our hotel by a terrific guide, Mine, who was our helper for our tour time in Istanbul. We walked the 400 yards up the street to the entrance to the Topkapi Palace and later to the great mosques in town. (See the video for some shots and descriptions of these sites.)
The following morning we boarded the plane to Nevsihir in the heart of the Cappadocia region of Turkey. From there it was about an hour's drive to our base camp city of Urgup where we'd spend two nights in a cave room (see video) and do our touring of the surrounding area.
Which we did the next couple of days – albeit with a guide who left quite a bit to be desired. He could speak English but really didn't understand much of what he was saying. He was a disappointment.
The sights were not. This really was cave country – but the caves were not natural – they were cut (by the inhabitants) into canyon walls, rocks, and cliffs. It was a crazy place that way. Apparently in the B.C. Times, the folks who lived here did this kind of excavation work to protect themselves from invaders. It was fascinating.
We did a five kilometer hike through a canyon area heavily dug out by these prehistory peoples, then crawled through an underground city that was carved out of solid rock over a period of three hundred years. That city literally held 5,000 people and their livestock during times of trouble. Just amazing to consider the feat.
The next day included a visit to the Goreme Desert Museum where hundreds of generations of cave dwellers lived and thrived, creating living quarters, chapels, churches, and rectories in rock walls.
Finally we flew back to Istanbul and the same day, continued on another flight to Izmir for our trip to Kasadosi.. The following drive to that city was delightful given the fact that the road paralleled the Aegean Sea for quite a bit of its distance. Being right on the bay, we loved our hotel in Kasadosi. Just a great tourist destination.
Next day it was Ephesus. The iconic Roman ruins in Turkey. Although founded by some ancient peoples in roughly 300 B.C., the site is best known as the second largest city in the Roman Empire for a long period of time.

Eventually the harbor at the base of this city disappeared due to siltation from the river that flows through the valley, and the city was abandoned sometime in the 700s.

Nevertheless the ruins are very impressive and well worth the time it takes to get here.

The next morning it was time to return to Istanbul, which we did, spending one last night in town enjoying our favorite restaurant and the views from our hotel balcony as the sun set.

Here's a modest video of some of our experiences in Turkey:

Sue wrote a much more detailed account of our visit, and her descriptions follows:

We decided to go to Turkey as we had never been there, and I was turning 60, so why not!

We contacted Medhills Travel, which I found on the Internet, to arrange our trip. We made our round-trip reservation from Denver to Istanbul and return, and they took care of everything else. They made all our hotel reservations, transfers between hotels and airports, domestic flight reservations, and guided tours. We highly recommend them should you decide to go to Turkey or Greece.

We left Vail July 5th and arrived in Turkey around 6 p.m. July 6th. Our first impression of Istanbul was how clean it is. We later found out 12 million people live their. The drive from the airport to our hotel took longer than normal due to rush hour traffic. We were impressed by all the families having picnics in the park along the Bosphorus Sea. The flower beds along the road were incredible.

We spent a total of four nights in Istanbul at the Megara Palace hotel located in the "old town". Our first three nights were spent there in addition to our last night. It was a relatively small hotel with about 30 rooms. We recommend asking for a room on the fourth floor as these rooms have balconies, and you can see the Bosphorus Sea.

Our first night we walked around the area near our hotel. As we walked along the streets lined with outdoor seating restaurants and shops, we were constantly approached by people wanting us to come to their place of business. The common cry was, "Where are you from?" We had been warned to politely ignore them, but it wasn't easy. We also toured parts of the Grand Bazarre. We were fortunate to run into an outdoor concert that included "whirling dervishes". There were street vendors selling bread, watermelon, corn on the cob, and Turkish taffy. A fairly common site everywhere we went.

We ended up at a roof-top terrace restaurant boasting it had the highest terrace. Later we learned others boasted this as well. We ordered beer and hummus. It was fine. We then decided to order an assorted hot "meze" or appetizer. Unfortunately, everything was deep fried and not to our liking. Oh well.

The next day was a free day, as we weren't sure how our first night sleep would go. We had a "Turkish breakfast" on the roof-top terrace or our hotel.

So what is a Turkish breakfast. It consists of fruit juice, coffee, or tea for beverages and assorted breads with jam, butter, chocolate spread, and cream cheese. Typically there are hard boiled eggs or scrambled eggs. The eggs are different - I suspect due to the feed. They also had sausage, which looked more like small hot dogs. There are a variety of sliced cheeses, strange cold cuts (meat type not identifiable), dried fruits, nuts, and plain yogurt. It really did not deviate much from one hotel to the next.

After breakfast we walked around not realizing our hotel was across the street from the Topkapi Palace and around the corner from the Four Seasons which we later found out was in a restored prison.

We were successful in figuring out the tram and rode it to get to the harbor where we took a 1 ½ hour cruise on the Bosphorus Sea overlooking the European side of the city. We spent about 2 hours at a seaside beach resort and had lunch and then came back overlooking the Asian side of the city. We were able to see more of the city than we could have done otherwise.

That night we ate at another terrace-top restaurant. We were not impressed with the highly promoted kabobs. We found the meat overcooked and dry with not much flavor. We drank beer more often than not as the price of wine is considerably more expensive.

We had a delightful guide Mine Gezen. Mine means "forget me not" after the flower. She had a very good command of the English language. She's been to the United States twice spending time in Arizona where she fell in love with Mexican food. We toured the Topkapi Palace home of the sultans. Incredible! Beautiful grounds and amazing views of the Bosphorus Sea. The Sultans lived very well along with their many wives and harem.

We also toured the Hippodrome, Hagia Sophia, Blue Mosque and the Grand Bazaar.

We told our guide we wanted to go to a restaurant the locals go to. She suggested one known for its meatballs. I ordered the meatballs which were actually long and not round. They were good, but not a wow. Orv ordered the chicken kabob - once again he was disappointed. Our guide ordered meatballs and a bean salad that we shared. The salads we had in Turkey were all very good, and you typically order one and there is plenty to share.

About the Grand Bazaar -- it's really bizarre. It has about 20 entry arches. It's like a large arched tunnel that goes forever in every direction. Shops line both sides. The shops are about 12 feet wide and 20 feet deep. The shop owners are relentless in trying to get you into their shop. I could handle it, but Orv could not. Way too many people, and if you're not a shopper it's not a place for you. I even found it difficult as there's just too much. It all begins to look the same. They sell just about everything.

I was, however, interested in buying an Ottoman style ring. I looked at some but they were all knock-offs and big and gaudy. I told our guide I wanted one but wasn't finding anything I liked. She assured me she would take me to a jewelry store where I would find what I wanted or they would make it for me. On the way, we toured a Turkish carpet store. Clearly an effort to sell us a carpet. They initially offered us 15% off the sticker price, but today was a special rate of 25% off. I told them it was my birthday, so now we were down to 45% off. So, a word to the wise, start your negotiations at 60% off knowing you can get 45% off. If we didn't already have more than 20 oriental rugs, we definitely would have bought one.

So, back to the ring. After the carpet store we headed to the jewelry store called O! Jewelry. There is no way I would have known to go inside. We were buzzed into a very small showroom. They had very few showcases. But, I asked to see their Ottoman style rings. They really did not have what I wanted, but they were very nice. When I explained I wanted a band that had the Ottoman style, they said they would make me one. We then went up three flights to meet with a jewelry designer. What I discovered is they really are not a retail store, rather a wholesaler of original designs. The top four stories house designers and jewelers. They pulled out packets of diamonds, precious and semi precious stones.

After much discussion, I told the two designers I met with to just go for it. They had my input, it was their turn to design. I told them what I was willing to pay and put $100 down. They assured me it would be done upon our return to Istanbul. All this was done while drinking Turkish coffee and eating pastries.

If you don't know what Turkish coffee is, it is a unique way of brewing and serving coffee. They actually import all there coffee and tend to drink more tea. There coffee is kind of like espresso, but at the bottom is a muddy coffee you don't drink. Typically, water is served along side and many people put sugar in it.

Our guide delivered me back to the hotel as Orv decided to forego the jewelry store experience. Later that day, Medhills Travel sent a representative to our hotel to meet with me and review our itinerary for the next few days.

On my actual birthday, July 9, we left our hotel at 5:30 a.m. to take a flight to the middle of the country to the region of Cappadocia. It's known for its unique rock outcroppings and caves. When you arrive at any airport in Turkey, everyone immediately goes through screening. You can bring liquids in, and there is no taking your shoes off. We then went to get our boarding passes. OOPS, Orv had a cast on his right arm following wrist surgery in June. We had to go to the airport doctor to see if he was fit to travel. After several stamping of pages and logbook, we received a signed statement he was capable of sitting on the plane. Please note, in the US security swabbed his cast and other arm and then they did something in a back room and gave him the go ahead.

When we arrived, we were immediately met and told to get on the white or green bus -- or so we thought that's what they said. The greeters typically spoke very little English. That said, we got on the wrong bus, but it was corrected before they took off and we got on the green bus.

A comment on driving in Turkey. Every bus that had a universal fasten seat belt sign had no seatbelts for the passengers. Not one of our drivers or guides buckled up. On the buses that had no sign, there were seat belts, which we definitely used. Orv was convinced they were all training for NASCAR racing. On two lane roads, they would pass driving on the middle line so the vehicles on either side as we passed could move over to the shoulder of the road. On major highways there were tractors and horse-pulled carts. In the cities there were narrow cobble stone roads with people, donkeys, big buses and vans. Terrifying!

We truly enjoyed the area of Cappadocia, despite having a tour guide for two days who had little command of the English language. He could speak it, albeit somewhat memorized, but he really could not understand us.

We met up with our first tour group at the fairy chimneys. These are phallic like rock outcroppings. With vivid imagination you could see a variety of images out of rock. The Virgin Mary being one of them. There was also a camel among other animals. Most escaped my imagination.

We then went to the Goreme Open-Air Museum. It's known for its numerous rock carved churches and monasteries. Frankly, after about the fifth church, which are actually very small chamber caves, we had seen enough. And, when our guide started to talk about the Christians who were in the area in 400BC we wished we had just rented the head sets. That said, it was interesting, but took longer than needed on a very HOT day.

We then toured a pottery factory that uses a 4000 year traditional pottery making process that has been owned by the same family for 160 years. They make museum quality pieces and production quality pieces. They explained the process of curing the clay, followed by molding it, putting it the kilns, drawing the outline for the eventually hand-painted pieces that are fired. More than 80% are NOT deemed sell worthy. We now own a museum quality wine urn, two wine glasses and a serving plate made from the famous Kizilirmak clay with a Hittite pattern. If you look up Guray Seramik you'll know what we bought.

We then checked into our "cave room" at the Cappadocia Palace which I specifically requested as after all it was my birthday. The room was carved into the side of the mountain. The bathroom was truly a cave despite having a large jetted tub. Outside our room was a very private large "harem style" couch - about 8 feet by 8 feet with a small round wooden table where we enjoyed a bottle of local wine. Now I can take sleeping in a cave off my "bucket list" -- not that it was every really on it.

We then went to a very nice restaurant in Urgup for my birthday dinner. Again, it was an outdoor terrace. We both had chicken dishes, and I ordered the chocolate pudding cake with ice cream. I had a wonderful birthday.

The next day we joined our next tour group for a 5K walk through the Gulludere Valley. It was great to get out and more or less hike. The good news it was all down hill. The bad news, we had our same tour guide who told us more about pigeons that we had already heard about the day before. Unlike other birds, the male makes the nest. In this area they are all made in holes along the cave walls. The mother then lays the eggs and sits on them for 20 days. Then the egg cracks and the baby birds fly away. So much for time spent in the nest. We heard this same memorized story probably five times along with how important pigeons are to the Christian religion.

Later that day we went to the Pigeon Valley to visit the underground city of Kaymakli. I found this to be one of the most interesting sites of the trip. We actually went into a cave that had tunnels leading to one chamber after another and ended up 45 meters underground. We crawled through tunnels that were at most 4 feet high. During various invasions, more than 5,000 people and their livestock lived in this underground city with is now about 12% restored. They had vents and ways to close the cave city off. Basically, they ate, slept, prayed, and dug. It's believed that some people actually lived in the caves for more than 20 years of their lives. It was really cool both temperature wise and other wise.

That night we ate at another outdoor restaurant in Urgup that has been in existence for 250 years. I liked it, but Orv did not. Can't win them all.

The next morning we left to head to Izmir. To fly just about anywhere in Turkey you have to go through Istanbul or Ankara. The day was spent in transit. We arrived at the Aegean seaside resort of Kusadasi around 5 p.m.. It reminded me a lot of my childhood memories of the Mediterranean Sea. The harbor had beaches and a pedestrian walkway. Across the street was lined with hotels and restaurants. It was very touristy! At the reception desk of our Hotel Ilyada was a big box for tips. Hello! The hotel was definitely the most modern of our hotels.

That night we ate at Café & Café a few doors down from our hotel. Out guide in Istanbul recommended it and encouraged us to try the "pide" or pizza. Orv declared it to be the best pizza he had ever eaten. I liked it because it had a very thin crust.

The following day we were picked up for our tour of Ephesus -- the Roman capital of Asia Minor and one of the most important of the ancient cities home to the Temple of Artemis (one of the seven ancient wonders of the world). Our guide was Yliz, and she was excellent. Clearly, our guide from Istanbul had contacted her to let her know we were coming. They went to college together, and I suspect she advised her that we tipped well.

We were joined by a Syrian couple, a family originally from Pakistan now Canadians, a family from Maryland, a mother and son from Illinois, and a first generation Australian whose family was from Turkey. Our guide did an outstanding job of managing our group and being responsive to each of us. The thing I liked the most is she made sure she found shade for us to stand it while she explained the ruins. She then gave us time to take photos. The highlights of the area include the Odeon, Hercules Gate, the Temple of Hadrian, the library (which at one time housed more than 250,000 books) Agora and the Greco-Roman theatre that seated 25,000. Elton John played there in 2001 and apparently it has perfect acoustics as no microphones were used.

Three of us opted to pay extra and see the town homes currently being restored. It's called the largest puzzle in the world. My guess is it will take 100 years to complete the restoration. It's beyond comprehension. They are literally piecing together dime-sized pieces to construct six town homes that were about 6,000 square feet each. Incredible!

After touring Ephesus we went to a restaurant for an "open buffet". We did this as well in Cappadocia. All our breakfasts were included on our trip and lunches were included when we were on touts. The only catch is beverages were not included. We much preferred the open buffet in Cappadocia and were impressed that about 60% changed daily. The homemade potato chips were to die for. The open buffet at Ephesus was pretty mediocre. The salads were the best part. Now about the beverages. We purchased 1.5 liter bottles of water in town for anywhere from .75 TL to 1 TL (Turkish Lira) or about $.60. At the open buffet they wanted 4TL. So, Orv went to the gas station next door and bought our water.

We then went to see the Temple of Artemis. Somewhat of a disappointment in that all that's left is one column. You had to imagine it! We then went to a mosque followed by a trip to the home where the Virgin Mary died as testified by three popes visiting the site. Ironically, no one on our tour was Catholic, so we whipped through it pretty quickly. It was not a big house -- two small rooms. The real coup was buying my "genuine fake watch". I opted for a self-winding Rolex as just prior to the trip five of my six battery operated watches stopped! So, I think I may have paid too much, $55, but it's still working. Batteries cost between $10-15. So, we shall see if it was a good investment.

That night we went to two restaurants having a beer and hoping for service, but they apparently did not want our business. So, we went back to Café & Café for another pide.

The next morning we departed for Istanbul. We had a very interesting Turkish American sitting next to us who really enlightened us about the Muslim religion. Turkey is 99% Muslim. According to him, Mohammed said 50% is having an honest and good soul on the inside and 50% is being clean on the outside. That may explain why Istanbul is so clean. And, we did see spigots outside the Mosques where people were literally taking off their shoes and socks to clean their feet and legs, their arms, and heads. He also told us that women are always financially taken care of. If there is a divorce the husband must pay four months alimony. Then her father will provide for her. If no father, than an uncle or brother is obligated.

Speaking of mosques, the one thing I did not mention is that each mosque has a loud speaker outside and five times a day prayers blast out in Arabic. It starts at sunrise, in our case around 4:45 a.m. with a final one at sunset, or 9:10 p.m. Istanbul has 135 mosques, so it's pretty hard to escape them. Amazingly, we slept through the morning call to prayer. Not surprisingly, people on the streets pretty much ignored them.

Another interesting thing I saw were two young boys all dressed in white outfits with gold trim. Our guide in Istanbul told me they were going to be circumcised. They make a big deal of it with a party and gifts. Unbeknown to the boys is what happens next. When Orv heard this, he said he would have clued his little brother Rick in so he would be terrified.

We also saw several cars decorated for weddings and saw the wedding party driving by with a honking entourage.

So, what are my insider tips?

1. Tipping - we know we over tipped, but in all we spent about $250 in tips, which by our standards is not that much. We tipped our guides (but not the one in Cappadocia), bus drivers, greeters, maids, and waiters. By the way, our dinners were surprisingly inexpensive.

2. Tours - I'd pay extra for private tours. You really get to see what you want and don't waste time on things you don't care that much about. Also, in a country where the language is so foreign I would always pre-arrange travel, hotel, and most tours. Medhills Travel was spot-on in making all our arrangements.

3. Turkish Lira - we exchanged $200, but frankly in the areas tourists go even the street vendors take US dollars and Euros.

4. Hotels - we found the 3 star hotels to be more than adequate. While small, they were air conditioned, except the cave that did not need it. We had TV and were able to get some English speaking news stations. They were all very clean. They also had the typical toilet articles found in US hotels.

5. Shopping - I wish I had purchased more of what I call "harem pants". They were cheap 20TL and very comfortable and fashionable. I also wish I had purchased more of the Turkish jewelry that looks a lot like John Hardy silver jewelry at a fraction of the cost. We bought a Turkish spice at the Spice Market that our friend on the plane wrote the name down for me. It looks kind of like ground up red pepper flakes you put on pizza, but it's milder. They had some very interesting spices and pre-packaged mixed spices, but we have plenty at home. Turkish saffron is very reasonable, but we have lots of saffron, as well. There were a lot of very interesting things to buy. I particularly liked the glass harem looking light fixtures, but frankly we don't need or want much.

In all, we bought the pottery (which we had shipped home), my ring and genuine fake watch (that I wore home), three pairs of harem pants for me and my two sisters, a small table cloth, a shawl for my mom, and daddy got hazelnuts from the airplane.

6. Packing - we pack light. We actually had backpacks, mine also has wheels, so we did not check luggage. I took more than I needed. We were able to bring everything back in our two backpacks. We had easy wash items that dry quickly. Of course, since I do not wash underwear I had my requisite 11 pair and several bras. I took a black broom skirt with several tops, a black dress with a scarf (you need to cover your arms in mosques, and it protected me from the sun). I had two pairs of shoes, but left one worn out pair in Turkey. I also had a light weight black jacket for the airplane. A packable nylon back-pack worked very well for our day trips, and I had a pouch around my neck for money and passports.

Orv took two pairs of light weight pants (with zipper pockets), two light weight golf shirts, a fishing shirt with pockets, and two pairs of sandals. We both had our dob kits, (mine had a deck of cards), and I had my mini-first aid kit, mosquito repellent (we didn't need it), and sunscreen. I also had several small packets of tissue and hand sanitizer that we used. I brought a small umbrella and small nylon shopping bag that we did not use. Orv had a video camera, and I had a still photo camera.

7. Safety - we felt very safe despite the shop and restaurant owners badgering us. Our guide in Istanbul said a law was passed and tourists cannot be touched. Interesting. The only unsafe areas were walking on the streets. The traffic is very scary. Also, they have lots of low curbs and uneven surfaces. Yes, I fell big time once. Orv was concerned about my knee -- I really skinned it, and it was black and blue. My bigger concern was my ankle. I limped for a day, but it really didn't hurt too much, so I knew nothing was broken or sprained.

8. Travel - leave the driving to the NASCAR racer wannabes. Gas was about $10 a gallon. The arrangements Medhills Travel made worked really slick! Also, folks that took buses to get across the country ended up flying back. The buses are not luxury and those with bathrooms still required you pay 1TL to use them. Have you used a bus restroom lately? Others said their bus without a restroom stopped every three hours at the equivalent of a Turkish Cracker Barrel.

9. Local attire - the under 30 generation looked like they do everywhere. Guys in jeans and t-shirts. Girls in jeans or slacks with nice tops. I desperately wanted to buy a long rain coat and a head cover as we saw many women wearing them. Our guide in Istanbul informed us that this represents only about 10% of the population who are ultra conservative Muslims. The women covered in black with slits for their eyes are Arabs. She's the one that told me about the harem pants and women were wearing them. Men wore slacks and collared shirts.

10. Dogs and cats - they're everywhere. If a dog has a plastic piercing in its ear, it has been vaccinated. We saw only one! Most are mid-sized mutts. We saw a few pure breads on leashes. Cats seemed to come out more at night. They all seemed fairly well fed and serve to clean the streets.

11. McDonald's - yes we went to one. Fortunately, the jeweler told us about the outside courtyard on the second level. Very pleasant and reasonable. The fries and the coke were the same. The burger had BBQ sauce on it. The place was packed, and it was 2:30 p.m.