Sweaty days and "cushy" nights on the Camino de Santiago in Portugal and Spain
Sue wanted to visit Portugal (mostly Lisbon) as she'd not been there in the past. I had no great interest but agreed to go along if she could find a trip that offered us some physical activity as well as viewing opportunities. She found a "way", namely a six day, seven night walking journey on this famously named Camino in Northern Portugal and Western Spain..
The package was put together for us by Camino Ways out of Ireland. At roughly a half marathon of distance every day, the walk was not overly difficult, and the overnight stays were comfortable in mostly quite nice hotels and B & Bs. The company arranged to transfer our luggage each day to the next stop, so all we had to carry was a lightweight day pack for water, jackets, and miscellaneous items.
Weather was unusually nice the whole time. Apparently the country was just coming out of six months of stormy, rainy weather, so we were very lucky that way. Temperatures were in the 70s and there was little cloud cover (thus the comment "sweaty days"). We had two other friends of ours from Vail with us for most of the trip and met some very nice other folks along the route. For most people on the trail, this walk is primarily a religious experience. For us that was not our purpose for doing it. We enjoyed seeing the rural countryside from a different perspective than that of being on a tour bus.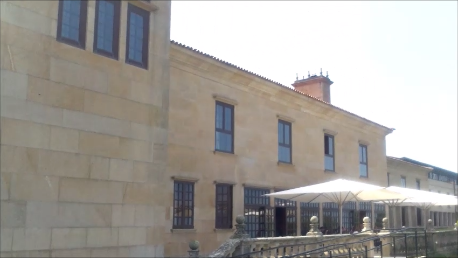 So was it fun? Sort of would be my answer. We started the walk in the coastal town of Baiona and loved the setting of the Parador Hotel in the middle of an old castle site on a point overlooking the ocean. The next day's hike to the city of Vigo stayed along the shore for several miles, and that was the kind of setting we were hoping for on the trip. It didn't turn out that way. After heading inland, while we could see water from time to time after that first day, the ocean was always far away from the trail. Our main negative issue with the walk was that we started running into more and more sections where we had to be either directly on major roads or closely parallel to them. Not pleasant with the noise and somewhat dangerous proximity to traffic.
Cyclists were another problem. They shared the trail in many sections with us and like bikers everywhere, they really don't like dealing with pedestrians (nor do we like them - enough said).
Another issue was the lack of really good printed directions to our hotels each night. A hand held European GPS device is almost a necessity.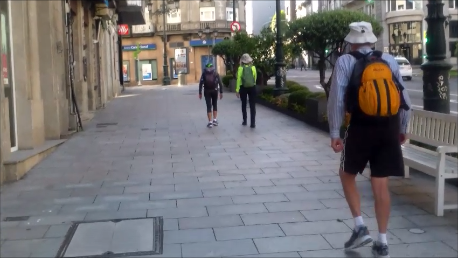 OK, so what was nice about the journey? Food and wine were both universally good and amazingly inexpensive. If you can imagine it, we actually bought several wines for under 5 Euros a bottle that were delicious. The rural scenery was a big change from what we see in America and was interesting in most places - a very agrarian lifestyle with attractive old and new structures in the small villages.
With the exception of one primitive B & B where we stayed, all our evenings were spent in nice rooms - we'd classify them as four star facilities. But I'll have to admit the quality of the services at those places was not even close to what one finds in similarly rated resorts around the rest of the world.
Would we ever consider doing another section of the Camino again. Nope. This was definitely a one and done. For a better visual of the trip, the somewhat clunky video below will give the reader an idea of what we experienced, along with some extra clips of the Gulbenkian Museum in Lisbon and the Myriad Hotel where we stayed at the end of the week.