January, 2017
Last Logbook Entry é for previous day
1/15-20:
Trip to Saint Georges Caye Resort – Belize
Note: This was our third trip to Belize. The earlier two in 2016 were to San Pedro on Ambergris Caye where we stayed at El Pescador Resort followed by Banyan Bay Resort. A reason for going to Belize is it's a relatively short flight, is on CST zone and is known for its beaches, fishing, and diving.
Location
Saint Georges Caye Resort is a 20 minute drive from Belize City airport followed by a 20 minute boat ride seven miles to a narrow one mile long island off the coast of Belize. A major appeal of the resort's location is that there is free transportation to the resort by their staff which allows the visitor to avoid an extra $150 round trip airfare per person to San Pedro on Ambergris Caye.
This is a private resort nestled between privately owned homes and is the only operation of its type on the island. There is a foot path the length of the island that we walked daily getting in a good 2+ miles both ways. Local residents and workers had bikes. Most homes had boat docks – some were destroyed due to the August 2016 hurricane that did a fair amount of damage to homes and pretty much all the docks. Many of the docks had been repaired, but remnants of the storm are apparent.
Accommodations
The resort has 12 cabanas. Six are on the lagoon side and are over water. Four are on the ocean side of the island and 2 are tucked away in the middle. They have additional accommodations in some houses facing the ocean that are managed by the resort.
The cabanas are rustic and fairly dark inside due to the Belizian teak from floors, to walls, to ceilings. They have hatched roofs and small porches in front with seating for two and a hammock. Nothing really fancy but very accommodating. Each unit had a ceiling fan, floor fan, and in window air conditioner. Also, there was a refrigerator where we stored wine we bought at Duty Free. We also brought along chips, crackers, and nuts so we could enjoy Happy Hour on our deck.
It was not the over water experience you find in Tahiti or Fiji. The water was shallow and really nothing you would want to swim in, and you could not access it directly from your cabana. Fortunately, the lagoon side had very little wind compared to the gales on the ocean side. We were able to sit out on the deck and play cards with no fear of the cards blowing away.
Lodge
A central lodge with a large deck facing the ocean is the common meeting area. It has a large gathering area inside with bar and casual seating. Out front is a large deck where all meals are served communally. There is WiFi in the lodge. There was a small gift shop and some select public games and books.
Dining
We found the breakfasts to be the best meal of the day. They had a menu, and we sampled most of the items during our 5 night stay. It was the one meal you ordered directly from the waiter. Nothing terribly unusual other than the waffles with ham and mozzarella mixed into the batter. A little on the heavy side, but not bad. They also had Huevos Rancheros, stuffed Belizian Fry Bread, Chilaquiles, along with eggs any style, omelets, pancakes, French toast and sides of bacon, ham, and sausage. Coffee and fresh fruit were available daily and were self serve.
Lunch and dinner varied and were posted and fixed for all guests. The chef is 25-years-old who learned his craft in the kitchen. We found the presentation was nice, good variety, and ample portions. But, there were some misses. While the shellfish served, lobster and shrimp, was tasty it was overcooked and rubbery in all cases. We had a Belizean stew for one lunch that was a bit too rustic – we weren't sure what was in it other than chicken. The hard boiled egg that floated in the broth was way overcooked.
Since there were typically more than 20 guests at each meal, we found where you sat made a difference on when you were served and how hot the meal was. Invariably, people at one end of the table were served as much as 20-30 minutes later than the other end. It pays to sit at the end with closer access to the kitchen.
The bar drinks and wine were fairly reasonable. Lots of run drinks, which we opted not to have in favor of wine – nothing fancy but drinkable.
Fishing
Let the truth be known fishing was our reason for going. We wanted a place where we could fish from the shore – and without having to use the services of a guide. We also hoped we could do some wade fishing which did not pan out. The locals were very welcoming of letting us use their docks. In part we suspect this was due to the owners not being there and the workers not really caring.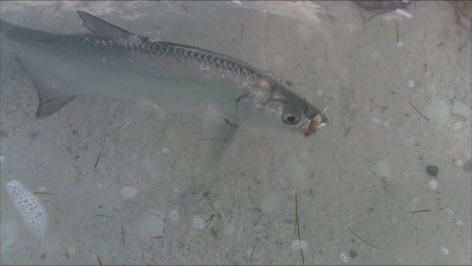 It took us awhile to figure out the fishing. We paddled a kayak on the lagoon side among mangroves that was not very productive. We even paddled to a nearby empty island and had no luck. Basically, the lagoon side was a dud. We had far more success fishing off the docks on the ocean side. Lessons learned, you need flies that have weight that will sink, and preferably sink tip fly lines which only one of us had. We found fast, jerky stripping is what attracted the fish which were mostly under or near shaded areas around the docks.
We caught several species of snapper, barracuda, puffers, one bone fish and hooked some tarpon. We had no success with the thousands of resident needle fish. The big success was finding out that a newly designed weed guard for the flies is very effective.
Resort Activities
We really did not avail ourselves of the tours and SCUBA/snorkeling offered. The other guests shared with us that they were well worth doing. Other amenities included SUP boards, several single and double seat kayaks (that were very comfortable), and Hobie Cats to sail on the open ocean side. Unfortunately the onshore winds were ferocious which severely impacted our ability to fish that side of the island and kept us from using the kayaks out there as well.
Staff
We were very impressed with the friendliness and just plain nice, helpful staff – from housekeepers, to grounds keepers, boat skippers, and Jhanene the guest service/reservationist/go to person for anything.
We rode on the boat over to the island with the general manager and happened to be there when the owner arrived along with the marketing manager. Amy, the marketing manager, joined us for a number of meals along with her husband Irek – who truly was the best ambassador of the group. Amy was very friendly, but the GM was quite aloof, and we never saw the owner.
Value
Actually, it was a fairly good value. With airfare, accommodations, misc. expenses and dog care it was about $4,000 for five nights. Trip Advisor gives it 4.5 rating. I guess we're getting spoiled and wouldn't rate it that high given our travel experiences in the past five years.
---
Home, Main Fishing Page, Fishing Report, Eagle River Access, Local Ten Commandments, Successful Fly Patterns