August, 2017
8/2: First wade trip on Gore Creek today for the year 2017. Sounds like a really late start here to fish a stream just outside our door, but in all honesty, the flows have only recently dropped to a point that wading has become pleasant as opposed to being a chore. And the fishing was quite good (if I do say so myself). The best part of the day on the water that resulted in another four+ trout species slam was releasing a brown trout almost immediately.
Although we do like browns, they are in somewhat short supply on this stream so getting a hook into one any time you're out is a treat. Rather than blather on about the details, here's the short video of the day that does the blathering for me:
8/4: Ditto for today. Short trip over the pass to Ten Mile Creek. Fun fishing and lots of missed opportunities. Here's the lame video of the session:
8/13-17: It was another return trip to Belize - this was the third one in 2017 - and in reality, it was the best too. Back to St. George's Caye for another four night stay. Right away we noticed that the fish we were catching back in January had grown a bit. The resort is still very nice and comfortable. Recognize this is not what anyone would call a "five star" resort in the conventional sense. But the way its operated, for its style and substance, it qualifies for that kind of rating.
We had an ocean front cabana this time and much prefer it to being in one of those over the water places on the back lagoon. Much better breezes and quieter too. The food was fine again - consistent like before. Again keep in mind this is not a gourmet destination - just good home cooked stuff - and the breakfasts were our favorite meal of each day.
Here's a quick video of the fishing, some of the food items and a general look around the place:
Sue took a day's break from the fishing and very much enjoyed a guided trip to the Mayan archeological site of Lamanai. The guide in particular was outstanding - here's the short video of that trip:
8/22-23: Had high hopes for a nice trip to what has always been our favorite stream in Colorado - the White River - given the fact that I didn't have to take the dogs along on this one. But it was not to be a lot of fun as it turned out. When we passed through this area back in August, we noticed a whole lot of bright green moss growing in the main stem of the river and guess what - the moss has now died and is floating gracefully down the river.
And that basically ruins the fishing. Streamers and nymphs collected moss on every cast and dry flies were almost as bad. Weed guards don't help. It was just an ugly situation. Did release a few fish as the video below will reveal, but it really wasn't a whole lot of fun:
Last Logbook Entry é for previous day
8/26: Another short but fun trip out to Gore Creek this afternoon. Flows are at very low late summer levels, and the fish are awfully vulnerable to anything thrown at them. A #18 WRS was accepted everywhere it was placed on the water today.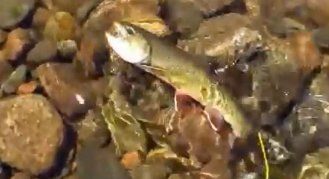 It was moderately interesting that all the fish released were over twelve inches in length - something I don't think I've ever had happen before on the Gore. It was a nice outing, but we need to lay off hitting this water too much this late in the season to avoid putting too many hooks in those delicate mouths. Here's the very short video of the session:
Home, Main Fishing Page, Fishing Report, Eagle River Access, Local Ten Commandments, Successful Fly Patterns