April, 2017
Last Logbook Entry � for previous day
4/10-14: This was my fourth trip to Belize in the past six months and second to El Pescador over the years. The fishing resort is very well known and was recently featured in the travel section of the NY Times. It's also skillfully managed by a new couple, and the same staff we saw a couple of years ago are basically all still on board. As the video below notes, the rooms are very attractive, food is decent, and as an aside, they seem to have the same cadre of guides.
As I was by myself on this trip, I opted out of any guided days, choosing to fish the large lagoon on the backside of the lodge using a canoe one day and a Freedom Hawk 12 the last two (more on that shortly). As seems to have been the case on our most recent trips, the winds were unusually strong, and that had a negative effect on the fishing results. The fetch in the lagoon is so long, waves can build up easily and paddling something with as much windage as the canoe had is borderline impossible. The kayak was a much lower profile and easier to handle, though because of its split construction didn't move well into the wind either.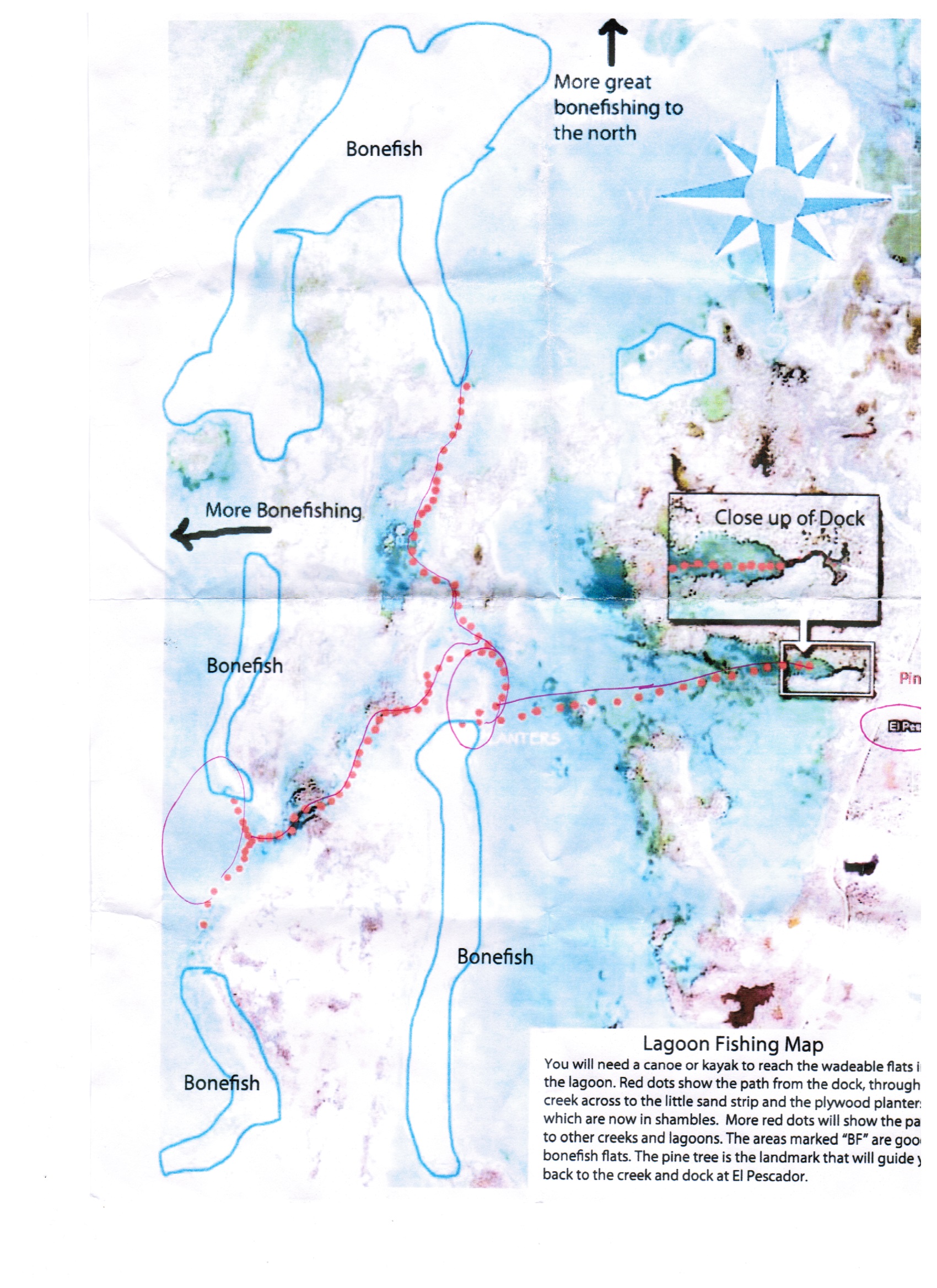 This is a small thumbnail of the map used to locate fishing areas in the lagoon. Download it if interested in trying the area. It provides plenty of detail though be warned that it is very, very easy to get lost back in those mangroves.
Unfortunately fishing off the docks (normally quite good) was almost a complete bust, The lagoon was slightly better, particularly when I was able to locate one of the "blue holes" that have been created by some dredging for a housing project that clearly never materialized. So I caught a few fish now and then, mostly smaller barracuda, followed by some juvenile snappers, and similar sized bonefish. Hooked a couple of decent jacks but got no releases there.
Here's some more feedback about the Freedom Hawk. If you Google it, you'll find out that it's a convertible kayak that has a couple of pontoons making up the rear of the boat that can be extended so the user can stand and cast without tipping over. The problem in the lagoon is that the wind was way too strong to set it up and try to use it as designed. What one needs out there - or in any other overly windy situation is either a sea anchor and/or a small Danforth that could be deployed and retrieved or released from the kayak seat or the stand position.
Basically the paddling was what I enjoyed the most about this trip. Probably spent between five and seven hours each day working my way around the lagoon, and I did learn a lot about where the fish are located. So if back here in the future, suspect we'll be more successful. Here's a quick video of the trip:
---
Home, Main Fishing Page, Fishing Report, Eagle River Access, Local Ten Commandments, Successful Fly Patterns