March, 2013
3/3: It feels like we're stuck in a rut, seeing as how the only place we've fished this winter has been the Roaring Fork down in Glenwood Springs, but in reality that's the only open water we can find close to home.
As might be expected, the later in the spring we fish, the better the results, and that was the case today. Even though the stream is still very low and cold, the trout (and a whitefish) clearly are feeding with more interest. A double nymph setup of leading heavy weight caddis larva and trailing smaller beadhead buckskin proved effective enough that I didn't have to change anything all day.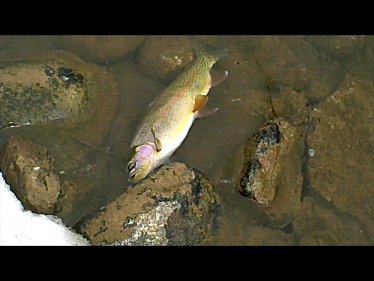 Ended up catching three different species dominated happily by rainbows. Best fish was a solid eighteen and a few others were close to that length. Missed plenty of strikes and played some other fish that may have been larger, but all in all it was a fine outing. With lots of ski teaching coming up in the next couple of weeks, this may be the end of water time until very late in the month when we hope to do a trip to the Green and White before heading down to Arizona to escape the Colorado "mud season".
Here's a quickie video of the trip:
Last Logbook Entry é for previous day
3/19: We finally had a decent day here in what's been a pretty unsettled spring. After lunch I took a chance that our local Eagle River might be fishable and drove to the town of that same name. Getting out of the car, the stream was so murky that it was even cloudier than the Crooked in Oregon on one of its worst days.
Didn't have a lot of hope, but amazingly when I started throwing a nymph rig in the water, the strikes came fast and furious. It was wonderful fishing. Couldn't believe it. Guess the spring feeding frenzy is now in session.
Probably released a good 8-10 fish in the first spot, playing and losing another dozen or so.
Drove down to the fairgrounds area where I did get shut out, but further upstream in the red canyon section, more success followed including the fat fish displayed on the page here. Just a really nice day overall and a perfect ending to our spring fishing season. We won't be back from Arizona until the runoff is over in mid June.
Here's a short video of the activity today:
Home, Main Fishing Page, Fishing Report, Eagle River Access, Local Ten Commandments, Successful Fly Patterns