August, 2013
8/2-3: A couple more trips down the Eagle to find out if the river was still going to eat our lunch. Didn't happen this time around to either of us though we're still not eating the river's lunch either. Sue had success with a smaller standard WRS while I finally had better luck nymphing - especially with a smallish red copper john the second day. Here's the video of the activity:
8/5-6: This two day trip was a regular weekly overnighter in the summer months - this time up to the White River area of Northwestern Colorado. Weather started out ugly and pretty much stayed that way throughout the trip.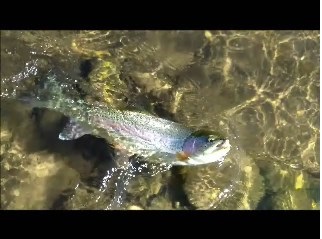 We got in nine holes at the public course in Meeker and then drove up to one of our favorite spots on the South Fork as the weather really deteriorated. Sue wisely stayed in the van, and I made a few casts on that stream with very modest success. It remained cloudy and rainy for most of the two days were were there, but on the last day, the fishing improved markedly.
Here's a short video that describes how the trip went:
8/10: It's a weekend, and the town is jammed with people. Our stream however, was not. Managed to get in a couple of hours of great casting on a section that I hadn't completely explored this year. The fishing was - to be honest - completely out of this world.
Released five different species (considering the cutbow hybrid to be the fifth) along with maybe 40 other fish played. To top it off played and released two different doubles (on the dry and nymph simultaneously) on the first and last casts of the day.
Here's a short video of some of the activity:
8/12-13: Our summer's rapidly drawing to a close. Took an overnight trip on my own these past two days hoping to spend a lot of time on some streams we enjoy but don't have enough time to explore in depth. It didn't happen again - the cause was Mother Nature. Too much rain and water that turned the wrong color.
Fun anyway with the camping, but we'll try to get back to at least the Crystal again next week. Here's the short video of what action there was:
8/15-16: We've had to accelerate the pace of our overnight trips given the lateness of the season. Today's was a repeat up to Northwestern Colorado for a bit of golf and a lot of casting. Happily the fishing turned out to be the best of the summer. It took a while to figure out what the fish wanted most, but when that happened, the strikes came with regularity.
Flows are now quite low, and we kind of thought the fish would have migrated to the deepest holes, but that wasn't the case. Even with zero hatches going on, fish in riffles and shallower runs were all looking to the surface for food. Actually given their large sizes, I suspect those pudgies are looking around in all directions for food.
Still it was good to have the day dominated by releasing smaller fish of a variety of yearly classes. It just verifies the healthiness of the river.
In any case this was probably a day with the most large fish that I've ever played in a short period of time. Besides the 20-25 fish of over sixteen inches I actually hooked, I must have missed at least that many more strikes of similar sized ones - including a rainbow that appeared to be at least six inches WIDE at the shoulder. Can't imagine how much that one would have weighed.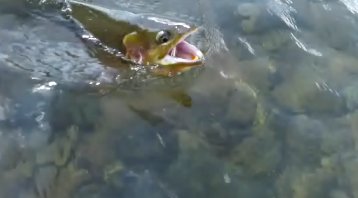 So the first afternoon was truly spectacular fishing. Best one I actually released instead of just played & lost was a cutt or possibly a cutbow that had to weigh between 4-5 pounds. A couple other rainbows we upwards of twenty inches too.
Next morning we hit the South Fork and had very modest success. It looks like that tributary has gotten so shallow that the larger fish must have migrated down to the main river.
Here's the trips video story:
8/21: Sue put together a truly gourmet tuna sandwich and suggested we drive over towards Leadville and enjoy it in a picnic with the dog today. Happily the trip turned into a terrific fishing expedition on a couple of tiny streams with flows in the single digit range.
Amazingly both of us collected and released all four indiginous trout species this afternoon and "slammed" them. It was a lot more than we expected from the day. Tomorrow the dog and I return to the Crystal for probably the last time this year on that stream.
Last Logbook Entry é for previous day
8/22-23: This was probably our last chance to fish some spots on the Crystal we'd not been able to try yet this year. Sue couldn't attend due to another obligation, but the dog & I did the best we could.
Wish it had been a bit better, but at least we finally enjoyed some good weather for a change. Did not encounter many decent fish & especially surprising not to hook even a single whitefish on the stream. Here's the possibly too long video:
Sunday we leave on an eight day trip through Wyoming and Montana. Looking forward to having some nice cutts on the line on this one.
---
Home, Main Fishing Page, Fishing Report, Eagle River Access, Local Ten Commandments, Successful Fly Patterns