March, 2012
3/5: I'm kind of stuck in a rut where this winter's fishing is concerned. We haven't had decent enough weather yet to try an overnighter anywhere interesting, so I've kept going back to the Roaring Fork for short day trips. Have to admit they've been pretty successful so far, but hopefully this will be the last one for a while.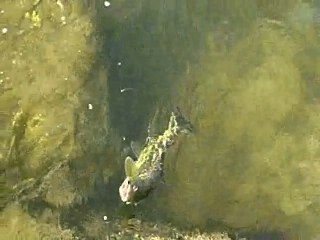 Today's was a little less great but fun anyway. Played a low double digit of decent fish and lost a couple that were at least twenty inchers. The dogs had fun, and I got out in the sun for a while too.
Here's a short video of what action there was today:
3/15-16: Made the rather short drive down through Salida this morning to have another try on the Arkansas before runoff begins in earnest. Really beautiful weather forecast for both days. That makes for a fun outing for us having been through a cold winter, although not a particularly productive one when the water's super clear and low - and the sun's high in the sky.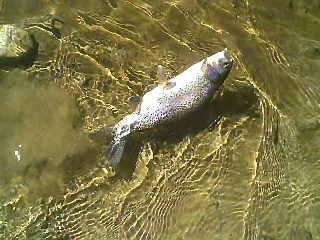 That turned out to be the case. Getting on the water after lunch, no fish were to be seen along the edges. I did manage to play three or four and eventually released another rainbow and brown, but the nymphing was really very unrewarding. Still didn't matter with almost summer like temperatures in the afternoon. The young dog & I camped out by the river across from Wellsville that night.
Got up the next morning, drove into Salida for breakfast, then back to the stockyards to make a regular hike down the railroad tracks for a couple of miles. It was too cold - maybe just below freezing - and the fish were completely inactive. Played a couple in a deep eddy but didn't release a thing. Headed back to the car to leave when I saw some heads breaking the surface in a long flat.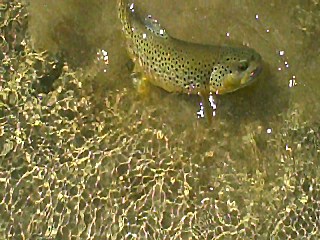 Changed rig to a #20 comparadun with a trailing emerger and immediately started catching fish. Fun! The emergence started around 10:00 and went on for over an hour. Released at least a dozen nice fish - mostly Hofer rainbows from 10-16 inches along with a few other similar sized browns. That session made the whole trip worthwhile. Have to admit I really hate throwing heavy nymphs with a strike indicator all day long, particularly into the regular 20 m.p.h. headwind on that river, so the dry fly casting was a blessing.
Here's a short video of the outing, which because of the midge emergence changed the movie from a travelogue into a fishing log:
3/22-23: Let's face it. The ski season is basically over for us. We have another week before we head down to Arizona for the mud season so we enjoyed a nice couple of days on our favorite river with a camp out in between. The fishing wasn't super good, but wading in 60 degree temperatures is hard to beat.
Still, it was tough fishing. Cloudless skies and a similar river color made catching very difficult. There was a short midge emergence the first day that we had great difficulty matching. Small nymphs eventually did the trick, but it wasn't easy. Too many whiteys on the surface and on the bottom are not something any of us can enjoy for long. Despite their heavy bodies, that fish is prone to snapping off the fly with a hard shake of its head if we dawdle during the release process.
While I probably played a good dozen trout that were all over 18 inches in length, both Sue & I were surprised at not seeing any of the smaller classes of those species around. Very unusual.
Despite the strange results, it was fun to be on the water again, and we may do a repeat somewhere else next week.
Here's the video of the trip:
Last Logbook Entry é for previous day
3/27: Last trip of the spring today. Wanted to do another overnighter way down the Arkansas below Salida, but we're able to get to the place in Arizona a few days early this month so opted out of any more fishing than the day trip.
It actually was somewhat risky choosing to try the upper Ark. just below Leadville as water temperatures this far up the river are still awfully cold. Didn't know if the fish would even be feeding with any enthusiasm. That seemed to be the case for the first half mile of water the young dog & I walked as I had not even a hint of a strike. But then we struck gold.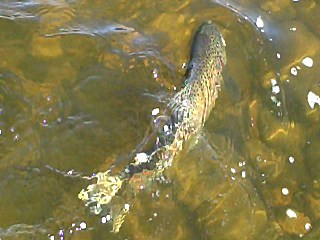 A longish run about four feet deep held all kinds of local browns The nymphs got down deep enough, and the fish rewarded us with lots of hookups. Sizes here were decent too ranging from 12-18 inches.
The second leg of the trip was pretty much a bust though. Normally Hayden Meadows is terrific, but not today. Released just a couple of smaller browns there and ended up giving up any further fishing down towards Buena Vista due to the ugly downstream wind howling in the canyon.
But it qualifies as a nice outing. The dog was happy and so was I.
Not likely to do any more trout fishing until sometime in late June or July when we get back from Green Valley.
Here's the quickie video of the trip:
Home, Main Fishing Page, Fishing Report, Eagle River Access, Local Ten Commandments, Successful Fly Patterns