August, 2011
8/1-2: Yeah! Our first overnight (family) camping/fishing trip of the summer. It turned out to not be particularly memorable, but at least we were finally able to get in a few casts on the water here in Colorado.
The reports we read about conditions on the Arkansas may have been appropriate when they were written though I might question their accuracy when we actually got on the river itself. Or maybe it was just the bad weather that soured us on the experience down below Salida.
Anyway we started our fishing just below River Park in Buena Vista not expecting much out of the water here due to the ongoing heavy flows. It turned out to be pretty decent as Sue & I probably hooked and/or played maybe a dozen and a half fish between us. Most were really quite small browns with Sue's twelve incher taking top prize for the morning.
After our regular lunch at the Dairy Delite, we continued on down the highway through Salida to our favorite spot on the back road to Wellsville - only today things didn't go so "well". A massive thunderstorm just to the south of the canyon kept blowing fierce downstream winds while we played cards and waited for it to relent. It never did. So we found a place to camp and had dinner before I made any effort to fish again.
With the sun on the water in front of me making it impossible to see the indicator fly, I shortly gave up. Eventually caught a small rainbow on a streamer casting in the other direction, but this usually productive location stunk today.
In the morning we ate in Salida, then driving back to Buena Vista for another pass at River Park. It was pretty much a repeat of the prior day. Still very small brown only though.
They took either a #16 WRS or rubber leg model with a couple coming to a bead head buckskin.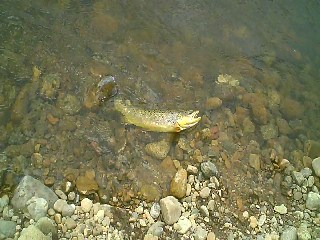 Our last stop before heading home was at Hayden Meadows. This turned out to be terrific.
I landed a fat sixteen inch brown almost immediately and then played a good dozen more decent fish before getting driven off the water by an oncoming thunderstorm.
Good ending to a half fast trip.
Here's a short video of the write up:
8/5: I will have to acknowledge some unease where Gore Creek's concerned this summer. Did another quick trip on my bike today and had similarly indifferent results. Admittedly the stream's still running at three times normal and continues to be so cold that hatches appear to be nonexistent.
But there simply seem to be fewer fish - especially in spots that normally hold many.
My suspicion is that the relentless runoff this summer did big time damage to the rainbow and brown populations. We'll see if that's true when the water levels fall by early September.
8/7-12: I suspect we should have known better than to preplan a fishing trip during a summer when the flows were way off the chart. That turned out to be true when brother Rick flew out from Portland for one of our periodic summer fishing expeditions.
We drove to all the "usual suspects" and had very modest success everywhere we cast. Such is life.
Rather than draw out the story in print, here's a short video that pretty much sums up the week.
8/15: Fun to get Sue on Gore Creek today for the first time this season. Water levels are coming down dramatically, so we had lots of fun. Standard sized WRS flies seem to be the best as the fish look to the surface - despite the absence of visible hatches during the day.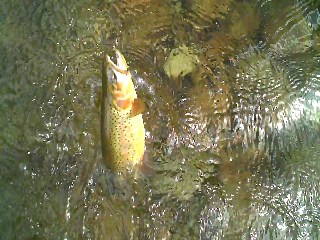 Happily most of the fish were rainbows with a hybrid cutbow or pure blood Colorado cutthroat sprinkled in the mix.
All we missed was a brown today to pick up another nice grand slam.
On Thursday we're off on an annual loop trip over towards Gunnison.
Here's the short video:
8/18-19: We're finally getting some more fishing in, but that doesn't always equate with "better" fishing. This late-in-the-week trip was a traditional loop we make. Normally it would be for three days - this time we camped out only one night.
Our travels took us to the Arkansas near Buena Vista, then up over Cottonwood Pass to Taylor Park and that river. Next to Almont for the East River where we camped on the Triangle that night. After breakfast in Crested Butte we drove over Kebler Pass to Anthracite Creek and finished up on the Crystal in the Redstone area.
Best fishing was on the Taylor above the reservoir and then Anthracite Creek for smallish rainbows there. The rest of our results were pretty modest - to say the least.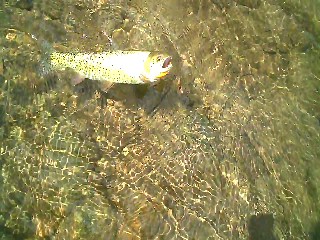 8/22: More local fishing. This time it's better. Our creek - the Gore - was so good today, I didn't want to go home for dinner.
As the video will explain, water temperature is up to normal levels and hatches apparently are coming off - even though I saw no insects on the surface today.
Despite all the issues we've had with overwhelming flows on our streams earlier this summer, today was really as good as it can get - and we're not blessed with many outings as good as this during the year.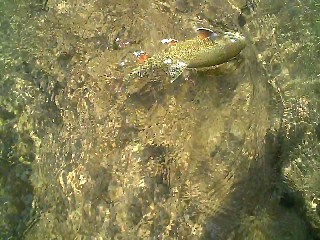 Nice cutthroat.
Here's the video of a great couple of hours on the creek:
8/24-26: Another fishing trip that should have been a good one this late in the summer was once again foiled by too much stream flow.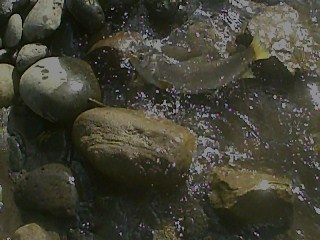 It's just one of those tough years. I should have learned my lesson and stayed at home watching the bube tube. The young dog, Bluey, & I had a bit of fun here and there, but not up to our expectations. Here's the video of the trip:
Last Logbook Entry é for previous day
8/29-30: Once more it was just the young pup & myself off on an overnighter. This time to the Gunnison where it joins the North Fork down by Hotchkiss. Instead of parking on the east side of the latter stream, we drove further towards Delta and then made our way down the nasty back road to the opposite side of the main river.
Miraculously when we arrived there were no other cars in the lot. Wonderful! It's always a treat to have several miles of a famous stream all to ourselves.
Unfortunately the fishing didn't really cooperate that afternoon. While I could get some decent numbers of small browns to hand, nothing I tried would awaken their bigger brethren. So it was kind of a bust fishing albeit a very pleasant day.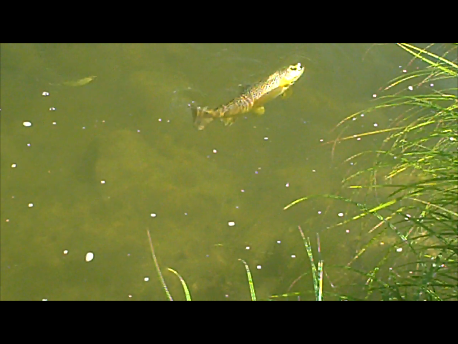 Next morning was a complete turnabout. Started catching fish right after dropping into the river. Again, most were small but the numbers were outstanding.
As seems to be the case recently, the larger fish I eventually did hook all managed to escape before I could extract the fly with my forceps. It was a lot of fun all morning. Probably played a good 30-40 fish in roughly a couple of hours on the water. Best ones released were in the sixteen inch range. Used only a double dry rig with a black bodied WRS up front and a #16 green bodied WRS at the end.
We'd hoped to be able to fish the Crystal on the way back home, but it was still blown out from the prior day's thunderstorms.
Here's the video recap:
---
Home, Main Fishing Page, Fishing Report, Eagle River Access, Local Ten Commandments, Successful Fly Patterns