September, 2010
8/31-9/1: It's close to the end of another great fishing season here in Colorado. We repeated a commonly made trip this summer back to Meeker and our favorite fishing stream. It's nine holes of golf in the mornings followed by afternoons of casting for beautiful rainbows and cutthroat trout on the river nearby.
Though our golf scores remain somewhat indifferent, the fishing part of the equation continues to be excellent bordering on remarkable. Trying some new places this week brought even better results than we've seen from earlier this summer.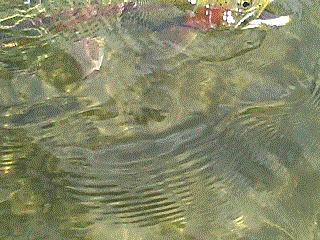 Sue and I set up differently this time around. She had a standard WRS up top and usually a bead head buckskin below. I spent the first day with a Gunnison hopper as a strike indicator and trailed it with both a small scud and a heavier quasi Czech nymph at the back end. Both rigs proved very productive.
Without going into lengthy, probably boring excessive details, let's just say we both struck, hooked, played, or released well up into double digits of fish. Most were rainbows from roughly 12-20 inches. Next came the cutthroat from 12-24 inches (the big one was Sue's). I released way too many whiteys - the heavy nymph getting too far down in the flow, but it was just great fishing.
Here are a few highlights on a somewhat lengthy video.
9/5-6: The season's really winding down now. With Sue off to the North Fork Ranch for three days helping out as a staff member of the fall Casting for Recovery retreat, I'm dog sitting and wanted to try some fishing despite the likelihood of big crowds everywhere. Loaded up the Element with food, the dogs, and fishing stuff and drove over to the forks of the Gunnison near Hotchkiss.
We did the longish back road drive to the west bank of the river and made a three mile upstream hike hoping for decent conditions. It was not to be. A combination of fierce winds and murky water (due to a recent flash flood in the canyon) made for impossible casting and trout that seemed to have no interest in feeding actively.
Did catch a dozen or so small browns and released one decent rainbow, but it was pretty ugly fishing all the way around. Camped that night on the main river and drove back towards home the next morning. Lower Anthracite Creek wasn't any better, nor was the Crystal up by Marble or down below Redstone.
Except for the strong winds, at least the rest of the weather was nice. We'll have one or two more outings before leaving for Arizona for the next couple of months but our expectations will remain very modest. Here's the quick video of the trip:
9/13-14:
We've become very enamored of our two sport trips to Meeker this summer. Each day it's an inexpensive nine holes of golf followed by a long afternoon of casting for trout on our favorite stream. This week's trip unfortunately is the last one of the season for us. While we wish our golf games were better, at least our fishing remains decent.
The river, however, was showing its own signs of stress. Flow rates are way down now as we've not had much monsoon rain lately. The day was almost cloudless, and of course, the fish have seen way too many people throwing flies at them all summer long.
Still we had pretty decent success. Don't know why the trout take an attractor dry as well as they seemed to both these days, but we appreciate their willingness on the surface that way. Nymphs worked pretty well too. Sue stuck with a red copper john most of the time while I made do with one of the new heavy larva types that somewhat emulate Czech style nymphs.
Our first afternoon was by far the better fishing. Both of us released decent numbers of fish - maybe 20 or so apiece. The mix was primarily rainbows followed by cuts and then whiteys. Sizes were a bit smaller than the last trip - best fish of both trout species in the 18-19 inch range.
Tuesday we got on the water a bit sooner and had no other fisher people to contend with, but the trout as is usually the case, remembering what we'd offered them from the day before. So they were quite a bit more wary today. Still we had enough action that by the time noon arrived, we were pretty much sated from all the casting, striking, playing, and releasing.
So the season's over for us. I may take the dogs on a short afternoon trip on the Colorado later this week while Sue's in Denver, but after that, we leave on Sunday for our place in Arizona where we'll spend the next couple of months before heading back to Vail for the ski season.
Here's the latest video:
Last Logbook Entry é for previous day
9/16: Sue's at a Casting for Recovery planning meeting in Denver today. Happily she took the pup with her as I was on the verge of taking the life of that relentlessly difficult dog. As cute as is the new Aussie, she's impossible out of the house or off the leash as she has to be when we are doing our regular morning runs. This morning it was the worst I've ever experienced with her. Had something been interested in eating her alive, I would have taken no action to preclude that from happening.
All that being said, after lunch I took the older dog on our last fishing trip of 2010. At least the last one here in Colorado. It's possible we'll make a foray into one of the golf course ponds down in Green Valley when we get to Arizona, but for now, this trip was it.
Had very low expectations for the Eagle today. It was a wildly windy afternoon with perfectly clear skies - not a prescription for good fishing results.
All that being said, the day turned out decently. A double nymph setup behind a rubber leg surface strike indicator fly worked quite well. It really worked better than did my reactions to the dozen or so strikes I missed. Still released a handful of decent fish which made for a good last day on the water..............................
Here's the short video of the day's activity.
---
Home, Main Fishing Page, Fishing Report, Eagle River Access, Local Ten Commandments, Successful Fly Patterns