October, 2010
Last Logbook Entry é for previous day
10/08: As we more or less expected, once the pond waters warm down here in Arizona, the fish become much more active in their feeding habits. Just the opposite of what we found last January. Happy times indeed.
I had three short excursions to the water hazard on the San Ignacio course this past week. Each of them resulted in catching some very nice warm water fish.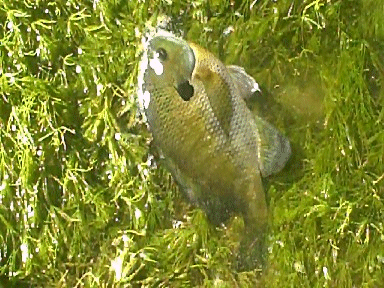 The last outing was by far the best - even though the water level in the pond had somehow been drastically reduced. On my first two days there, I used a tan colored wooly bugger, and yesterday I changed to a Gunnison hopper. The latter fly was far more appealing to both the bluegills and two different species of bass, a couple of which were darn good sized.
It was interesting to see many fish breaking the surface even in the middle of the day to chase both damsel flies and dragon flies which were hovering over the water and also ovipositing eggs as well.
Here's a short video of the sessions:
---
Home, Main Fishing Page, Fishing Report, Eagle River Access, Local Ten Commandments, Successful Fly Patterns