March, 2010
03/13: Free at last! Free at last! Done working on the mountain at least for another week so with warmer temperatures this Saturday, I was able to haul the doggies down to the Eagle River in the town of that name and do a bit of casting.
The river's still running clear and quite low, making conditions pretty much ideal. And the trout are waking up. We walked out on some shore ice, and I began casting a double rig of nymphs to a fairly shallow run. After a bit, a nice, but smallish ten inch rainbow bit the bead head buckskin and let me release it. Shortly later a smaller brown did the same thing.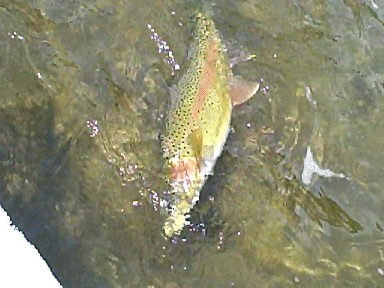 Then a much nicer sixteen inch bow took the red midge larva and was kind enough to let me release her gently back to the water.
Upstream this modest, but steady action continued with another couple of sub twelve inch browns. It was a fun day for the dogs and me and really nice to feel some life on the end of the line after this long winter.
A very short video of some of the fishing follows here:
3/16-18: We had a nice warm three day window of opportunity this week to get away from the ski slopes and on to some favorite fishing streams. So I put the old dog Sky in the van and the two of us drove all the way over to Utah to try our hand at the Flaming Gorge tailwater.
And try our hand was about all we did. The Bureau of Reclamation has recently dropped the flows to late summer levels - that being done because of substandard snow pack in the mountains where the Green River is formed. By itself that wouldn't have been a negative issue where the fishing was concerned, but the combination of that feature, plus 36 degree water temperatures, no cloud cover, and no wind to riffle the surface created the most difficult fishing I've ever seen on the river.
It was beyond the beyond trying to get a fish to take anything. The first afternoon we walked a bit of the upper A section and released only a single fish. After dinner it didn't get any better by the spillway, so I'll admit being a little depressed.
Next morning we drove to Little Hole hiking and fishing our way upstream for over three miles. Still very little success. Apparently all the local guides understood the situation as there was only one drift boat on the river all day long. Just unthinkable to have that happen.
On the way back to the car at the end of the day I finally had a few more fish take a very small - like # 12 olive brown streamer with a small brass cone head. Still it was easily the worst experience I've ever had on this river.
Here's a short video of the ruins of that day:
Drove back through Vernal and eventually arrived at Rio Blanco Lake (completely frozen over) where the dog and I spent a relatively pleasant night before making our way to Meeker for breakfast the next morning.
Up river we went more or less expecting another negative experience on the water. It was nasty cold and cloudy with an arctic front expected during the day. I rigged up the rod for straight nymphing using a golden stone up front and a buckskindipity at the very end. Turned out to be a good choice of flies - and the fishing worked out well too.
Tried a new spot and found it to be full of hungry, aggressive rainbows. Even missing a number of tentative strikes, and then misplaying another handful of fish, eventually I was happy to release well over a dozen rainbows and whitefish between 14 - 18 inches. Only spent an hour & a half or so on the stream but probably could have kept that kind of catch rate up all day long.
We piled back in the van and started for home, but with the day only partially over, made a quick stop on the Roaring Fork to try a couple of favorite spots on that river. It too proved to be successful with a good number of rainbows between 14 - 20 inches released or played.
The trip definitely improved as it came closer to an end. Here's a bit longer video of those last two rivers:
Last Logbook Entry é for previous day
3/28-29: Sue has her last two days of instruction scheduled on these dates, and with the mountain being as crowded as it is during the Easter holiday period, the dogs suggested we try another fishing trip. What smart canines!! I couldn't have agreed more, so we left town in the van mid morning on Sunday and made our way south to Salida for a quick lunch and then drove a bit further downstream on the Arkansas River.
Right away it was apparent that it would be very difficult fishing again. Skies were clear, the sun was bright, river was low and clear - - and blue winged olives just don't hatch on days like this.
We took the back road across from Wellesville, parked as far downstream as we could, then walked another half mile before starting casting. A vicious and bitterly cold downstream wind didn't help anything. I nymphed for a couple hundred yards before noting something breaking the surface in a shallow riffle. Changed to a comparadun/emerger combination and almost immediately took a couple of decent sized rainbows. Great!
The "great!" was short lived. Nice pocket water along the bank for the next quarter mile yielded nothing at all. After that a deep hole suggested back to nymphing might be called for - which we did. Getting the golden stone and trailing black midge larva down a good ten feet in this slowly moving water brought "great" results.
Played at least a baker's half dozen of nice sized rainbows and shortly thereafter another few mixed browns and rainbow in other eddies.
After taking a break for some liquid in the van, kept fishing a bit further upstream with only mixed success. Nevertheless it was a surprisingly good afternoon.
Camped that night just below Salida along the abandoned railroad tracks. Dogs were up before dawn, and obviously so was I. By 7:00 next morning I couldn't stand the commotion any longer, so bundled up and walked the rails downstream a good couple of miles.
Saw more bighorn sheep than I did fish. Just too cold in the mornings now. Ice in the guides, yakkity yak, etc.
Gave up trying just before noon with zero strikes to show for the workout.
Gassed up and drove north to Buena Vista and then down to River Park.
One of our favorite summertime places to throw a fly, today it looked like a loser. Way too shallow and frigid and clear. Didn't think we'd have a chance, so boy can I be wrong from time to time. Caught a handful of smaller mixed browns and rainbows in the first run, and when several trout tried to inhale my thingamabob strike indicator, I shifted gears quickly.
Put on a white rubber leg WRS as a "strike" indicator followed by a red copper john and finally a tiny bead head buckskin at the bitter end. Lots of fun followed.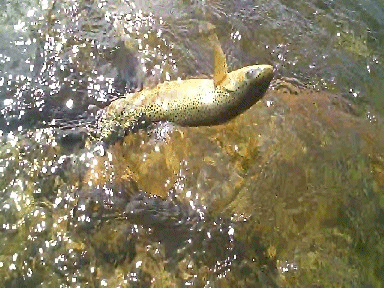 Fish of both persuasions fell mostly for the buckskin, then the surface fly, and then the john. It was a terrific end to what probably are our last couple of days on the water this spring. The dogs had fun too.
With luck we'll get to throw a streamer in the golf ponds down in Arizona next month, but that's likely to be our last casting until we're back in Colorado in June.
Here's the modest video of this two day trip:
Home, Main Fishing Page, Fishing Report, Eagle River Access, Local Ten Commandments, Successful Fly Patterns