July, 2010 Diary
7/2: The 4th of July weekend is upon us, and not wanting to try any kind of fishing with that many people in the valley, I drove over Vail Pass this morning and spent a short bit of time on Ten Mile Creek - not because I wanted to just spend a "short" period there, but due to the onrushing thunderstorm.
It was decent fishing despite the creek running maybe 50% higher than optimum levels. Used a three fly rig and had fish to all of them although the buckskindipity was the most preferred.
Here's a short video of the "short" trip:
7/7-8: We're trying to do at least one overnighter fishing trip each week in the summer months. This week's took place one more time on our favorite stream in Northwestern Colorado. Happily we're able to combine the fishing and camping with some inexpensive golf too, so after nine holes at the local public course, we drove to the stream and started fishing around 1:00 in the afternoon.
Wading immediately continued to be very difficult, bordering on dangerous in places, but the fish were hungry. Unhappily the whitefish were also in a feeding mode to the distraction of the many local rainbows and cutthroat in this part of the river.
It was fun anyway. Sue & I hiked and cast for probably a half mile and caught fish everywhere. She now has the title of queen of the whiteys as she seemed to get stuck with most of those bad boys today. We had a great time. The rainbows never exceeded eighteen inches - except for maybe some we struck and lost, but the action was strong all afternoon. We used a double or triple fly rig up and down with a white rubber leg WRS on the surface and a variety of nymphs down below.
Camped that night above Lake Avery where the dogs enjoyed roaming freely on the plateau above the water. Next morning I spent a short hour again on the river while Sue did some reading in the van. Action wasn't quite as heavy but still wasn't bad at all. Then following another nine holes of golf we enjoyed a slightly longer drive home through Craig due to much road construction around Rifle and Glenwood Springs. Next week we're planning our first excursion to the Gunnison and hopefully the Crystal will be low enough to fish as well on our way back home.
Here's a video of the trip this Tuesday and Wednesday:
7/12-13: Another couple of days on the road. Sorry if that doesn't sound like a lot of excitement, but the reality is that it was not. Monday was a long two and a half hour drive to the base of the canyon of the Gunnison - a trip we lately have done only once a year. Happily the flows of the North Fork had declined to the point that the wade across from Pleasure Park was a piece of cake. The hike up river was equally easy, the dogs enjoying a romp into the river from time to time.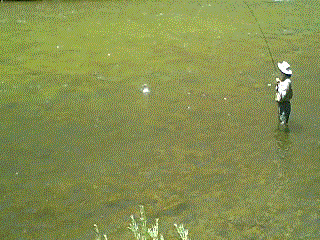 We started casting a bit earlier than normal as the numbers of cars in the parking area suggested that we had a lot of folks upstream ahead of us, and that again suggested that we might profit more from fishing a little bit more downstream. It turned out to be pretty true as we both caught some smallish browns right away.
Kept up our regular hike maybe three more miles up the river and did fairly well. Sue had more success on her double rig than did I. Her lime green copper john was more productive than were my double nymphs.
It was quite a hot day. Maybe 90-95 degrees by the time we headed back to the car. So far so good.
Up on the North Fork, our favorite parking/camping spot was full so we turned off towards Crested Butte and drove the six miles to the Erickson Springs campground on Anthracite Creek where we spent a pleasant night. The creek itself still flows too high for good fishing, and I caught nothing the next morning. Got packed up and drove over McClure Pass down to the Crystal River. Sue opted out of fishing for a nice breakfast while I tried this river in the town of Redstone. Some fish but not many. All rainbows.
Back in the van and down to Glenwood Springs. Airport parking was full so made our way back to the Sunlight Bridge where I walked downstream and worked my way back up. River still too high. Nice yellow sally hatch and several strikes, but only a couple of small browns released to show for the efforts.
Not a great trip but not bad either.
Here's a quick video of what we experienced.
07/15:
A nice day today with no thunderstorms in the forecast. The Arkansas beckoned. Sue even opted to join us on the trip. Hoorah. Over Vail Pass we drove; then over Hoosier. Through Leadville. Shortly after that we found one of our favorite stretches of the upper river to be unoccupied. We occupied it.
To our advantage.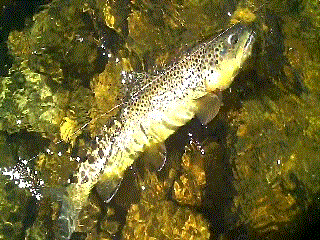 Nice fish throughout its length. Mostly larger than I remember from previous trips. Most were in the 16-17 inch range. A couple smaller. Both of us missed lots of strikes, but with caddis in the bankside bushes, a #18 WRS thrown along the edges of the current brought strikes in all the right places. Lots of fun.
Maybe an hour of walking & casting & catching & releasing. Then back in the Element and did the drive to Granite. Not quite as good down here. More pressure from both fisher people and rafters/kayakers. Caught a few fish on the bank to fourteen inches. Then on to Buena Vista for our obligatory lunch at the Dairy Delite. Love the place but even at 11:30, it was too busy and the wait too long. We stayed there anyway and enjoyed every bite of our burgers and fries.
Drove to River Park. Sue hiked down river left, and I did the same across the bridge. Good fishing here too, although the stream is still running way too high to be pleasant to wade. It'll be better a couple of weeks from now.
Around 1:00 we turned the car back towards Vail. Stopped by the Kobe SWA but too many people to work that water today.
After Leadville we pulled off at a stop on the upper East Fork of the Ark. and enjoyed a few minutes of casting for the little brookies that somehow survive the merciless winters in that tiny stream.
More fishing should be on the agenda this weekend. Probably Gore Creek and maybe the Colorado too. A video follows:
7/18: The first couple of short trips to our local and very favorite stream proved to be mostly unproductive. Not a good sign. The floods this spring apparently ripped out most of the fish and certainly destroyed this year's crop of rainbows. It's a bit depressing. Only place I could find more than a fin or two was in the deepest of deep holes - and they aren't easy to fish.
Here's a quick & dirty video of the sessions. Doubt I'll be on this creek much through the remainder of the summer:
7/20-21: Yet another overnighter for us this week - probably at least one each week through the end of the summer or early fall. This time is was up to Northern Colorado focusing on the Poudre River drainage. We drove the back way up through Kremmling and Walden and then turned back south to head up over the pass to the headwaters area.
Sometimes we hike and fish Zimmerman Lake which is a home to greenback cuts, but today we passed on that. Recent experiences have shown it's just too hard to throw a fly from the tree packed shoreline there. Instead we made our way down to the upper part of Joe Wright Reservoir in the hopes of landing one or more of the beautiful grayling that inhabit that impoundment.
Reports on the grayling fishing weren't positive due to recent spawning by the species, but today we did very well. Caught maybe a dozen mostly to a surface WRS. Wonderful fish. Strong and very nicely marked. It was a good start to the trip.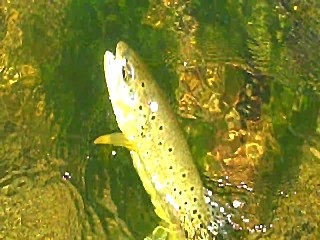 Downstream on the Poudre we found way too many fisher people who kept us from trying a number of our favorite spots, but we still had decent success of the local browns in most places we stopped. Again the surface fly was preferred over any kind of nymph.
Reversed course that night and camped at the base of the Crags area. Next morning we'd planned to do another favorite spot at the North Fork of the Michigan River, but it was so cold when we arrived there, we passed. Drove back towards Granby stopping on the Willow Creek but did nothing there at all.
It was close to another bust on the Colorado near Hot Sulfur Springs and with the exception of a single good sized pike off the shore at Williams Fork Reservoir, not much better there either.
The river above the reservoir was another bust due to approaching thunderstorms, but all in all, we had a great time.
Next Monday we're off on a week long adventure trip through Utah, Wyoming, and Montana so hope for good weather and lots of strikes along the way.
Here's a short video of this past two day's action:
Last Logbook Entry é for previous day
7/23: Our local water (Gore Creek) has not been very productive lately - that is, until today. Apparently some cloud cover made the tippet less visible or something like that. In any case the creek was as wonderful today as it ever has been in the past. Most of the three different species came up to a # 18 WRS and the few others took either a copper john or a standard buckskin.
It was a lot of fun and may have been our last outing in Colorado for at least a good ten days. On Monday we're off on the long summer trip to several of our favorite places in Utah, Wyoming, and Montana before returning home early in August.
Here's a short video of the action today:
---
Home, Main Fishing Page, Fishing Report, Eagle River Access, Local Ten Commandments, Successful Fly Patterns