December, 2010
12/01: Fishing's out of the question this December. Just too much cold and snow, but we'll deal with it and will enjoy being up on the mountain instead.
Last Logbook Entry é for previous day
12/27: For practical purposes fishing was out of the question. But since I had a day off ski school this morning, it seemed appropriate to try to get in one last session of casting on the water - which I did.
The dogs probably had a better time than did I, but it was nice to get us all outdoors and on the Eagle River again one last time in 2010.
Down below the fairgrounds, the water looked fine, but I had zero strikes on the double nymph rig that I threw in the big pool there. Aside from the fact that this great looking piece of water gets hammered by wormers, it still should contain enough fish to yield up one or more to me, but it did not.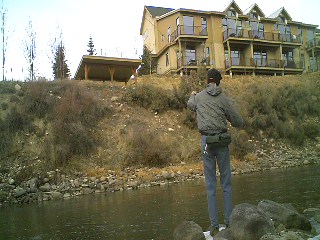 Drove back through Eagle and tried some more casting just above the bridge that accesses the main part of town from the freeway. Again the water looked nice, but no fish would cooperate, so I'll have to just enjoy the outing and accept the handshake from Mr. Skunk.
This may be the last fishing until late February or March, as we'll be heading to Arizona for three weeks in mid January and then are tied up with ski school stuff almost all the way through March.
---
Home, Main Fishing Page, Fishing Report, Eagle River Access, Local Ten Commandments, Successful Fly Patterns