August, 2010
7/26-8/1: This was the week of our big summer fishing trip off to the wilds of Utah, Wyoming, and Montana. Not exactly the wilds given the crowds we encountered, but at least we learned some lessons. More on that later.
Our first day was mostly a long drive over to Flaming Gorge where we took a break from the ride by working our way down to Little Hole on the Green below the dam. Thought the place would be slammed and were really surprised to find no one working the bank water down on the upper part of the section called "B". That was great so we could let the dogs run freely along with us to get some exercise and honestly we didn't have high hopes for much action down there.
It turned out to be fairly decent though. Started casting with a cicada on top and a prince or copper john behind & below. A few short strikes came to the floater and some tentative takes on the nymphs. Eventually both Sue & I changed to a simple WRS on top and then we had a lot more fun. Released a few nice browns and rainbows stretching to almost eighteen inches and a few younger class fish too.
Finished up late in the afternoon, hopped in the van, and drove towards the Wyoming border, stopping for the night at a forest service road to camp. Next morning drove into Green River in that state, had breakfast, and continued on up the highway to Fontanelle Reservoir. Spent just a few minutes looking at the tailwater below the dam before continuing on north. At the town of La Barge we turned up the canyon on the creek of that name and drove maybe 15-20 miles upstream to a favorite spot.
The WDOW was supposed to have poisoned this stream to eliminate non native species, but clearly that either didn't happen - or it just didn't work. We had a fun time catching browns, rainbows, and whiteys to thirteen inches but were disappointed that none of the cutthroat showed up in our catch. Don't know what the story is here.
Finished up the day by making our way on the dirt road upstream along the Green at the Warren Bridge and camped for the night. The fishing here was a real disappointment. Both of us had plenty of strikes but neither could get a fish on long enough to get a good look at it. Suspect this was our last excursion to that part of the river.
Here's a video that documents these two days. Another one or two will follow shortly.
Upwards and onwards we went. It was a short drive to the Hoback where the fishing once again was pretty modest. Did release a small number of finespotteds and whiteys, but it was nothing to brag about.
Then into Jackson for a gut filling lunch at Bubba's followed by the drive into Grand Teton Park. First stop was on the Gros Ventre where we had similarly modest success, but at least felt a few fish on. A couple of pull offs at the Snake gave us nothing more so we continued on to our regular camping place along the Snake River just below the entrance to Yellowstone Park. I did cast in the tiny stream passing by the camp and did release a couple of tiny rainbows.
Next day we passed through the park, stopping for breakfast at Grant Village. Very nice breakfast and good service, something we're not used to seeing in the park itself. Got on the North Shoshone early in the morning and found every favorite spot already occupied by a fisher person and the river flowing so quickly, it seemed useless to try, although we did, and with no success.
Cody. Did our regular visit to the museum and always enjoy the art at the Whitney Gallery. North to the turn off to the Clark's Fork and again the river was flowing way too high. Very disappointing. Went far up river to our normal camping spot and did catch some fish that evening although the deep nymphing was not much fun at all. Over night the river blew out and became the color of a Hershey bar. We were done here.
On to Red Lodge we went and spent some time with friends there. Rock Creek which is normally a lot of fun was also running too high to wade so we camped up on the West Fork. Had a nice dinner there and I did catch a few rainbows in the pockets, but it too was not the way it should have been. We'll simply never come back this time of year. Just too much in the way of iffy conditions.
Here's this two days worth of fishing video.
Ah, the last day of the trip. Usually it would be a time for mourning - this year not exactly so. We did some interesting driving across the northern part of Wyoming on highway 14 (which was a mess due to construction), then through Sheridan, down to Buffalo, across highway 16 to Worland ending up at our favorite spot up Sinks Canyon near Lander.
The North Tongue was very good fishing - albeit for quite small rainbows - all under fourteen inches. Next stop was on Tensleep Creek on highway 16. Not so good here - too many stunted brown trout, but a beautiful canyon to drive through.
We ended up at a dispersed camping place on the upper part of Sinks Canyon where a couple more fish fell prey to the flies we were using.
Next year.
NEVER. Go on this trip again until Labor Day is over.
CHECK. Water flows on all the streams in northern Wyoming before leaving.
AVOID. Crowds. Wait until the new school year starts.
Here's the short video of our last day on the trip:
8/4: With the skies looking ominous, I drove out to Gore Creek right after lunch hoping to get in an hour or so of casting before the monsoon hit again. It turned out to be a great day of fishing. The higher flows (due to daily rainstorms) and some cloud cover really helped. Must have played and released a dozen or so of various trout - the best part being that all four local species were involved including the elusive Colorado cutthroat. Wonderful!
As an added bonus, I also pocketed a good three dozen golf balls from the stream. Outings don't get much better than that.
Here's the video of the experience:
8/10: A short trip to the Dowd Junction section of the Eagle River brought some results, but mostly a lot of missed strikes by me. At least the foam cored WRS proved to be a useful fly. Tomorrow we're off on possibly our last fishing/golfing trip to the White River this season.
Here's a short video of the outing:
8/11-12:
This trip was planned to be two days of both fishing and golf but ended up as a single of the former and a double of the latter. Finished our golf just after noon the first day, grabbed some quick fast food in town and made our way up the river to our regular starting point, where happily we found no other fisher people.
Did our normal wade and started catching fish - or rather at least hooking some nice fish right away. Took a while to finally land a few, but when that began, it kept going all afternoon. Both Sue & I used a dry/nymph combo rig. Interestingly she caught all her early fish on the nymph while I couldn't buy a strike with my sunk fly. Possibly for the better as most of her strikes to that wet imitation were whiteys - and while we don't truly dislike that species, trout are definitely preferred.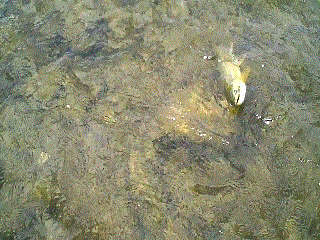 I've been working with a foam core WRS lately and think it's going to be a good answer for an all around surface fly. Floats better than the regular version and doesn't require constant re-ginking. Also probably supports a nymph better too.
Anyway we had a great afternoon everywhere we fished. Each of us probably played 40-50 fish apiece of four different types. Played and lost several that would have been measured in pounds instead of inches. Best released were 18-20 inch rainbows, a sixteen inch brown, ditto sized cutthroat, and quite a bit larger whitefish.
This morning we'd planned to fish again, but it was colder than we'd thought it would be and also raining a bit, so we passed on the wading and played an early round of golf instead.
Stopped by the Roaring Fork on the way home to make a few casts, but only had a couple of tentative strikes apiece.
Tomorrow I'm off on an overnighter to the Arkansas while Sue drives to Denver to help her folks with a project down there.
Here's the video of the trip:
8/12: Today and the following one shortly to be posted might be labeled "From the Outhouse to the Penthouse" give the two experiences. Watch the video to understand the statement:
8/13: This day was the Penthouse. Actually it got too easy, so I quit early, but the results were outstanding. Again, the video describes the experience:
8/17-18: This week's outing was planned to be a three day, two nighter covering a long loop of various streams that we visit annually. It was cut a day short due to somewhat murky conditions on our last river, but we had some fun anyway.
Trip began with a drive to Buena Vista and some casting at our regular spot down below River Park there. Flows on the Arkansas are still pretty high but we enjoyed decent success throwing flies close to either bank. Fueled up and fueled up our tummies at the Dairy Delite and then made the drive over Cottonwood Pass to Taylor Park.
Had good fishing for the smallish browns above the reservoir and I did land one nicer brown at the tailwater below the dam itself. Then we continued on to the East River at the Roaring Judy access area. More decent fishing here as well, again for modest sized browns before driving up the shortcut road to the top of the Almont Triangle mountain where we spent a pleasant night camping in the Element.
Too cold the next morning to think about fishing either the Taylor or the East again so we drove up to Crested Butte where we had a great breakfast at McGill's. Then it was over Kebler Pass and down to Erickson Springs where I tried Anthracite Creek for a bit. No luck here other than a couple of strikes.
Next stop was at the confluence of Anthracite and the North Fork of the Gunnison. The confluence area was completely unproductive, but Sue walked up the Anthracite for a bit and caught five nice rainbows in a short period of time.
On we continued up and over McClure Pass, turning off on the road to Marble where we parked near the local (grassy) airport landing field. Hiked down to the Crystal and had good success on rainbows from 12-15 inches that took both dries and nymphs. Only issue was that the stream was getting discolored from a recent rainstorm. We drove to Redstone for lunch in the park and watched the stream get murkier and murkier.
That issue put the kibosh on thoughts of camping here overnight as all of our energy the following day would have been focused on the Crystal. So home we drove, arriving back in Vail late in the afternoon.
Here's the video of this trip:
8/21: Had to drive the Eurovan to Sue's place in East Vail today as our parking garage in town is being updated. Kind of fun to put the bike inside along with my fishing stuff and then peddle back to town and fish along the way.
No cloud cover suggested tough fishing, but it turned out great. Probably played and/or released a good thirty fish in a couple of hours. Most interesting was releasing three separate Colorado cutthroat which I've never had the pleasure of doing before. Just missed the grand slam by not landing and releasing one or more of the brook trout I played.
Here's a quick video of some of the action:
8/22:
Pretty much what I'd expected from the Eagle River today. The video -
Last Logbook Entry é for previous day
8/26: Intended to fish the Colorado down by State Bridge, but with the river running too high and also a bit too murky, we went up the lower Piney instead. It was pretty much like it usually is - not great, but not too bad either. Here's the video.
---
Home, Main Fishing Page, Fishing Report, Eagle River Access, Local Ten Commandments, Successful Fly Patterns