November, 2009
Last Logbook Entry é for previous day
11/19: It's been a really long time since we've had a chance to wet a line again. Two months of fun in the sun down at our place in Arizona doesn't make for many trout fishing trips - although next year I plan to take a pack rod down to Green Valley, stuff it in my golf bag, and make some casts on the courses down there when we find a pond that holds some warm water types.
It's been pretty balmy here in Colorado since we got home, so with no skiing available, I took the old dog Sky down to the Roaring Fork today to see if we could scare up a trout or two. Sure do miss getting out on the water but not enough to give up our time down in sun country.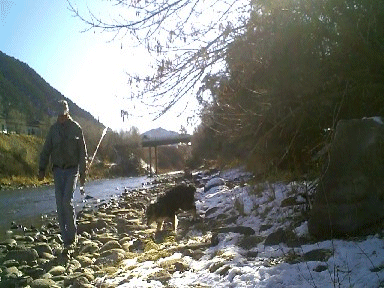 We drove to Glenwood, parked by the bridge and did our regular hike downstream to our regular starting point. Even with the warm weather there still was snow along the bank so the hiking was somewhat cautious. As always this time of year, the stream is low, clear, and cold which called for a small fly setup.
Used a couple of #20s to start with - baetis emerger up front and red larva behind. It was slow going at first with no strikes at all at our first two casting points. Got up to a bit deeper hole and found I still was unsuccessful until adding some more weight and moving the thingamabob strike indicator further up the leader. That helped a lot. Had a number of strikes, missing most of them due to my ineptness - and also the very tentative nature of the strikes this time of year. But then hooked and played a couple of very nice fish, losing both of them when they got way out in the current in the middle of the river and popped my 6X tippet.
It was fun though. Eventually landed and released a couple of smallish fish which made me feet better. After that the fishing got even better. Lost a couple more very large (for me) rainbows in the 18-22 inch range and was able to play several more fish to hand. Really good fishing. The river appears to not be heavily fished right now so the trout seem to be far less spooky than they were at the end of the summer.
Crossed the bridge again and worked my way upstream into the midday sunlight which made seeing the strike indicator very difficult. Though the catching is usually better up this side, today it was not. I kept getting strikes and playing the occasional fish on deeply dredged nymphs but missed way too many trout.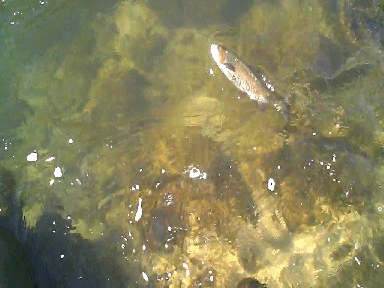 At the top of the walk changed to a streamer and beat my way back down through the big pool, releasing a few more fish along the way. Nothing of consequence size wise though.
On balance it turned out to be a really good day. Probably played a good twenty five fish or so and had easily that many more strikes. Sizes were all decent with the exception of a couple of ten inchers - the averages were in the 14-18 inch range. Best flies turned out to be #20 or #22 RS-2s in baetis, gray, or brown bodies.
Since it looks like weather is going to be mainly nice next week too, we might have a chance to do an overnighter to our favorite stream one last time this year.
Here's a short video of the trip:
---
Home, Main Fishing Page, Fishing Report, Eagle River Access, Local Ten Commandments, Successful Fly Patterns