December, 2009
12/01: I'm cheating time a bit as this trip really took place the last part of November - - but - - since it's likely to be my last outing of the year, it seems better to at least populate the month of December with something rather than leave it a blank.
Dragged the dogs out of the condo pretty early in the morning as we were going all the way to the White River for a one day trip - something we've never done before. Going up that way has always been an overnight experience, not only to enjoy plenty of fishing time, but to have a good campout in the van as well. Today it was the Element's turn to go, and the river lay about two and a half hours ahead.
We stopped in Rifle for a fast food breakfast and arrived in Meeker near 10:30. My plan was to drive to the town park, exercise the dogs for a while (maybe make a few casts) and then continue on to our destination. Plenty of snow in town and unfortunately also lots of shore and flow ice in the river too. It wasn't looking good. I tried to get my nymphs down to the bottom, but the leader was relentlessly caught by a patch of floating ice and the flies never got close to where a fish might have been. It was pretty discouraging.
Fortunately we didn't give up. Drove to our normal starting point, and by the time we'd gotten there, the air had warmed and miraculously most of the flow ice was off the water. Wonderful!
Wish I could follow that good news up with some about my great fishing skills immediately bringing similar results on the water, but that just didn't happen. My fly selection choices were complete duds, and those choices were complicated because I almost immediately caught a nice whitefish on the buckskin that was the larger fly on my tippet - which led me to believe that tactics from the Roaring Fork a week earlier would transfer to this river. After that it was a complete bust for the next several good holes. I played with a variety of RS-2's, midge larva, tiny copper johns, etc. Nothing doing.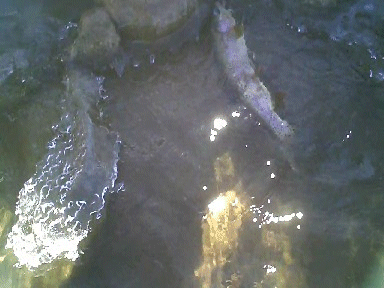 Finally threw in the towel on "tiny" and tied on a #10 bushy black stone. Wow! Almost immediately hooked & released a really nice rainbow. Lots more strikes followed with several more fish played. I was just disappointed at having passed up so much good water by my early fly selections.
So while it was a fun, nice day out on the water, my results were way below what they should have been. Still a whole lot better than sitting around the house watching the boob tube. Don't know if we have weather that will permit any more fishing before the year ends, but if we do, we'll get out there.
Here's a quick video of the outing:
Last Logbook Entry é for previous day
12/21/09: Skiing's still lousy in Colorado given our very skimpy snow cover, so..................... needing a break from the dogs and not wanting to waste my time on the mountain, I drove out of Vail early Monday morning on I-70 West, made my way to Glenwood Springs, turned left to Basalt, and wound my way up the Frying Pan towards the dam.
In fact I had to drive all the way to the base of the dam just to find enough sunshine along the bank where it was warm enough to struggle into my waders. Not an easy task in temperatures that may still have been in single digits. Amazingly there were already four other vehicles at the parking area while I was rigging up my 7X tippet with tiny midge larva. I drove a bit further away from the dam and found a small pool that was unoccupied. Good god it was cold. Typical winter fishing - don't know why I continue to suffer through this every season, but hope springs eternal.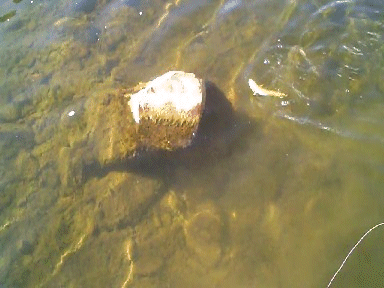 Actually the fishing wasn't too bad. Fairly quickly started getting some strikes and then began releasing a few of the overpopulated browns on this part of the river. Sizes were modest - all under 13 inches - and most had little fight in them, but it still was more fun than sitting around at home.
Tried to get on several other spots that I've had better success as I drove back down the Pan, but either the snow was blocking the parking area or the river was so dark from sun not being on the water that it would have been unbearable from a temperature standpoint. So I kept going through Basalt stopping just downstream on the Roaring Fork below that town.
Struck out completely in a nice pool that's been reasonably decent in the past. Don't know why that was the case.
Packed up again driving into Glenwood and walking down from the Sunlight Bridge. Here I thought I'd be shut out too - and almost was. The shore ice is now 20-30 feet out into the river and my favorite deep holes are almost completely out of reach. I was able to fish one of them and after a couple of very tentative strikes, was able to hook and release a nice sized whitefish.
The other two places I tried I drew a blank. Just couldn't get a nymph into the better holding water. Gave up. So much for any more fishing until we get some kind of mid winter thaw. That probably won't happen until late January or February at the earliest. We'll just have to say goodbye to 2009. It still was a very good year.
Here's a quick & dirty video of the trip:
---
Home, Main Fishing Page, Fishing Report, Eagle River Access, Local Ten Commandments, Successful Fly Patterns