May, 2008
5/3: We arrived back in Vail just in time to enjoy another eighteen inches of snow the past couple of days. The storm finally departed (thank god) early this morning. Enough with winter!
Thought about driving over the pass and then down the Blue to the inlet point of Green Mountain Reservoir, but given a lack of knowledge about how that stream's flowing and its coloration, decided to stay closer to home.
So after lunch drove out to the (snow covered) golf course and made a few casts in both Gore Creek and the golf course ponds. Several of those stillwaters are ice covered to this day attesting to the nasty spring weather Vail's had this year. But open water in the largest pond looked inviting despite a strong west wind howling across the snow.
On the way to the pond I tried my luck with nymphs in Gore Creek and was shut out completely. Probably the issue was not getting deep enough as that's always been one of my failings while nymphing. However, the flies did get hung up a couple of times on the leftover willow stems that beavers had cut to construct their winter reservoirs, and which the yet to begin runoff had not scoured the creek bottom. So annoyed at the lack of success and the loss of four good flies, I shifted to a smallish black streamer and headed to the ponds.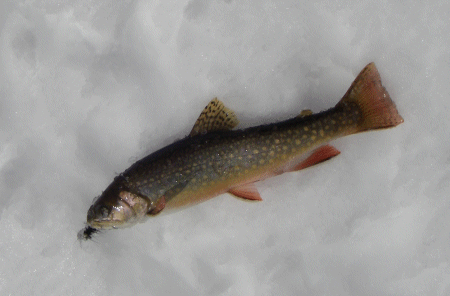 Some success came almost immediately with several brookies between eight and twelve inches showing an interest in the streamer.
Mouths seemed to be pretty soft still as most hookups resulted in long releases, but enough fish were unhooked to make the author happier.
Only one twelve inch brown trout broke into the release column of nothing but brookies. It was, however, always nice to have a little bit of life on the line again.
Tomorrow we head to Denver where I'm flying out on Monday to visit mom in Oregon. After getting home the following weekend, there should be a trip to either the Green or Lake Powell on the agenda for the following week.
5/15: (Thursday)
Am sitting here in the back of the Element watching the wind wail and the white capped waves race by me under a hot afternoon Lake Powell sun.
There's little likelihood that the wind's going to let up enough to allow us to launch the kayak one last time before we pack up & head back home tomorrow morning.
Actually that's not a great loss given the fact that the fishing's been pretty much a complete washout these past three days.

We (the dog & I) drove out of Vail Tuesday morning in the middle of a blinding snowstorm. Flakes were coming down so hard & fast, the double speed wiper blades could scarcely keep my vision enough to stay on the freeway. Enough of this lousy weather!

Down here (at Lake Powell) another cold front came through last night and today as it's passing to the south and east of us, the big high pressure ridge that's supposed to finally bring some decent weather to the Colorado mountains has brought the high winds with it.
Somehow the canopy on our Element's backside has managed to stay in place through what have been steady 25-30 m.p.h winds all day long with much higher gusts. I thought about trying to take the canopy down but gave up and decided to just let the wind do it if it happened. Apparently it's going to survive this daylong assault.

When we got here Tuesday, it was calm and relatively warm though I opted not to go out in the boat that night. Tried casting our regular rigs of mixed streamers from the bank in the afternoon and early evening with zero success. Normally there are decent numbers of juvenile smallmouths living just off the rocks in front of us here to give us at least a bit of a bite, but this day there were none. Even though this year's snowmelt is anticipated to raise the lake a good fifty feet, right now it's somewhat lower (maybe four feet or so) than it was when we were here last spring.

Yesterday morning (Wednesday) after breakfast I set up the kayak, loaded the dog, and we paddled around the point into the Stanton Creek arm and went exploring up the channel there. I again had no strikes. In all honesty we're really way too early down here for the type of fly fish trolling and bank casting we can do, but it was worth making the trip anyway to get out of the rotten mountain weather. At least I'm hoping it was worth it in hindsight given the $100 bill it took for gas just to get here.


Spots that normally always produce a strike or two went blank today. At a steep dropoff some bank casting eventually brought a handful of strikes and a couple "small" smallmouths to hand, but really the fishing is a bust for us.
Assume the bass boat folks are probably doing better although I didn't see any of them hook or play any fish either.


Returned to camp, repeated the same process later in the day and got shut out completely. In the evening in front of camp, I did lip hook a nice sized carp (don't wince at that), but he pulled free - as most of them do - after a couple minutes of struggle.

So that's about it for this trip. Despite the lousy fishing and difficult weather even down here, I'd do the same thing all over again in a heartbeat. The human body needs some sun from time to time, and I got that in abundance for the past three days.

Here are a few "un" fishy photos from the trip.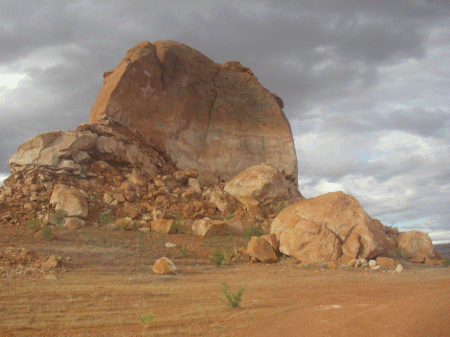 One of the large monoliths above our camp site near the point at Stanton Creek. The white water mark is clearly visible roughly half way up this rock.
The picture was taken roughly fifty feet above current water levels which would put those marks about 100 feet above the lake now.
If predictions for runoff hold true, the lake should be lapping at the base of this structure around the first of July.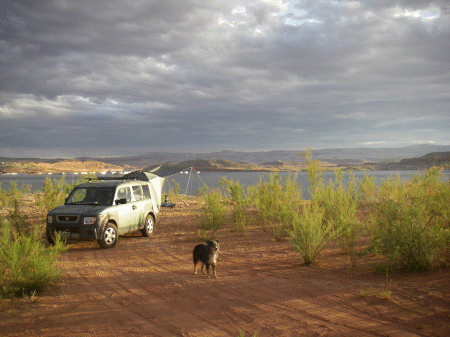 Our camp site the first night. The ugly cold front that brought lots more snow to Vail was just passing through here too.
The next couple of days were much brighter - if altogether too windy.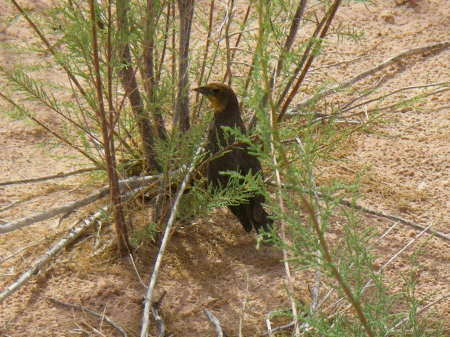 Kind of an interesting smallish yellow breasted bird that seems to get its sustenance either from insects or some part of the base of the many tamarisk that have overrun the shoreline here.
There wasn't a lot of interesting plant life in bloom while we were here. This little white blossoming flower was all we had along the shoreline.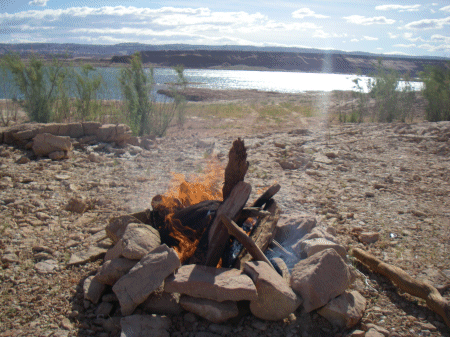 Couldn't resist making a shore fire one evening. Probably should have waited for night to fall but ran out of patience.
Was hoping to try northern Utah this coming week (Pelican, Flaming Gorge, and the tailwater), but after checking the long range forecast this morning, the anticipation of too many potential snowflakes and cold air temperatures will probably limit us to a couple of short days on some kind of water closer to home.
5/19: Both my summer running shoes are shot, so I had to drive to Silverthorne to pick up another couple pair at the Nike factory store over there. That presented the obvious opportunity to fish the Blue this spring. It's flowing quite heavily in town due to high releases from Dillon Reservoir in anticipation of a massive snow runoff later this month and through the early summer.
So the faithful dog & I chose to drive downstream to the inlet of Green Mountain to check out what's always been somewhat spotty fishing there this time of year.
That was the situation again this time around. We parked at the campground at the top of the lake and gingerly made our way down the rocky, sandy bank to a few feet above the mud that made walking the actual shoreline impossible.
With a lot of difficulty I was able to do some casting - although with a 45 degree bank behind and above me and no decent footing, casting was brutally difficult. The 20 m.p.h. upstream wind didn't help a lot either.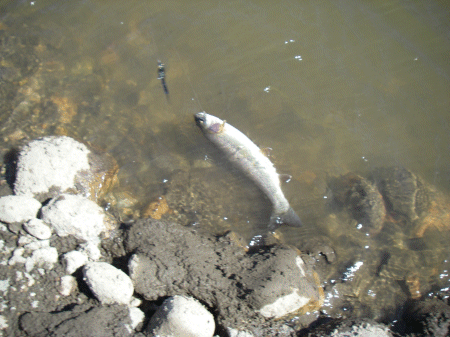 Miraculously I did manage to hook & release one foot long rainbow on a hybrid gummy minnow that I threw out behind a black wooly bugger.
Staggered along the rocks a bit further downstream and had a couple more strikes, but that was it for the action today.
The Blue is quite dirty down here by this reservoir even though it runs clear coming out of Dillon. Had I known it would be this off color, I'd never have made the trip. Suspect that condition will continue now through the rest of runoff due to our finally warming temperatures.
Tomorrow the dog & I head off on another - probably loser of a trip down to Elevenmile Res. & Spinney. I need to pick up our annual park's pass down there, and at least we can spend a couple of days casting the shorelines of both those lakes - and probably throw the fly a bit on parts of the South Platte too.
5/20-21: Despite not knowing what incident in the distant past triggered this trek initially, each spring I still drive all the way to the Park's Office at Elevenmile Reservoir to buy our vehicle's annual state park's pass. The dog & I made that trip again today. Obviously the drive also gives us the opportunity to at least look at a bunch of different fishing waters too - and mostly look was what we did this time around.
With our air temperatures finally getting warmer and staying that way, runoff has accelerated significantly the past few days. Even the upper Arkansas just below Leadville was flowing too quickly to justify wasting any casts in it. However, at the turnoff to Independence Pass, I did venture up to the base of the lower Twin Lake dam and threw a streamer into that fast flowing "tailwater" for several minutes. Although I saw a couple of fish, none were interested in my streamers. This short piece of stream coming out of that lake is frequented by too many bait casters during the summer months with the result that fish are few and far between - except when the hatchery truck stops by.
A bit further downstream we turned up towards the Clear Creek Reservoir in the hopes that it was filling quickly from last season's almost complete draw down. That too hasn't happened yet so no fishing was possible here either.
Drove on through Buena Vista and turned at Johnston Village heading up 285 and 24 towards Hartsel. Just before that latter town we stopped, rigged up streamers again (due to more high & murky water) and plied several pools here for a half hour or so. Nothing doing again. Saw a couple more fish turn at the fly, but none really had a serious interest.
Photo was taken on a rock next to the South Fork of the South Platte here in Hartsel.
After that it was nonstop all the way to the Park's Office for our pass, following which we tried some casting off the big rocks by the dam at Elevenmile. It's so pretty here that I always stop to do the same thing and of course, always have zero success.
Back to the Spinney tailwater we drove and went up to the middle parking section. Happily no one else was around, probably the early risers disappointed in the condition of the water and also blown away by the regular nasty afternoon winds. This "dream" stream is still running way, way too low - I'd guess maybe 60-75 cubes (without actually looking it up), and it's been kept at this reduced flow level way too long. Given how powerful this year's runoff is going to be, Spinney will inevitably fill and spill over the crest this year for the first time in many years, so I don't understand why the water folks are being so stingy with releases now.
Anyway that's a hint that the fishing still stinks here. There are some fish, not many, and they're all concentrated in the deeper pools, and they are spooky beyond spooky. With the kind of pressure this place gets, the trout here must have seen every possible type of fly imaginable, and they're skilled at ignoring everything.
With nothing else to do this afternoon I did work my way up and down the river for a couple of hours, eventually settling in to one pool and downsizing the flies to the point I could barely see them.
Used a pair of tiny nymphs - 22 and 24 respectively on 7X - and eventually I did get a few strikes and played a couple of fish too.
Gave up around happy hour, went back to the car, had a couple glasses of wine & small dinner, and then hiked back to the same hole.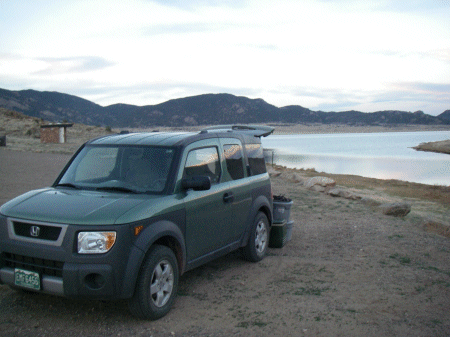 It just takes too many casts over the same spots to get strikes, but I finally landed a nice sixteen inch rainbow before driving back to Elevenmile to camp out for the night.
This morning we drove to Spinney (the reservoir) quite early on and did some conventional sink tip streamer casting off the riprap on the base of the dam. Nothing doing again.
On the way back to the car I stopped at a spot that looked like it held nothing but stagnant swamp water, but amazingly I actually started getting some strikes.
The session turned out to be fun. From the lack of footprints around this section I'd guess it's rarely fished even though it's easily accessible from the parking areas. Just doesn't look like it would contain any fish at all. It did. None were big, but anything's better than nothing for someone starved to feel a bit of life at the end of a tippet.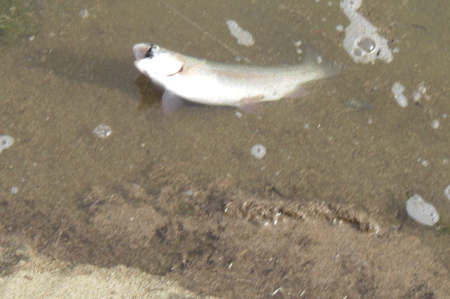 I probably had a couple dozen strikes, played a number of smaller rainbows (under fourteen inches), played one small pike to the edge of the beach and then released three or four other bows.
Nice ending to what I thought would be another blanking.
We headed out on the dirt road back to Hartsel around 9:00 A.M. just as the day's hurricane winds were beginning to pick up. I did stop at one other place on the inlet stream to the Spinney Reservoir, but it was so muddy and raging that casting made no sense at all. After that we drove back towards Vail and arrived here around noon today.
There will be no more fishing until I head over to Vernal for some fun (hopefully) next week. Pelican should be good, Flaming Gorge still too cold, and the Green, I suspect will be its usual self.
Last Logbook Entry é for previous day
5/27: We're sitting here at a nice picnic table at Little Hole on the Green. It's actually been an OK day of fishing if not a great one.
The dog and I took off from Vail a bit after 8:00 this morning and drove our standard route down I-70 to Rifle, turning north there to the junction just before Meeker and turned west again through Rangely, Dinosaur, and on to Vernal where we stopped for lunch and some (relatively) less expensive gas ($3.79) per gallon.


Continued on U.S. 40 west from Vernal for about fourteen miles, and then turned left (south) and another ten miles down to Pelican Lake - our favorite warm water fishery.

Arriving there it was a bit disappointing to note that that lake's level is down about four feet from where it was on the last trip here. This issue made access to the reeds on the eastern edge of the lake somewhat difficult to say the least.
Sky's soaking up some cool water after the hot and dusty drive to Pelican Lake.
My first wade in to the sandy lake bottom brought only one smallish sunfish to the hand, and given that the water temperature was also much colder than the last time we visited here, I was very concerned that this soiree might be a complete bust.


A couple of stops later along what qualifies as the head of the dam for this lake changed my mind.
Casting a greenish damsel type nymph finally brought a few modest smallmouths and better sized bluegills to the release point.
It still was much tougher fishing than we're normally used to at this most wonderful of warm water spots.


One more wade down the road a bit further yielded similar results, and I headed back to Vernal later in the afternoon more or less satisfied with the outing.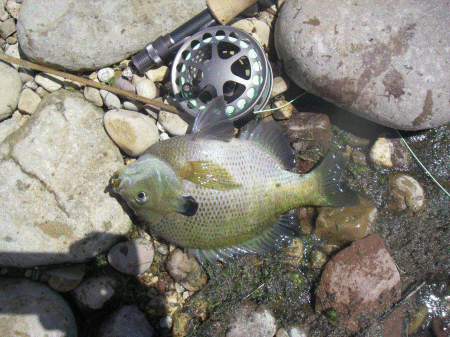 Here's one of those really large bluegills that Pelican's famous for. There weren't too many big ones on this trip as the lake temperatures are still too cold to bring these fish well up in to the reeds by the shoreline.
We may have to try this lake again a bit further into June when hopefully levels will be higher and the fish more active.


After a quick stop at Wendy's to pick up a chicken/Mandarin salad to go, we set off towards Flaming Gorge, where we'd planned to spend the night on the pass between Vernal and Dutch John.
However, given the early afternoon hour, we kept going and here we are on the picnic table at Little Hole observing the raging Green River whose flows have been upped to around 4200 cubes for the regular spring scouring release from the dam.


In a few minutes I'll finish my second glass of wine, put the computer away, and then do some casting down towards the "B" section before returning for dinner.

Later............ Dinner was fine. The fishing was not. I hiked downstream below Little Hole for a quarter mile throwing streamers along the bank. Nothing. Zero. Turned around, shifted to a fake cicada with a trailer of a weight free prince and had exactly the same results. Discouraging. This reminds me of things in the past. At times we've had really good results during very high flow releases. At other times, I don't know why we showed up at all. Tomorrow & the next couple of days will reveal the truth for this year.


5/28: Kind of another strange day, but at least the fishing turned out better - finally. Camped out almost in the middle of Dutch John last night in a place in the trees that's probably not completely legal but it's a good spot anyway. We drove back down to Little Hole this morning and I was mystified as to why the Green was now flowing at roughly its regular 800 c.f.s. instead of the 4200 where it had been running the previous evening. But given my lousy fishing results last night, I was immediately thankful for the flow reduction.

No one else was even in the parking area when we rigged up and began the upstream hike around 8:00. What a treat to have the flow down - as it turned out only for a short period of time. I started fishing about a half mile upstream and immediately had a twelve inch rainbow take the small cicada I was using as a surface fly. That was about it for the next half mile or so. Nothing came to either the floater or the trailing small nymph. My guess was that the fish were still upset by the rapid fluctuation in the river's flow, and I assumed it would take some time for them to return to a feeding mode.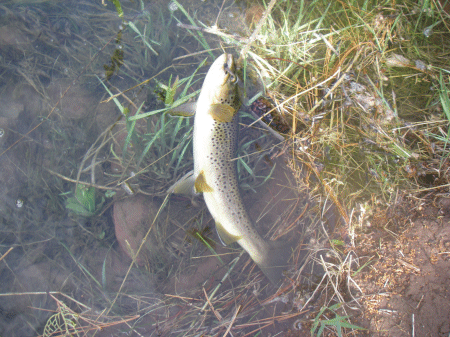 A couple places along the bank a nice brown would take the cicada and I had at least a bit of success while arriving at the Dripping Spring station on the river. Tried a variety of up & down rigs here and really had no more strikes although did turn a couple of fish.


Above this point I finally noticed some debris beginning to float by and it eventually struck me - slow that I am - that the flows were once again being increased rapidly. The waters raced up to the same level along the bank that was visibly left over from the day before and the fishing came to a complete halt.
With lots of loose moss and bottom vegetation floating in the river, the color of the water turned to what I could only describe as a mint milkshake. Ugly. What to do now - quit or continue?

The dog & I still needed some exercise so we kept working our way upstream along the trail. Eventually about a mile further up the river and a half hour later, the water began to clear and the floating mass of torn loose bottom vegetation began to diminish. So we started fishing again.

This time with a somewhat larger, orange mottled leg cicada. Happily the fly started taking fish almost immediately. Whenever I could find a pocket of quieter water in something of an eddy, almost always a fish or two were available and they found this fly very agreeable. Hooray. Life was better again.

We kept fishing close to the four mile mark along the trail and had good success almost everywhere. I even started yanking the fly away from a few jaws & knew it was time to more or less stop for the day. All the browns were decent sizes - in the sixteen to eighteen inch range - and the few rainbows hooked were in the foot long or so category.


Here's one of the less intrepid rowers on the river somehow managing to almost ground himself on the lone boulder that was not quite submerged. The sound of his drift boat scraping the bottom was loud enough to be heard over the roar of this rapids.
With the winds starting to howl from every possible direction, we got back to the car around 2:00 in the afternoon, and I'm now recording the day's results.
It's pretty likely we'll repeat this process again on Thursday but will plan on spending the night camped along Flaming Gorge if all goes as planned.
Wednesday night.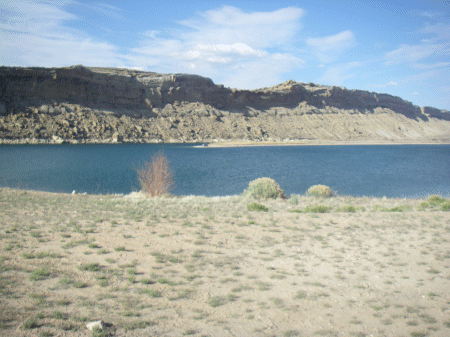 We're now camping at Rattlesnake Point on Flaming Gorge. This lake level is also quite low compared to prior trips here, and the water temperature is still frigid.
Casting from the shore brought zero results, and there was no sign that fish had come up from the depths yet. It's probably a good month or so before the smallies and some of the local rainbows will show up in shallower water.
5/29: So the decision today was whether or not to repeat yesterday's hike up from Little Hole or to try the river from the Spillway down. I opted for the latter. Drove back to the base of the dam and did the fairly steep hike down to the river from the top parking lot. This morning at least we were able to count on the river being at the 4200 flow level which it was.
Taking a break on a nice flat rock in the river about two miles downstream from the dam.
It's fascinating how completely different the upper "A" section is compared to the structure of the lower part of this seven mile stretch of water. The lower half drops much more quickly, and of even more importance, during the higher flows, the willows that line the banks down there create obstructions to casting due to those shrubs now being more in the river than out of it.
By contrast the upper half is characterized by longer pool like stretches, far few "rapids", and almost a complete lack of those same willows along the banks.
I started the two mile walk downstream and continued to use only the same large cicada that had proved so popular yesterday. Today it worked not at all. There was little insect activity visible in the air, and while an occasional fish could be seen sipping what was probably a midge emerger on the surface film, feeding seemed very listless early in the day. I tried throwing that cicada at a couple of fish but was completely ignored.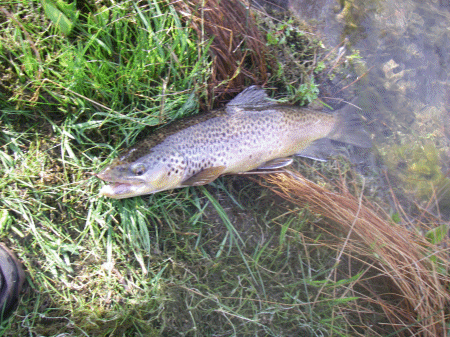 When these refusals continued all the way to our turnaround point, I wised up a bit and changed to a couple of nymphs - a small orange scud up front and a variety of different larva at the end.
This rig was far better received, but while I did have a large number of strikes and hookups, my release rate was very low today. Some days are like that.
Will have to admit I still dislike this type of long line deep nymphing. It just seems to take an interminable amount of time compared to other types of either dry fly casting or up & down fly drifting. Frankly even with better results, I finally got fed up with the process around noon & decided to head back home a day early. It is worth noting that the upper section is far more easily fished in the higher flows, although when a small piece of quieter water can be found on the lower section, the fish are more likely to be more aggressively feeding.
We'll probably make another trip back here later in June when the 800 cube flows return, and also the reservoir itself should be more agreeable by that time. This will be the end report for May. We'll try to get out somewhere on a stillwater here in Colorado for a day or two next week before we head out on the Alaska cruise starting on June 5.

---
Home, Main Fishing Page, Fishing Report, Eagle River Access, Local Ten Commandments, Successful Fly Patterns