May, 2007
4/30-5/2: Weather forecasts control our lives - and our fishing expeditions during these shoulder season times of the year. With moderate conditions predicted for Northern Utah this week, it looked like our best bet would be that part of the state. As it turned out, we'd probably have been better advised to try the Lake Powell thing this early in May, but that was just a judgment call that I missed.
To be honest the allure of the North end of Utah was created by our "discovery" of great fishing on Flaming Gorge roughly a year ago, and I really couldn't wait to get back to sample it again.
So early Monday morning the dog & I headed out in the Element with the trusty kayak strapped to the roof. We got to Vernal just after the noon hour, provisioned ourselves at the local Smith's store, chowed down on a Wendy's burger, and continued on U.S. 40 towards the Pelican Lake turn off and we arrived at that warm water lake in another half hour.
Rigged up a small black streamer and began casting along the shore by the main highway.
It was just great fishing right off the bat.
As seems to always be the case, the more aggressive bluegills attacked the fly and seemed to get there far quicker than the largemouths that were also in the reeds by the bank doing their spawning thing.
The sunfish are amazingly strong and several times wrapped my 3X so tightly around reeds that I lost the fly. It's possible to get a dozen strikes each cast if a hookup doesn't occur immediately. Really crazy fishing.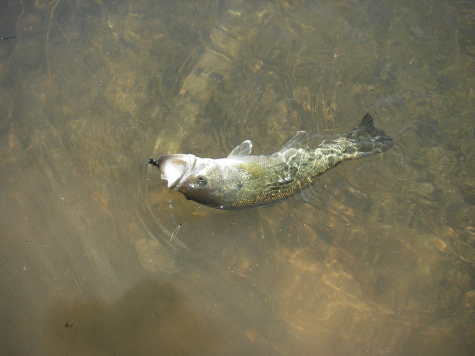 Eventually I was able to find a couple of open areas where bass predominated and got into several smallish ones (under a foot long), but never did hook one of the big boys (or girls) of that species.
After an hour or so of blistering action it got pretty tiring, so we loaded back into the car and did the long drive all the way around the lake to the campground area intending to set up for the night and fish the reed beds which were so productive last year on the first trip here
That was another a good idea with a bad ending. The lake level was once again too low and the shoreline really was not fishable.
That meant launching the kayak here which we hadn't intended to do, and the situation was further complicated by the immediate presence of large numbers of the nasty mosquitoes we had such a miserable experience with the prior year in June.
So with lots more ground to cover on these four days, we made a late afternoon departure from Pelican and drove up Highway 191 to Dutch John and beyond to the Spring Creek entry point to Flaming Gorge. Never having camped at this particular section of the lake, I hoped the shallow water at the end of the bay would have warmed enough by now to draw some fish into it.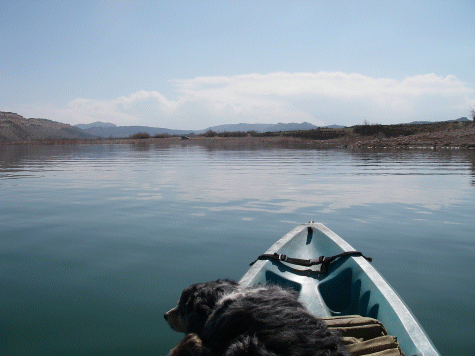 Again, a good idea, but one with a bad result.
With a couple hours of daylight left, we paddled the boat around for that length of time, trolling some streamers as deeply as possible and pretty much drew a blank.
One lonely pound sized smallmouth was all we had to show for the evening's work. Pretty discouraging based on our history here. Apparently it's just a bit too early and the water too cold to make the local trout and bass active.
Tried another couple of hours in the morning in the same area and came up completely empty handed. With the thought that the structure of the bottom might be better over in the Jug Hollow access area where we camped last year, I loaded up the boat, broke camp, and we did the fairly quick drive down that other dirt road.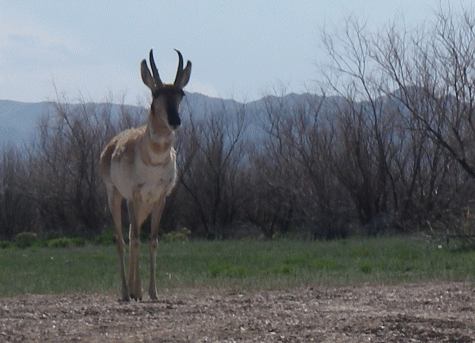 A typically curious young buck antelope came to within twenty feet of us.
He didn't mind the dog, and the dog was scared of him.
Unhappily same results from another hour or so of paddling here. Just too early in the season. We'll try this again later in the month. On a happier note, the tailwater of Flaming Gorge dam is also just a short jaunt away, so rather than sit around pouting for the afternoon, I again reloaded the boat, and drove the short distance to the dam access point of the Green.
Rigged up our standard streamer setup for the two mile walk down from the spillway and we set off on the hike down towards Little Hole. Afternoon is a great time to fish this upper part of the river as most (but not all) of the drift boats usually are midway down to the Hole at that time of day.
My streamer fishing results were lousy again this time around as seems to have been the case on the last several excursions down this part of the river. So when we got to a nice shoreside deep area and I could see several fish nibbling on some kind of emerger, I ditched the sub water fly setup, tied on a 7X tippet and turned to our beloved comparaduns for some help.
With a bright, sunny day, albeit with lots of wind too, a heavier tippet probably would have been a mistake. The trade off of course, is losing some flies to those toothy browns, not only on the strike, but also while making releases.
The good news is that the #20 and #22 gray bodied surface flies worked very well all afternoon. I kept fishing quieter waters where the sippers were working for bugs and had maybe my best results ever on this part of the river. Would guess releasing 20-30 fish through the afternoon hours. Sizes were the regular 12-16 inch fish with a couple of eighteens in for good measure.
Almost all were the dominant browns and only a couple small rainbows were in the mix.
Happily there was one fat sixteen inch cut too. It has been a while since I've released a trout of that strain up here.
Spent a nice evening camped in the forest and drove to Little Hole the following morning. Very little foot traffic early in the A.M. which is always a treat. The sky was very overcast with thunderstorms predicted for later in the day. Did the shorts and wet wading shoe thing as always but took along a pair of waterproof pants and wading jacket in case the weather turned nasty.
Given the cloudy conditions I up rigged to 5X tippet and #18 comparaduns for the morning midging, a time of day here that's almost always very productive. It was that way again along the banks and the shoreline by shallow riffles. Probably would have done better with lighter leader and smaller flies, but I was tired of losing so many flies to sharp mouths.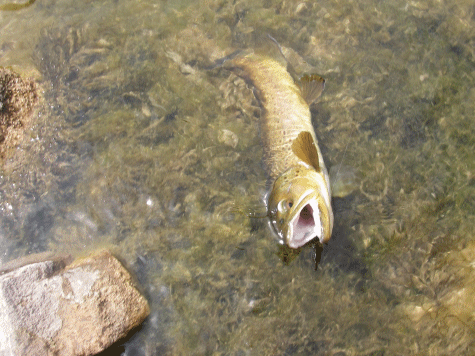 To shorten the story, it was basically a very good session.
We did our standard walk up about four miles and back and caught good numbers of fish, guessing somewhere in the 30-35 fish range.
Sizes were identical to yesterday's but there were more rainbows in the mix today including some up to sixteen inches. Nice to see some of that species surviving around the aggressive browns.
Ah, one thing I need to remember. Near the end of the day on the return to the Hole, I was still fishing the #18 comparadun, but also had tied on a #20 red midge larva about eighteen inches behind it. Twice I pinged a brown's mouth with the comparadun and on further casts to the same area, had the same brown take the nymph instead.
It's a pretty rare occurrence when one gets two tries with the same fish, but apparently when each fish saw the same fly overhead that they understood to be a "mistake" for them to eat, they kept their eyes focused on the bottom and still wanting to feed, took the nymph. I'd not experienced this situation previously.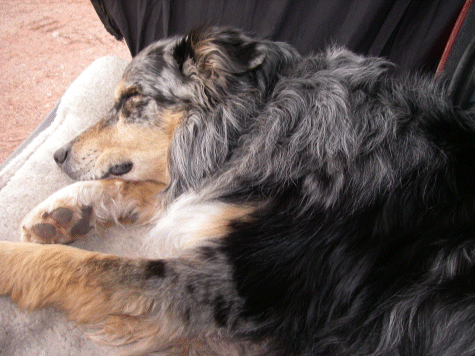 Dad, I'm pooped. Can we please go home now?
With one last morning of fishing available to us, we drove the back way down to the bottom of the "B" section and set up camp at Bridgeport. I wet waded (in the cold & wind) the bottom of the riffle at this put in and had nothing at all come to a fly. Probably should have stuck with streamers here, but wanted to test a rubber leg on the surface.
At night the rains came with the thunderstorms, and it was just butt ugly weather when we arose in the morning. Rather than suffer some more cold and probably unproductive wading up by the Jarvie Ranch, we put thoughts of more fishing behind us and did the four hour drive back to Vail. Will have to see what the weather offers us for next week before heading out anywhere again.
5/06-08: Happy days. Sue finally had a couple of days free so was able to go on our trip this week. We debated a handful of options, but with stillwaters being the only fishable option aside from tailwaters this time of year, we decided to head back to Lake Powell, a long time favorite, though one that has not been particularly piscatorially rewarding in recent years.
That pretty much turned out to be the case this year too.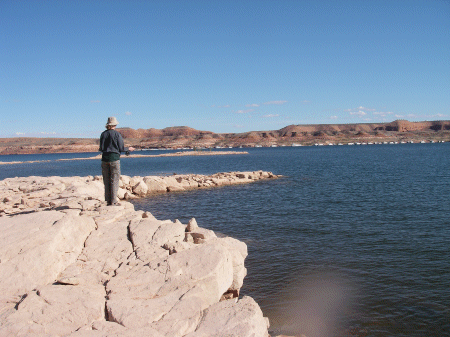 We left later Sunday morning and arrived at the Stanton Creek turnoff to the primitive camping area at roughly 2:30 in the afternoon and made the lumpy drive to a good spot by the lake just across the main channel from Hall's Crossing.
Since runoff has really not been in full bloom yet, the lake is still uncomfortably low. We always hope that the lower levels will concentrate the fish more tightly, but at least for our style of fishing, that simply hasn't happened.
Reports on the internet were very encouraging about bass being on their "nests" right now and very aggressively taking lures, but that too didn't turn out to be the case for us.
Probably our main limitation is the fact that we still paddle our wash deck kayak around and it really does give us a pretty limited range for exploration.
With plenty of daylight left after setting up camp, we launched the kayak and spent a good hour or so working the shoreline of Stanton Creek - and came up completely empty. Not a strike to show for our work, and not a good omen for the three to four days we'd planned to spend here. Even casting our streamers along the shore near camp brought no sign of a fish. Kind of depressing it was, despite the nice scenery and calm conditions around the lake.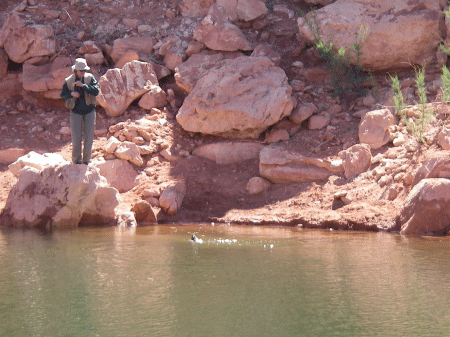 Next morning we went at the trolling with more vigor and had a similar blanking until Sue finally landed a very nice sized smallmouth when we did some casting from shore near the end of an arm of the lake.
But literally that was it for the catching for the next couple of hours. We both had a couple of bumps and eventually did hook a couple of juvenile smallies, but it was pretty lousy fishing.
My suspicion is that we're going to have to either invest in - or invent - some kind of downrigger device that will take our full sink lines a whole lot deeper than we're able to sink them now, as the fish really seem to be at much greater depths than we're able to go at this time.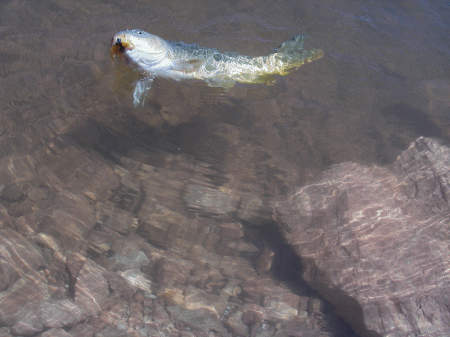 Anyway, on the way back to camp we stopped at another point and I did hook, play, and release a nice sized carp.
I just love that fish. They're so difficult to stalk and hook that it's a real treat anytime one can be played. Sue's of a different school when it comes to this truly ugly member of the fish family.
After lunch we had another go at the trolling and the results were pretty much the same. We both caught a few very small smallmouths, and about the only excitement was when Sue had a smashing strike and the fish - whatever it was - made off with her 1X tippet and streamer.
Just before beaching the boat at camp I did hook and release a very nice striper of roughly twenty inches, and that was it for the boat fishing.
Later on in the afternoon we did eventually have a revelation regarding what interested the local bass - at lease on this outing.
After trying any number of streamers, I finally put on one of our hybrid gummy minnows that look very unappetizing, but that pattern turned out to be exactly what the bass were looking for. While it's difficult to suggest that we actually "tie" gummies, thread is actually used in the construction, and the ones that worked best today were somewhat unusual.
We do a fairly conventional lead weighted body wrap with a couple of layers of the "gummy" material at the head, use small stick on eyes as usual, but then instead of running the material behind the hook as an extension of the body, we tie in a nice section of gray marabou. So these "flies" give the finished look not only the shininess of the body material, but also the movement that marabou brings to the overall effect. Anyway these flies worked pretty well and gave us another couple dozen smallmouths off the bank before the day was over.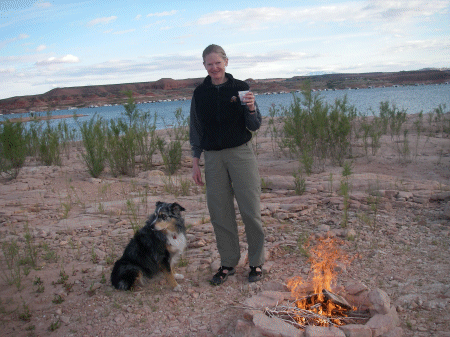 However, earlier in the day we'd made a decision to spend only that second night at Powell due to the apparently lousy fishing situation.
So we saddled back up the next morning and opted to drive North to Price and then head over to Duchesne to try the Strawberry tailwater and follow it up with another visit to Pelican where the warm water fish should be much more agreeable to our ministrations.
The Strawberry turned out to be a waste of time - possibly more due to our ineptness than anything else, but the outflows from the dam were very strong today making drifts of any of our nymphs almost impossibly difficult.
We saw any number of nice browns holding in the swift current but couldn't convince them that what we threw at them was edible.
Will have to make a note to check Utah's surface water site before trying this again as this river is fun to fish when flows are closer to normal.
So late in the afternoon we arrived at Pelican again.
Right out of the box it was excellent casting for the reed dwelling largemouths (not very large ones though) and the really large bluegills. Sue threw a couple of flies - dry and nymph mixed and picked up some doubles, and I stuck with a black wooly bugger for a while.
At a certain point I remembered seeing some damsels in the air so shifted to an olive cone head bugger, and it was much better received. What we're finding here is that if we start to catch any kind of bass right away we know we're on the right pattern. The sunfish will basically take anything, but only a decent match to whatever the bass are feeding on will bring them to strike.
As always here, a short period of time goes a long ways and too much of good thing eventually becomes not that way.
Today it was possible to catch a fish on every cast, and that, despite the wonderful size of the bluegills, just gets old pretty quickly.
So it turned out to be a decently productive four days. Next week it may be time for another stillwater experience, maybe this time up to the Delaney Lakes area.
05/15-16: There are times in life when someone needs to hit me over the head with a sledgehammer. I just don't seem to learn certain lessons easily. These past two days simply reconfirms that unfortunate truth. While logic suggested that Delaney Lakes would be the best fishing alternative during the height of local runoff, my emotions drew me elsewhere. In all honesty the last time up at Delaney the mosquitoes were so difficult that I really never care to visit that place again..
So when I got to Kremmling on the way up to Walden (and Delaney) yesterday, emotion kicked in and I decided to pass on that part of the state and to revisit some other summertime favorites. As seems to be the case, late springtime is not summertime when it comes to water conditions in other parts of our state. Rather than continue on up towards Walden, I turned right to Granby and its related - but questionable - watery assets.
The dog has a wounded leg this week from a mishap while running with me on the mountain Monday so I was all alone on this trip.
That fact prompted a quick exploration of the lower section of Rocky Mountain Park (where dogs are not particularly desirable as companions due to the other abundant wildlife.)
Drove a handful of miles upstream from the park entrance, donned waders, and walked a half mile or so of the headwaters of the Colorado. As should have been expected, the stream was way too high although not a bad color.
I dragged various streamers in deeper holes and along undercut banks with zero success. The small stream is flowing so quickly now that it would take a pound of lead to get anything vaguely close to the bottom. So much for the first skunk of the day.
Drove back to Shadow Mountain and tried the "tailwater" of that reservoir. Unhappily it too is roaring right now - maybe a couple thousand feet a second. But hiking along the marshy banks and throwing buggers at the edges of the flow did produce a couple of small browns hooked but not released.
Further downstream I took a chance and deep waded to a weedy, rocky area near midstream and here had the best success of the whole trip.
On about the second cast with a dark olive rabbit bugger, I hooked and for maybe thirty seconds played a wonderful rainbow that was somewhere in the low 20's lengthwise.
He self released, but in the next fifteen minutes or so, I did unhook another three bows from 12-16 inches.
With no more decent bank water to cast to, the next experience was down at the lower part of Lake Granby. There's a big plume of water dumping into the lake by the dam riprap, so I dragged the kayak to the water and spent a good hour and a half paddling and trolling streamers along the dam and through the scum lines kicked up by the entry water. Nothing happened. Couldn't believe it. I would have sworn on a stack of bibles that some laker or rainbow would have jumped my fly in that interesting water. Shake hands with Mr. Skunk # 2.
OK. Next. Drove back to Hot Sulfur Springs, ate a burger, and then did more casting along the Colorado at the top of Byers Canyon.
A little bit better luck here, releasing a half dozen of the smallish local browns.
Continued on down Byers and tried the bottom of this once famous rainbow part of the Colorado and had a few more annoyance strikes but no hookups.
Williams Fork Reservoir was next on the menu and I stopped near the inlet area to throw streamers at the local pike, none of which showed up either. Unhappily the old campground area at the inlet has for some reason now been closed which negates our ability to launch the kayak there. That forced the long drive around the lake to a point where boats can be launched and where I opted to camp for the night. Casting chironomids proved fruitless as did more streamers.
The next morning was another bust. I tried different types of streamer fishing in any number of deeper and shallower arms of the lake for another couple of hours before throwing in the towel completely. Dare I say - hello Mr. Skunk # 3.
But.............
The fishing was not over yet. After turning North on Highway 9 I headed for the campground just above Green Mountain Reservoir and surveyed the Blue again. No success earlier in the spring did not deter me (unfortunately). The Blue is raging now with a good 800 cubes coming down. Color was not bad, so I did a mile walk upstream and streamer fished my way back down. Results were ugly again. One strike for a mile of hiking and throwing the fly was all I had to show for the effort. Hi Mr. Skunk # 4!
Really not a good couple of days. Hopefully next spring I'll remember to read this page and will travel elsewhere. With the dog on the mend, we plan a return to the Green and Flaming Gorge next week. Apparently the cicada emergence is in full swing which should make for some great action.
Last Logbook Entry é for previous days
5/23-25: It's been a long three days so let's make this week's report more of a photo essay than a written one. Doggie & I headed to the Green and Flaming Gorge on Wednesday for (hopefully) some cicada fishing below the dam and (hopefully) some better smallmouth trolling above it. Neither experience turned out to be perfect, but what in life actually is......?
We got to the spillway trail after lunch in Vernal on Wednesday afternoon and did our normal trek down the trail off the cliffs arriving on the river to note that it was running around 4,000 cubes - about 3,200 higher than on our last visit here. Generally the higher flows are good for fishing as it moves the trout from their normal feeding zones and gives us more chances to plop something (we like) into their mouths.
Today was an exception.
Given the good success with comparaduns on the last trip, I started out with that same fly in some often visited eddies and flats.
Not much success was the story of the afternoon.
Apparently the recent bitterly cold weather systems passing through had killed not only the cicada emergence but all other hatches as well.
So the fish seemed to be holding in mid water columns and were completely indifferent to anything tossed their way - from midges to larva to cicadas to who knows what.
Eventually I ended up hooking a few lost souls that responded to either a flat wing cicada or a trailing tiny bead head midge larva.
It was not a lot of fun and a lot of casting for limited success. Probably touched only a dozen fish in the entire afternoon.
After a long cold night camping (probably a quarter inch of frost on the car roof in the morning following a snowy thunderstorm in the middle of the night), it wasn't much fun popping out of the sleeping bag in the morning.
Still, we ate a small breakfast and headed to Little Hole around 8:00. Only one other (idiot) was already rigging up to start hiking the river at that early hour.
We did likewise and started up the river, noting how holding areas had changed dramatically with the higher flows. Since the releases have apparently been going on for several days, at least the vegetation from the bottom had long since been ripped free and was not available to foul the lines and flies.
OK - this is too much typing.
Suffice it to say, I shifted to a cicada surface fly - flat wing style - that's been very useful in the past - and found it to be useful in the present as well.
It worked wonders. Once we got a couple miles up the trail the fly would take a brown or rainbow - mostly browns - virtually every twenty feet or so up the bank. Too much success is frankly as bad as no success, so to do some experimentation, I tried four other styles of cicadas to see how other variations might work..
Happily they were much less successful - which sounds like a stupid statement - but it makes me much prouder of having designed the better of the patterns that were used today.
End of blah blah blah. The rest of this report is based on the photos that follow.
The river raged the couple days we waded it. After lunch and around three miles upstream from Little Hole, I heard a weird sound coming down river.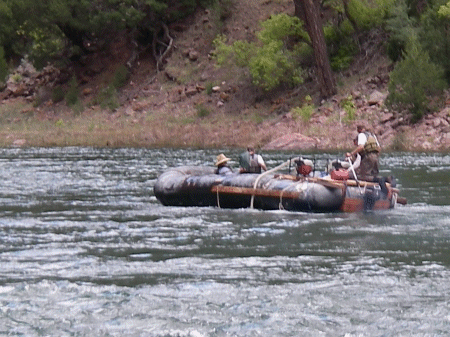 Thought it might be a helicopter, but it turned out to be a Department of Wildlife rubber ducky motoring down the flow with someone dipping a net in a live box and periodically throwing a net full of small rainbows in the river every hundred yards or so.
While I doubt the hatchery fish enjoyed being released into the hell of the Green River tailwater, the local resident browns clearly did.
As the boat passed through each pool and the young fish hit the stream, the browns went wild for them. You could see small rainbows leaping for their lives from the water almost as quickly as they hit the river. It was ridiculous.
All of us prefer rainbows to browns. They're prettier - they fight better, etc. But to send a few hundred or thousand stocker rainbows to certain death by the fish commission strikes me as an obscene waste of fish life and taxpayer dollars.
In fact a half mile down from where the boat first passed me, I came upon a truly amazing sight.
The lack of definition of this photo unfortunately will not capture the strangeness of seeing two twelve inch brown trout swimming side by side holding a seven inch stocker rainbow in their mouths.
One brown had the head of the rainbow and the other the tail - and neither was willing to let the prize go.
Just a bizarre scene.
That was enough for the Green tailwater, so we headed to Jug Hollow to camp on the lake. Our next hope was that the water temperatures at the reservoir had warmed enough that the smallmouth "bite" might finally be on.
It was not to be.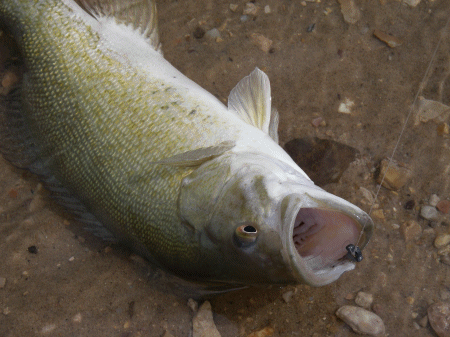 We camped on "rattlesnake point" (see last year's report) and when I first made a couple of casts from the shore, releasing a couple of nice sized smallies the first few throws, I thought we were going to be in luck.
Just didn't happen, for whatever reason - apparently it's still a bit early.
A trolling trip around the bay that night gave up nothing but a few halfhearted hits.
The dog got bored with the experience, and so did I.
At least the weather finally turned a bit warmer, although there still was frost on the roof of the car when the sun rose.
This morning we tried deep trolling with a nifty little plastic diver device designed for light tackle.
It actually works very well, even though I only played one (indeterminate species) fish while using it.
Going back to our regular rig of full sink line baited with a leading black rabbit bugger and followed eighteen inches by a hybrid gummy minnow proved to be a bit better but not by much.
It's still just too early for the type of fly trolling we do at Flaming Gorge.
We'll come back in June when temperatures will have warmed some more.
Deep trolling along the cliffs adjoining the Spring Creek area again proved as futile as it was on our last year's trip here.
This area looks great but has yet to produce a single fish for us.
---
Home, Main Fishing Page, Fishing Report, Eagle River Access, Local Ten Commandments, Successful Fly Patterns, Search For Something