April, 2007
4/2: Happy days - skiing's finally over for me! Don't know exactly why this season seemed to drag on relentlessly but suspect it was all the overly warm weather we had the whole month of March. Anyway....
Our local streams - Gore Creek and the upper Eagle are still running nicely clear - so I drove to the confluence of those two bodies of water and did a bit of casting with a streamer this afternoon. Results were pretty much a bust for whatever reason. Turned and saw a number of the local browns but only had a handful of strikes without a single hookup.
It was a nasty afternoon with blustery winds ripping the water surface and lots of thunderclouds overhead. Not much fun casting. After an unsuccessful hour of that kind of messing around, I packed up and drove a mile or so further downstream to a bigger pool. Dredged the streamer all the way through the pool with the same level of success - zero strikes this time.
Shifted to a double nymph rig of lime bodied copper john and trailing egg fly and reworked the pool from bottom to top. Same results. It was getting depressing. But on the way up I did notice a few surface swirls as if a few fish were going after some kind of emerger. Couldn't see any bugs in the air, nor any in the shoreside eddies, but rerigged again - this time with a larger #18 gray bodied comparadun. The fly was clearly going to be much larger than whatever was coming off, but given the weather conditions, even that large a fly was going to be almost impossible to see on the surface.
However many times I didn't see where the fly came down, when I did see it, more often than not a strike happened. Fishing actually got fun again. First to hand was a rare and very pretty ten inch Colorado cutthroat. It was followed shortly by a few smaller rainbows and then more and more browns. Didn't land anything of size as the afternoon progressed - largest being a twelve inch brown. Played a handful of slightly larger browns, but all the bigger ones "long released". So the day ended on a nice note. Tomorrow we head over to the Blue to try it just above Green Mountain Reservoir and if time permits, we'll take a look at William's Fork Reservoir to see if the ice might be off - and the pike hungry.
4/3: It was nice & sunny today, but the fishing stunk. If nothing else, it was a day for "discovery", and frankly most of the information gleaned was not all that positive. We drove to Silverthorne and then down the highway to the lower Blue just where it enters the still frozen over Green Mountain Reservoir.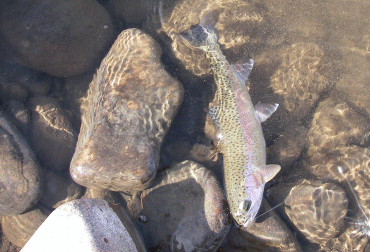 The stream looked fine, and after landing a couple of rainbows fairly quickly, I thought we might have a blue bird type of day.
But as I kept fishing, throwing a streamer and small trailer fly downstream, it became apparent that the flow was still too weak compared to our last experience here and many of the deeper holes & runs that held fish on that previous year's trip were now devoid of any fish whatsoever.
In other words, we were just a bit early for the flows we needed.
After an hour or so of this, I threw in the towel and continued on to Kremmling, turning right on Highway 40 and drove through Parshall, turning right again and headed to the inlet of Williams Fork Reservoir. Most of that body of water is also still frozen solid. A small 400 yard circular section was open near the inlet, but it was occupied by a group of bait casters, so we drove on further back towards Hot Sulfur Springs.
At the Lone Buck SWA, we went down the dirt road to the parking area, rigged up again, crossed the somewhat high and murky Colorado and attempted some nymphing for a half mile or so. Zero, squat results again. At the top of the wade, went back to a black wooly bugger and had a few tentative strikes on the way back to the car, but no hookups.
At that point I gave up on fishing any more. The Williams Fork tailwater probably would have been decent, but I wasn't interested in a mid afternoon two mile hike just to get to the water, so we headed back home with our tails (the dog's & mine) between our legs.
4/6: A bit closer to home today........... Our local golf course is still closed due to snow drifts in many places so the water hazard ponds are very accessible to hikers and of course, fisher people like myself. We parked at a water pump site and hiked a half mile or so down along the creek. Where open casting conditions permitted, I threw the streamer still on the rod but had no strikes at all.
At the first pond I changed to a double nymph rig of leading small weighted black stone and trailing olive RS-2.
Would cast these flies out in the pool and do a slow retrieve with the nymphs moving slowly across the bottom. Fairly quickly started getting some strikes and hookups from the local brookies and an occasional brown.
The brook trout weren't large, being in an eight to ten inch range with a couple closer to twelve. Did release one brown of a foot or so and played another handful of fish, some of which may have been a bit larger.
So it was a nice afternoon with probably a dozen and a half fish released, although none were taken from Gore Creek.
I really needed waders to have been able to work the stream properly and simply didn't want to go to that much trouble.
Even with some sketchy weather in the forecast for early next week, we may try to head up to the "Mile" for a couple of days as that may be my last chance at fishing any more this month.
4/10-11: Given some really iffy weather in the forecast for the next three days, we opted to pass on the five hour drive up to the Mile in Wyoming and stick a bit closer to home. That meant a two hour trip through Leadville and down the Arkansas River just below Salida.
With a plan to start further downstream and work our way back up towards Salida later in the day, we did the turn off on the back road across the river from Wellsville and headed down to a series of braids where we normally start casting.
Arriving late in the morning we actually had enough sunshine overhead that I eschewed donning the waders, opting for shorts and sandals instead.
About ten minutes later with clouds moving over the area, my optimistic clothing choice mistake became obvious and I headed back to the car to dress more warmly.
It was nice to see a few heads sipping something in the film when we looked at the water which led to rigging up with a #20 gray comparadun up front and a #22 RS-2 behind it. It was even more rewarding when we started getting hits right away.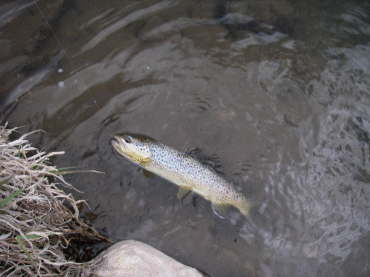 While lots of strikes were missed, enough of the local browns struck - and stuck to the hook - to make the rest of the morning a lot of fun.
The river itself was in ideal shape. Good clarity everywhere, and even though it obviously was too cold still for the spring caddis hatch to materialize, plenty of midges were floating around in eddies and along the banks to bring the trout in closer to shore.
Didn't see a sign of olives all day, but the fish were taking midges and some other imitations throughout the whole time we were on the water.
These Arkansas browns seem to have different habits from those we've found on other Western streams. Maybe it's just the pre-runoff period, but I caught them in various swifter eddies, along the edges of riffles, and from the bottom of deeper pools where normally I wouldn't expect to be successful.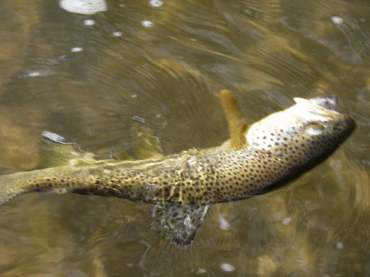 Most fun was wading along riprap-like banks and sight casting to rising fish. I'd guess that if a fish was seen coming to the surface, at least 90% of the time, a strike resulted. Don't know how many fish were unhooked today, but it was a bunch.
It was just terrific fishing all day long.
Despite the very strong downstream winds we experienced, the new Sage FLi rod performed admirably. It's very powerful and casts well into almost any type of gale or with heavier streamers at the end, and seems to roll cast reasonably well too. The trade off, of course, it that it's difficult to gently touch down a delicately sized dry fly, and that may become a problem at some time on future expeditions.
With all but one of the releases being browns, I still miss the more inspired fights of rainbows.
Size ranges were pretty much typical for what we've experienced on this river in the past - eight to fifteen inches - with most of the fish in a twelve to thirteen inch range. The one lone rainbow was around fourteen.
As the day went along, I tried experimenting with a variety of flies both on the surface and below. Best top water was a #18 gray bodied comparadun that at least was more visible and resulted in fewer missed strikes. The better trailer was a #20 olive bodied RS-2 although a #20 red copper john was a close second. Had a few hits on a smallish black lead eyed streamer, but no releases on that type fly. A few more fish came to a #16 black rubber legged WRS (god knows what they thought it was) and a few more to a variety of smaller nymphs.
After dinner the action slowed down significantly - which was a bit surprising, although with the wind gusting even more strongly, it was tougher than ever to see the fly on the water. We camped for the night near the corrals just South of Salida, looking forward to a long hike down river this morning.
That was not to be.......... It started raining, snowing, and blowing around 3 in the morning and really didn't let up much from that point on.
With a drizzly, frigid start to the day, we drove back to town and had a lazy breakfast while reading the paper. When a short break in the cloud cover occurred, I decided to try a quick shot at the Ouray SWA on the way back to the highway North. Rigged up quickly, headed to the water, and almost immediately was met by the next snow squall. Impossible to keep the hands warm and continue casting. We stopped for a few minutes from time to time and warmed up, but it ceased to be much fun out there. This kind of weather we expect when winter steelhead fishing, but it's not much fun spring brown trouting.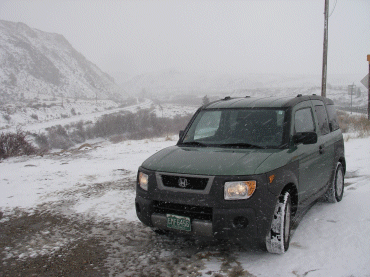 Drove back through Buena Vista stopping a couple of times, but the storm kept getting worse and worse. In fact it got really dangerous after we left Leadville and headed up and over Hoosier Pass.
A complete whiteout ensued which dropped our speed to maybe ten miles an hour for several miles.
Even with all lights on and blinkers flashing, it was a white knuckle drive all the way back to Vail. So much for early season fishing.
Last Logbook Entry é for previous day
4/26-27: Stream possibility options are somewhat limited this time of the year due to runoff issues among other things. So as difficult as our last trip down the Arkansas was (see above), that river still seemed like the best place to spend a couple more days this month.
Decent weather this time around was in the forecast which gave us (the dog & I) more confidence that we'd actually be able to spend more time on the water than in the car trying to keep warm. We arrived in Buena Vista mid morning and headed directly to River Park to try that part of the stream. The river was running very low and gin clear but was also very cold as can be the case in the spring.
A half mile walk downstream put us at some newly dug and structured pools that are probably intended to be interesting kayak and rafting features as well as better holding water for trout.
With this part of the river being mostly fairly shallow pocket water, I'd rigged up with a #20 black midge larva at the end, preceded by a standard colored #16 copper john eighteen inches in front of it and a #14 white rubber legged WRS about two feet above the nymphs.
Kind of a complicated setup, but stuff I thought might work fairly well under the present water conditions.
To be honest we were probably a little bit too early out on the water as it seemed fish were just not interested in anything for the first part of the wade. At least that was my mental excuse for not getting any strikes right away.
The greater reality is that some of these newly built structures probably simply have not had many fish move into them yet. Would guess that following this year's runoff, that situation should change, and the local browns will find this nice water a good place to set up shop.
Eventually we started getting strikes, and interestingly most of them came to the indicator fly.
With zero hatches present, I simply don't know why the trout found the surface fly appealing.
Assumption is that the water was just so shallow that anything looking like food passing near them must have triggered the eating response.
As we worked our way up the stream, a fish now and then would take the copper john too, and finally just before walking off the river, one brown finally ate the black midge.
After our regular #1 burger combo at the local drive in, we headed down 285 to Salida, continuing through that town and down to the back road across from and below Wellsville. It was surprising to see virtually every pulloff across the river occupied by some kind of vehicle or another - and this in the middle of the week. Clearly everyone is anticipating the onset of the spring caddis hatch although we'd seen no sign of them yet along the water. That was about to change - and soon.
Just as I was setting up the rod one caddis flitted by the corner of my eye. Wow, great. A rerig was in order immediately. Have to admit the first setup was a bit stupid, but I was curious if the fish might have an interest in not only one of our usually popular bead head antenna pupas, but also a dark bodied rubber leg WRS. Actually the surface fly did pretty well for a while though the pupa was a complete bust for some reason.
After an hour or so, I shifted to a #18 gray bodied standard WRS trailed by a graphic caddis pupa, and that proved to be a better combination, although the surface fly took 95% of the fish.
In a couple of places like this small side braid that ran fairly deep a number of fish were turning and swirling for emergers and a few dead caddis on the surface.
Clearly the hatch is in such an early stage that the fish are simply wild for anything that looks remotely like a caddis and I suspect releasing a good 12-15 fish from this tiny pool alone.
Kept working up the banks and the fishing got better and better as the afternoon wore on.
Browns were rising persistently all along the shore and it was a delight to sight cast to them spaced every ten to fifteen feet for a good quarter mile or so. Like most Ark. browns these are not large fish, running from eight to fourteen inches or so, but they are decent little fighters compared to some others of their species on other waters.
As is always the case on this river, rainbows were in short supply. This is the lone fish of that strain we released on the entire trip.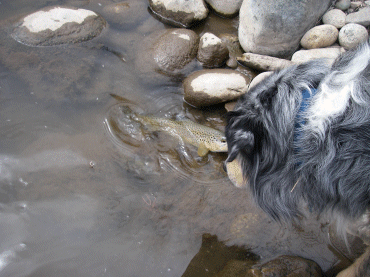 Sky's doing a stare down with a just released brown. The fish won the face off.
Eventually we hopped back in the car and drove a bit further upstream to another series of braids, and here the hatch really got going in earnest.
Rocks along the banks were thick with the bugs, and although this could not be considered the "blizzard" part of the hatch (thank heavens), the trout were actually going wild on the surface. It was just amazing fishing, and in all honest, became one of those situations where "too much of good thing is not.........."
Still. When I'd take a break from the action, it became impossible to not want to go back to it. Having been outwitted by these browns more than I care to admit over the years, the thought of pinging just another one or two mouths was impossible to resist. So that we did well into the evening.
It's almost embarrassing to acknowledge how many fish were struck, played, and/or released this afternoon but it had to be well into low triple digits. Just an astonishing day. For one of the few times in my life, I can't remember our timing being better in arriving at a significant hatch event.
Drove back upstream towards Salida and camped for the night. As we were now several miles above the main body of the hatch, I was curious if it would have moved this far up the river by the next day.
Sky took a break from reading our new book on Northern Idaho and Montana which we intend to visit this fall. Actually he found the descriptions a bit boring
When we hiked down the railroad tracks in the morning, it looked as if it may have been a mistake to not be back on yesterday's water.
A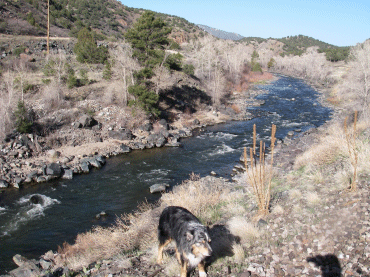 long this deeper section of the canyon, the fishing was still very good, but there was little sign of caddis early on..
I'd guess that the hatch may have been here in some fashion late on the prior afternoon since we were still able to pull fish up to surface flies using either the same small gray WRS or a slightly larger dark one with rubber legs.
There was so much nice bank water to cast over, we spent the whole morning working our way back to camp.
With lots of folks still working river right across from us, it seemed to make sense to try an early lunch in Salida and then get back on the water around noon which we did.
Interestingly by the time we got back to this same section of the river, almost all the fisher folk across the stream had departed, and happily the caddis hatch started up again in spades.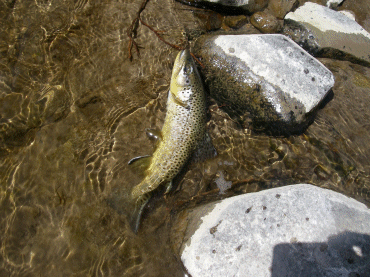 The fishing turned wonderful all over again. And as like yesterday, after another hour of fish after fish, it just got too easy so we quit and headed back towards home.
My intent was to try the Hayden Meadows SWA near Leadville, but as we got close to that parking pull off, the thought of catching another handful or two more of the same kind of browns did not sound very exciting, so we just continued back to Vail.
Monday we're off on what should be a really fun trip to Utah - first to Pelican Lake for some bass and huge sunfish, then to Little Hole on the Green, and finally a day or so camping on Flaming Gorge itself for more bass, maybe some rainbows and lakers.
---
Home, Main Fishing Page, Fishing Report, Eagle River Access, Local Ten Commandments, Successful Fly Patterns, Search For Something