May, 2006
5/9: Desperate times - ugly weather every day. This May has been no fun at all. We need the rain & snow, but it's sure no treat to have to spend a lonely month in town under these conditions. Today we could stand the inactivity no longer so drove over the pass and down the Blue River - despite last night's snow on the pass.
The upper Blue is still flowing gently through Silverthorne, but we passed trying the stream. Instead we continued all the way down the highway to the inflow part of Green Mountain Reservoir and began throwing streamers there. A quick strike in the first eddy above the still water raised hopes, but no others followed.
Back in the car went the dog & I moving a bit further upstream to another pulloff. Success soon followed. Today's setup was a leading #8 black estaz bugger trailed eighteen inches by a tiny #12 green marabou streamer. The first eddy produced a pretty ten inch cutbow that took the larger fly. Next to the flies came all rainbows that mostly responded to the smaller trailer. It was fun. There were enough fish on in the next hour to keep things interesting for the quarter mile or so we hiked down the bank.
Would estimate releasing another dozen or so rainbows. None were really good sized with most in the twelve inch range and one or two near fourteen. But given even this modest level of success, I think we'll try another short trip tomorrow and head over Ute Pass to the Williams Fork Reservoir in hopes of maybe connecting with a pike.
5/10: Boy, it was another really mean weather day today. Mother Nature seems to have it in for us this spring. On our way over to Williams Fork, both Vail Pass and Ute Pass had slick, icy areas and plenty of new snow. When we arrived at the reservoir, the temperatures were bitter and the beginnings of a brutal north wind was already in evidence.
This lake is still a bit too low (by maybe ten feet) for us to reach our favorite fly casting flats, so I walked the gravel shoreline in a couple of spots and tried to get my big black streamer far enough into the lake to possibly find a pike. Amazing to actually have to break ice off the guides this late into May.
Really didn't have much success with that effort. The increasing wind directly from the north made casting nearly impossible. At one point I did have a couple of decent strikes that obviously were trout from the looks of the fish that hit the fly, but that was it. When we finally exited the parking area, I'd guess wind speeds at roughly 30 m.p.h. and waves were a good two to three feet high.
Since we would be close to Green Mountain when returning over Ute Pass, we exited right and drove back close to where we'd had such decent success yesterday for those small rainbows.
Hiked a bit further up the Blue today and began trying to streamer fish my way back down towards the lake. It was still very tough going. The wind was brutal here too - but the fish were in the river, and most of the decent holding areas gave up a strike or a trout.
It was pretty much a repeat of the prior day in terms of sizes - one sixteen incher being a happy exception, and I'd guess releasing maybe a couple dozen fish in an hour & a half of hiking downstream. So a decent ending to a difficult day. Hopefully next week in Utah will bring more pleasant conditions.
The Utah Trip.
5/13-18: Sue's off with some relatives on a two week exploration of Russia (better her than me), so it was up to the dog & I to do some exploring of our neighboring state of Utah. With eight or nine days to spare, the intent was to try some waters we'd not previously fished, plus of course have some fun on the regular can't miss spots as well.
On Saturday after lunch in Vernal while we could have headed directly to the Green below Flaming Gorge, thoughts of the inevitable weekend crowds suggested we'd be better off trying our first new warm water stillwater and head up to the Green once the crowds dissipated.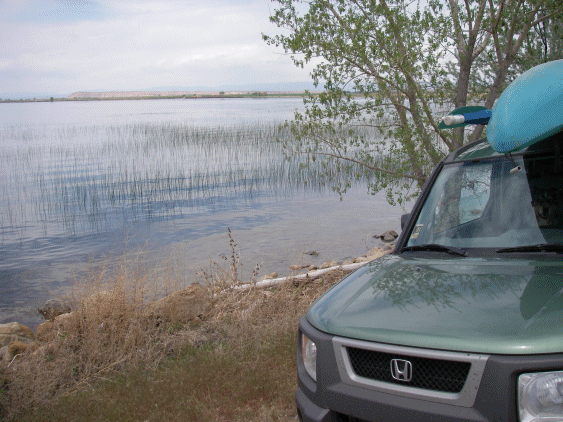 So we continued on US 40 for roughly fifteen miles west of Vernal and then turned left down highway 88 another ten miles or so to Pelican Lake.
To be honest the first appearance of this lake is really strange. It's situated down in a saucer shaped valley with very little but farmland around it.
Signage is very poor to nonexistent.
With no clear idea how to get to what's supposed to be campground area on the southwest side of the lake, we pulled right off the highway which passes close to and may actually be the dam for the shallow reservoir.
Even the water looked strange, but there was some small sized riprap by the road and a few gaps between what appeared to be endless reeds. As I had my floating line rigged up with a pair of different streamers, I started casting with that setup and amazingly started catching fish almost immediately.
Pelican Lake's claim to fame is purported to be loads of monster bluegills. I actually caught a few decent ones right off the bat, but picked up even more bass. Mostly small largemouths, there were a few smallmouths as well.
It actually was amazing fishing right out of the box. While the bluegills in this part of the lake weren't what I'd call sizable, neither were most of the bass, but the latter made up for that in quantity.
And I did release a couple in the fifteen inch range. During the half hour I was here I also hooked several doubles and one of the bass doubles managed to break off my 3X tippets, so I assume those two were probably better than decent.
Eventually I knew it was time to try to find a camp for the night so drove all around the lake in both directions before finally happening on the access road to the BLM camping area. It's a dispersed camping area (free), so that was great news.
For what it's worth should anyone reading this want to replicate this trip, the way to the campground is to head to the junction at the bottom of the hill just before reaching the lake, turn right on the county road to Randlett and then turn left on 14500 East and continue on that street until it turns into a dirt road and eventually arrives at the camping area.
There's plenty of room on decent back roads to find a place to get away from other campers, which we did. Unloaded the kayak and paddled out into the slimy looking water until we finally got past the reeds and into the lake itself.
From a fly caster's perspective, it's probably a mistake to fish the main lake itself - at least this time of year. The fish are all clustered in and around the reeds that blanket the lake pretty much around the entire shoreline.
The reeds are tough to deal with. I eventually put on 1X tippet - even for #16 dries and nymphs and still lost a boatload of flies to the tough vegetation. The problem is that the fish live more or less in the reeds exclusively, so cast there you must.
In all honesty, when all was said & done, I could easily have avoided rigging up the boat. The best fishing was directly by the shore in water that was easily wadable - which I did. Waders probably are a good idea though I simply wet waded. Water temperatures are plenty warm even in May, but the bottom is very slimy.
OK, so how was the fishing? The best phrase term I can think of is just unbelievably good. We did encounter very large bluegills, though not as sizable as I'd hoped. Most average ones are roughly the shape of my hand, but significantly broader. The numbers are astonishing. In the evening in the shallows it was tough to make a cast without a strike.
Fly patterns are probably also irrelevant. I ended up sticking with a #14 humpy type on the surface trailed a foot or so by any slightly weighted nymph. Wooly buggers worked too, but the dry/wet rig seemed to be best in the deeper reeds. The best fishing period was evening followed by early morning.
The numbers of fish one can catch in a day boggle the mind. If your arm held out, and your flies also, I wouldn't be surprised to release four digits worth of sunfish should one be so inclined. These large fish are fun fighters too, but after a while, even this good thing becomes a bit of too much of a good thing.
So much for that. Sunday it was back through Vernal, up 191 and a turn off to take a look at Red Fleet reservoir. Mistake. It's a state park with the only access point, boat ramp, and campground a couple miles off 191. I'd no interest in paying an entry fee, so we continued up 191 and then down to Flaming Gorge. As always, we drove to the put in area at the dam and did our regular hike roughly two miles downstream.
The river's running at about 1600 which is a very decent level. Unfortunately my normally decent streamer fishing on the down river hike turned into a complete bust. Don't know what the cause was - it just happened. Had only two strikes all the way down. Not a good start.
Things improved a bit after changing to a small comparadun/bead head larva combination and the strikes came more regularly. As the afternoon shadows deepened, the fish seemed to congregate more in the larger eddies and sipped some type of emerging midge relentlessly.
Took most fish on the dry with only a few to the larva. Sizes were pretty standard running from 12-16 inches. Virtually all were browns which was a bit unusual as this upper stretch generally provides a pretty split mix of rainbows and browns. Not a cutthroat in the bunch. Suspect releasing a couple dozen fish in the four hours on the water. Decent, if not great success.
Camped further up 191 and drove to Little Hole the following morning for our regular long (four mile) upstream hike. After a light breakfast & the making of a traveler's lunch for the backpack, we began the hike and actually pulled over to the edge of a longish run that we normally bypass. Gosh there were all kinds of heads coming up. It turned out to be a terrific morning.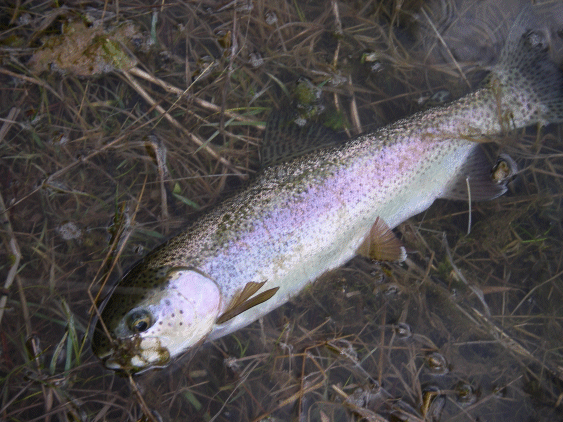 These #20 or 22 gray or tan comparaduns just worked wonders on the early-in-the-day sippers. By nine o'clock I'd probably released another two dozen plus browns.
Wonderful early day results. As it turned out, it was lucky we got off before the sun hit the water as things fairly quickly slowed down.
Middle of the day was just plain punk. The cloudless skies and super hot afternoon temperatures really put the fish down and killed off any midday hatches. In fact the only hatches we saw all day were the morning midges in the air. Nothing else came off at all.
To shorten this part of the narrative, the midday was slow. At the top of our hike the good water at that point continued to give up fish every few minutes or so, but it really wasn't great. On the plus side, our early departure basically gave us the whole river to ourselves - until the drift boat hatch began around noon time. Finally hooked the lone cutthroat of the trip up at the terminus of our hike, but he broke off as I was fumbling for the camera.
Had a quiet dinner at Little Hole and tried a bit of early evening fishing that was just marginally successful. With no night midge hatch I turned to short line nymphing with a #20 RS-2 and a generic #24 bead head larva and did land another half dozen fish, but it really wasn't great.
Next morning we'd planned a quick repeat of the early morning performance of yesterday, but as we started the upstream hike around 7:30, to my dismay, it became obvious that the dam was releasing the annual spring flood.
Don't know what the flow was, but it had to be in excess of 4000 cubes. Ripped vegetation off the bottom and generally speaking killed the fishing for the day. No hatches, no nothing.
Even trying to nymph was unpleasant due to the constant greenery catching the hooks on every cast. I usually like the high flow period as it moves fish around, but right out of the box, it was a mess. A few days later, things will calm down and the fishing should improve - as it always does.
So we gave up and headed back through Vernal and turned west on US 40 heading to Duchesne to take a look at Starvation Reservoir and the tailwater of the Strawberry River.
Unfortunately Starvation is another state park, so we passed on visiting it and instead drove over the dam looking for some kind of access to the tailwater. Directions are non existent. The stream actually looked decent from atop the dam, so we continued wandering around past the dam before giving up and heading back towards Duchesne on a back dirt road. Then a road to the right appeared which we headed down and came to a locked gate that would have completely barred entry, had a sign not read that foot travel was OK beyond this point.
No one else was around, but it appeared that access might be available, so we rigged up and did about a mile hike to the lower part of the tailwater and began fishing.
It's very pretty water, cold obviously, and probably flowing around 125. A freestone bottom and the banks and some pools have clearly been artificially structured by the DOW.
Absolutely no signage of any sort anywhere. Very strange. Clearly no catch & release rules here either.
Had no idea what to use so tried a variety of larger stones, caddis, mayflies, and finally streamers for the first several pieces of holding water. Actually didn't even see a sign of a fish for a third of a mile or so, but then in a big eddy, there were several shadows flashing about.
Finally figured out that I'd better go small and stay on the bottom and then began to get a few strikes. It's tough fishing.
The water's so clear and the fish so spooky, it reminds me more of a spring creek than a tailwater.
The fish absolutely are not habituated to people as they are on other tailwaters.
Making long casts with a 7X tipped and #22 RS-2 that matched the color of the stream bottom worked pretty well, but I still spooked and drove away way too many fish. Eventually released only a half dozen browns between 12-18 inches, and it truly was a lot of work.
Would have been much better planning to get here late in the afternoon and fish at nightfall rather than in the middle of an 85 degree cloudless day, but beggars can't be choosers.
With no interest in continuing here in the morning we packed up and did the long drive south through Price and Hanksville, arriving at Stanton Creek on Lake Powell about 8 that night.
The carp were splashing happily everywhere when we set up camp and hopes were high for the morrow, given recent reports about fishing here.
A quick breakfast and it was off in the kayak to do some trolling and bank casting. Temperatures here at the lake are almost unbearable even at 8:00 in the morning. The hot spell continues all over the West, and unfortunately it's going to mess up the fishing here as well. From the color of the lake we knew that the mountain snowmelt had to be raging. The lake is an ugly olive-brown color, and that change will have to negatively impact what reportedly has been wonderful fishing.
That turned out to be true. While I did catch a pair of doubles on smallmouths and juvenile stripers this morning along with a few other immature fish, the fishing really was not good. Even casting from shorelines that always produce some decent bass, not a good fish was in the bunch. Did manage to hook one ten pound carp on a tiny green bug near camp, but now it's mid afternoon, and I'm reluctant to venture back into the 95 degree temperatures that are roasting the ground outside our camp.
Thank heavens for the new canopy we can stretch out behind the back of the Element.
Despite temperatures that clearly approached 100 degrees, we made three separate forays on the kayak into the mouth of Stanton Creek.
Honestly the water's so dark from the massive runoff that I doubt a fish would see a fly or lure if it wasn't placed within six inches of its mouth, and clearly that's not going to happen very often in a water this large.
However, I did get strikes or small fish every fifteen minutes or so which pretty much conforms to our normal results when trolling with a full sink line and various weighted streamers. Two strikes were definitely very large fish, but I didn't connect on either. Stopping to cast off nice steep rock walls was a complete bust.
While we'd intended to put in a good four days of fishing down at Powell, given the ferocious heat, the poor water clarity, and a lack of decent shore fishing, we threw in the towel and exited the place early in the evening. Considered stopping by Ruedi reservoir on the way back to Vail but decided instead to give Williams Fork another try the next day. With more storms in the forecast for the Rockies, I hope our luck will be better than the last time we were there.
5/19-20: Postscript to the previously described trip. With only one day at Powell it seemed important to continue fishing here in Colorado, but it turned out to be not a good idea.
We headed over Ute Pass to Williams Fork reservoir on Friday morning. Runoff is in full bloom everywhere, and I should have known that fact would impact even this large stillwater. Pulled off at the inlet to the lake, rigged up a sink tip with steel leader and the dog & I set off for some hard core trolling for the local pike.
Zero results. Lots of paddling. Many lure changes along with depth alterations. Still no strikes. The lake's clearly - not clear. Unless a fly were placed directly on a fish's nose, there's no possibility of success. We gave up around noon. Put the kayak back on the car & drove up the Colorado to Shadow Mountain reservoir. Had hoped to catch the release to Grand Lake at a slower flow, but we were thwarted again. Probably a good 1000 cubes running through the dam.
Walked downstream a bit and threw wooly buggers along the banks. Played a couple of modest browns before turning around and nymphing back to the lake. Released a handful of tiny browns in this process. Rain from thunderstorms came down hard for the next six hours.
Drove back to Williams Fork through the storms and set up camp for the night. No more fishing as the weather was uncooperative. Next morning we tried several paddling miles of trolling and shore casting with no strikes. Have never worked harder for no results. The lake is simply too blown out by runoff, and until the water settles down, we'll not be back here.
Last Logbook Entry é for previous days
5/23-24: As with many trips this spring, my timing was once again lousy. As we passed through Buena Vista on our way (hopefully) to some stillwater fishing at either Spinney or Elevenmile, the local radio station was announcing that 35 m.p.h gusts were happening in town. By the time we arrived in South Park, the winds were far higher. Ugly. No chance of even trying to launch the kayak in either lake.
Stopped at Hartsel and tried the S. Platte at a favorite spot there, but the stream, while flowing at a decent rate, was the color of chocolate milk and quite unfishable.
On to the Spinney tailwater we drove. Interestingly in what should have been the busiest part of the season at this stream, no cars were evident. Apparently everyone but me knew the day was going to be impossible. It's worth noting that this tailwater is now flowing at roughly 260 c.f.s. due to Spinney being close to bank full. Anyway the wind was blowing a good 45-50 knots steadily and any thought of an upstream cast was absurd. We drove to the entry to Elevenmile and hiked upstream about a mile and began roll casting a black wooly bugger with the wind. It really wasn't a lot of fun - nor was it productive.
Just before we finished the hike a really dumb ten inch rainbow took the fly. That was it.
The rest of the afternoon we spent in the car catching up on some reading. Around six o'clock the wind toned down a bit, so we returned to the main parking area and hiked upstream another mile & a half. This time things got better. Fairly quickly I hooked & played a couple of fourteen inch rainbows and turned a number of other fish including a big brown that looked to be 22-24 inches.
It was frustrating to simply entice, but not hook fish, so I added what I call a "closer" streamer (a smaller green marabou) fifteen inches behind the larger black fly. It helped quite a bit and I did manage to play another half dozen decent rainbows on the way back to the car. Not a great day, but not bad either.
This morning we considered launching the kayak into some more wind, but instead chose the option of wading the stream one more time. It wasn't as good. The fish must have remembered us from yesterday. Darn. The morning produced only about another half dozen strikes and only a couple of fish released.
Began the drive back to home. Stopped once at the Badger Basin SWA near Hartsel with the same results as noted above and then one more pull off at the Kobe SWA closer to Leadville on the Arkansas. Here I released two more sub twelve inch browns that took a ginger colored bugger. The water's still pretty high & roily, but the color's not too bad. With hot weather continuing through the weekend, our runoff should peak shortly and the state will become fishable much earlier than we'd anticipated given our heavy snowpack this winter.
This weekend I'm off to Oregon and hopefully a bit of smallmouth bass fishing with brother Rick near Roseburg.
---
Home, Main Fishing Page, Fishing Report, Eagle River Access, Local Ten Commandments, Successful Fly Patterns, Search For Something