September, 2004
9/1: On this trip to Glenwood we tried a new spot on the Roaring Fork that requires some effort to approach. Needless to say, this characteristic is always appealing since it limits the number of people who will fish it.
Unfortunately the trout didn't seem to care that they were supposed to be more "innocent". I found a couple of browns hugging the bank alongside a fast run and a couple more at the tail of a shallow riffle, but that was about the extent of the catching. Hopefully the fact that it was a 90 degree sunny day with very low flows contributed more to my lack of success than did my apparent lack of skill at finding the correct fly.
At 5:00 a couple of caddis ventured out over the stream, but other than those insects, nothing else really stirred in the air.
9/8: A quickie trip to the Dowd Chute on the Eagle brought wonderful results again. This was the first time in my life I've ever seen brown trout in quantity actively the working mid and upper water column in the middle of the day. They actually weren't even bothered by my presence right beside them on a rock. Very unusual behavior. Obviously some of the active feeding is brought about by the nearing of spawning season, but with no insects breaking the surface, it's still strange to see the fish working so openly while more vulnerable.
Probably no more that twenty minutes of casting brought a good dozen fish to the release point - sizes ranged from 8-14 inches. Most took a #18 gray bodied WRS, the rest a #16 antenna pupa.
Tomorrow we head out on what should be a very interesting expedition, traveling to the Arkansas, Taylor River & Reservoir, upper Gunnison, Anthracite Creek, and probably the Crystal and Eagle as well.
9/10-13: With Sue away on a FEMA assignment to help with the latest Florida hurricane, it was up to the dog & I to beta test our latest acquisition - a new Honda Element.
To put it mildly, this may be the most fun vehicle we've ever driven - and it can also be used as an alternative to the camper vanagon when four wheel drive is a necessity. It's as close to perfect as anything I've yet seen.
Our trip was to be a long loop beginning in Vail down through Buena Vista and Gunnison and returning home via Glenwood Springs. We waded a variety of streams and rivers, and the fishing was really outstanding almost everywhere. Here's a review of each piece of water:
Arkansas River near Granite: Flows are typically low and clear. There were no hatches mid morning. Was surprised that the browns were not holding in their usual locations through this stretch - and for a while, I feared a skunk. Then when casting to very shallow riffle water, the fishing turned outstanding. Apparently every brown in the river had migrated to these more aerated locations. In the space of an hour we must have released a good two dozen fish. Most were in the 12-14 inch range with a smattering of six to eight inchers. A single ten inch cutthroat was the only exception to the brown trout.
Interestingly the original dry and nymph rig held up through this toothy onslaught but had to be replaced before the next stop. For what it's worth, with but two short exceptions, the only flies used on the trip were a #18 gray or dark bodied WRS on the surface and a #16 or #18 antenna pupa as a trailer.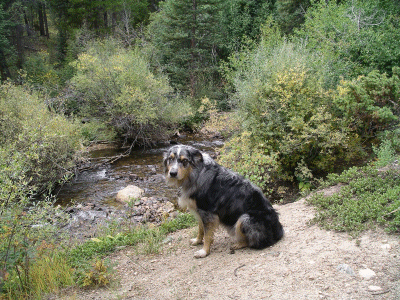 At Buena Vista we turned West and headed up Cottonwood Creek, a tiny stream all the way to the Continental Divide. As we moved higher towards the pass, the creek stair stepped uphill in a series of steeper drops interspersed with large flat sections of beaver ponds or wetland areas. It's tough to fish. Trout were spooky in the ponds and the stream itself was so overgrown that casting was almost impossible. Finally found a spot where the creek was open enough entering a pond that we could make some short casts and managed to release a handful of 6-7 inch brookies.

Over the pass we went and down into Taylor Park and that same named reservoir.

Drove to the Upper Taylor River to start and found it overrun with hunters pretending to be fishermen since the killing season didn't open for another couple of days.

Unfortunately they took over most of the better water and left us with only a few spots to turn to.

It was still decent fishing.

Browns seem to have prevailed in what once was mostly rainbow country, but the better pockets still held fish here and there.

One nice fourteen incher came from under a bush, but otherwise the fish were routinely small.
We also fished two other tributary streams that flow into the reservoir - Texas Creek and Willow Creek. Here the fish were all browns and all were undersized as befits the tiny water in which they lived.

Continuing West we stopped below the dam to look at the fish in the renowned tailwater of this river. Amazing. Huge rainbows finned everywhere in the crystal clear water. Fishermen too were all over the banks, but I actually did see one roughly six pounder landed & released. In an attempt at contrariness I tied on a large black wooly bugger and flung it a few times in the big pool below the bridge and got the result expected - nothing at all.

We continued down the main Taylor River, stopping a couple of times in the middle section and had absolutely no strikes. The stream was dropping so precipitously where we fished that very little holding water existed. On previous trips here we did pull a brown or two out of each wade, but struggling with this kind of water is not my cup of tea.

That night we turned off on FR 813, drove to the summit of the pass and camped in a wonderful open area on a ridge high above both the Taylor and East River valleys. It was one of those absolutely perfect free campsites that we always seem to find - especially important since we refuse to pay to camp anywhere.

The morning dawned miserably cold, cloudy, and rainy. It was so ugly we made no attempt to fish the lower Taylor and drove on to Almont and then through Gunnison on the way to the river of that name. Stopped just above Blue Mesa and began casting to what appeared to be completely a worthless, structure less gravel driveway of a stream. Fascinating. Wherever even the tiniest blip of a micro eddy existed fish were holding - and in quantities.

There were ongoing midge and olive hatches, but no sign of fish heads popping through the surface film.

Caught many moderate sized rainbows here along with some better browns. Most exciting of all, I had three separate sets of double hookups. Two were with smaller rainbows, but the last was a double of two twelve inch browns. Thank goodness for five pound test 5X fluoro. We fished this area for a good three hours and walked probably two miles of river. It was great fishing in water that really does look butt ugly.

More fun in the afternoon.

Drove back to Almont and turned up the East River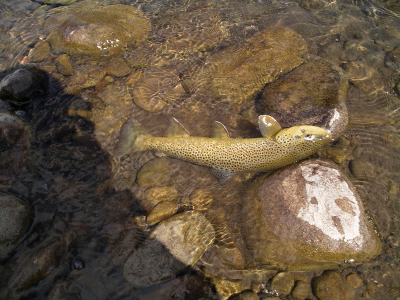 towards Crested Butte.

Pulled off at the Roaring Judy hatchery with the intent of looking at some of the spawning kokanee that were supposed to be heading up for the fall ritual.

Found out that there was a good two miles of catch & release water on this pretty little stream, so headed out to find some solitude. To put it mildly the fishing was absolutely great. Little native browns and an occasional rainbow made for superb dry fly fishing.

With a flow roughly equivalent to our Gore Creek, but with more open banks, the casting was easy and the fish were willing. Each of the long runs and pools gave up between ten and fifteen fish apiece - which is an amazing number since we probably found six or seven of those types of holding areas. Up near the diversion to the hatchery I also actually hooked a sixteen inch kokanee in some swift water. He "long released", but it was thrilling to have that happen. The best brown on this water was roughly fourteen and the best rainbow about a foot.

It had been a long day.
The dog was tired.

So was my main casting arm.

We next drove up through Crested Butte, over Kebler Pass, and headed down towards Anthracite Creek.

At the base of the pass was Erickson Springs Campground where we parked, had a glass of wine, and fished a bit longer right at the picnic area. More good success. Every pool or deeper run brought rainbows of 8-12 inches to the surface fly. It was almost too much to believe for one day. Happily the end was near as exhaustion was close at hand.

Drove further down Anthracite, and past the confluence with the North Fork Gunnison.

Paonia Reservoir is almost empty and the muck from the lake bottom is filtering into the North making the stream somewhat off color.

We continued downstream to another free camp site and cast a bit just before complete dark, but had no further strikes.

Got up Saturday, had a coffee/cocoa drink & headed over McClure Pass towards Redstone. Stopped at Elk Park in town and fished our favorite stretch of the Crystal. We were rewarded with a dozen or so smallish rainbows that still preferred the surface fly to the nymph. Nothing but rainbows here - darn. And strangely, none of the large population of local whitefish bit at all. A couple more pull offs downstream added to the "catch" (and release), and finally we returned to Glenwood Springs for a night of R & R.

Should have gone out on the Roaring Fork after dinner, as the wind was quiet and the stream looked great, but I was beat and the dog was already asleep, so passed on that thought.

This morning we loaded up and headed back for the barn. Did make a stop on the Eagle River around the Gypsum Ponds section between the town of that name and Eagle. My sense of this part of the river is that, much like the Crystal, it does not fish well early in the day. At least that's my excuse for lousy results this day. Except for pulling a ten inch brown out from under an overhanging willow, I had only one other strike at the lower section. Around 10:30 an olive hatch began, followed by good numbers of red quills, and some tricos around 11:00. None of the insects brought surface activity.

It got a bit better above the ponds although trying to watch a #18 indicator fly while looking directly into the morning sun on the water was almost impossible. That led to a good dozen missed strikes and lots of frustration. Eventually I probably released a handful of smaller mixed rainbows and browns. They were roughly split between the surface fly and the trailing nymph. At the top of our wade I changed to an olive wooly bugger to fish back to the car and on the third cast hooked a large brown in a midstream eddy. He shook his head twice and departed with the bugger - so either he had sharp teeth, or my knot was lousy.

That was it for this trip - and a good trip it was. Next week we head to Oregon to visit mom and will try to get in a few casts on the Umpqua's, perhaps the Crooked, Deschutes, etc.

If anyone reading this page needs a formula for a free inside-the-car rod holder, the one shown below was made from two coat hangers, and with only a slight variation, works perfectly in the Element as well as in our Vanagon.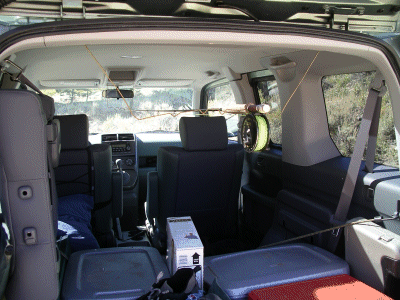 Its redeeming values are not only the cost, but the fact that its slender shape does not impair rear view mirror vision.
9/15-23: Thank god we're finally home!!!!!
That pretty much describes how pleasant was the latest trip to Oregon. I also now know that driving out there from Colorado is not a great option. Just too many miles and too many hours with scant time for any enjoyment along the way.
OK. Now on to the fishing. Actually it stunk too. The reasons for that are more related to time constraints than anything else, but weather played a part as well. We drove into the state and were met by a gorgeous rainbow just past Denio at the far Southwestern border of the state.
Camped just East of Adel and woke to frosty windows and temperatures probably in the low 20's.
That put a crimp on some plans to try the gorge area of the stream that flows down into a broad basin just down from that tiny rural outpost as it was just too cold early on to even attempt any casting.
So on we went to Lakeview for breakfast and then through Bly - passing up a chance to try to the Sprague River at a campground just above that town.
Headed over the shortcut route to Chiloquin and paralleled the Sprague almost to the Williamson confluence. We did stop & make a few casts at one of the many pull offs along this sluggishly flowing stream but neither saw nor felt any sign of a fish. The Sprague reputedly holds trout, but from my perspective the very slow flows (see photo below) throughout the portion we traversed simply would not appear to be favorable holding water for trout - there being little in the way of drops to aerate the stream for fish of any type.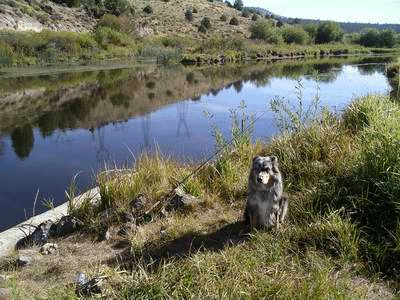 On we traveled. Just past Chiloquin, we pulled off at Collier State Park where the beautiful Spring Creek pours its gin clear water into what passes for the upper Williamson River. Here the stream is broad, fairly shallow and has very limited visible structure to provide refuge for fish. Despite walking and casting a good half mile of the river, again we neither saw nor felt any fish. Along the banks there were occasional glimpses of a fry here and there but nothing of consequence.
Turned off Highway 89 at the Diamond Lake junction and drove just past the lake of that name, stopping at one of the crossings of Lake Creek. Did manage to release a few tiny, but beautifully colored native rainbows here. Then drove on to the Lemola Lake access road and headed upstream to the inlet area of the lake. In the fall there apparently is a good run of larger brown trout from this lake, but again we saw no sign of any sort of fish being in the stream. Even attempts to spook fish from cover areas was unsuccessful. This is the very upper portion of the North Umpqua and it is quite a pretty stream up here. I'd suspect that given more than the half hour we had to do our wade here, we'd probably find some holding water.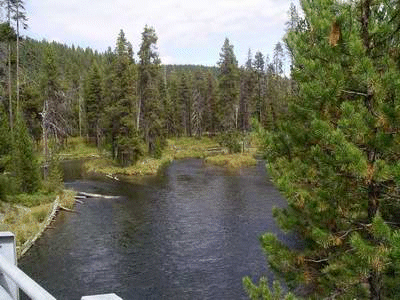 Camped this night just above the famous Steamboat section of the North river. It holds wonderful memories from our having fished there a good fifty years ago. This evening we were only able to release a handful of modest smolts that fell to a black wooly bugger fished deep on the edge of a basaltic run.
Next morning we took this picture of someone on the "holy water" right below the confluence of Steamboat Creek but opted not to try for steelhead here as our limited time would absolutely have not provided us with even a faint opportunity to either sight or possibly gain a strike from these elusive creatures.
In Roseburg the fishing was no better. Our favorite smallmouth areas were devoid of actively feeding fish compliments of a cold front that came through dropping temperatures and slugging mud into all the local streams. Even after the South Umpqua cleared, there seemed to be no interest on the part of the local bass to taste our wooly buggers.
On the way back to Colorado we intentionally took the long way around traveling up the McKenzie Highway toward Prineville and hopefully the tailwater of the Crooked River. Time limitations again prevented us from pulling off at any number of attractive spots along the McK.
As we had to pass closely by the fabled Metolius River on the way to Redmond, it was impossible to resist taking the five mile drive to Camp Sherman just to get a look at this beautiful little stream. Pulling in at a campground we found dozens of spawning Kokanee resting in the gravel of the streambed.
Casting over them was a waste of the limited time we had to spend here although given a few hours, perhaps a strike or two would have been our reward. As it was, some wonderful hatches were in progress - several caddis species, midge, pale morning duns, and another mayfly I was unable to identify. Did make a few casts to a heavily fished eddy and hooked one rainbow while missing a couple of other strikes. More discretionary time today would probably have brought decent results, but we had little to spare.
The Crooked River experience was a compete disaster. I drove the roads between Redmond, Prineville, and Madras for over two hours without every successfully locating the tailwater in question. Since my brother fishes here quite often, I know it's there. But somehow I don't think I'll ever try again to find it.
9/25: Ah, heaven is being back in Colorado. With a nice day staring at us, the family (Sue, Sky, & I) drove up to State Bridge in hopes of getting a few casts in on the river of that name. Although it had been muddy only a couple of days ago, two days of sunshine had cleared the river to a point I've never before witnessed.
We started casting our way upstream through a riffle area and almost immediately began catching fish. The water clarity was such that fish would even come up to the surface from runs deeper than we had ever experienced before. A combination #18 gray bodied WRS and trailing pupa seemed to work best all day. 90% of the fish came to the generic surface fly which was great by us.
Nice hatches of tricos followed by olives brought rainbows particularly to the surface in the foam line of every eddy we passed. It was wonderful to see these nice fish rolling in the foam scooping up some of the duns that fell to the surface. Strangely it didn't take matching the hatch to draw strikes although we probably would have done a bit better had we more closely emulated a baetis emerger.
Both of us caught numbers of fish and missed many more strikes. Sue estimated probably 20-30 missed completely. She also came within a brook trout of a grand slam today. One lone cutthroat broke up the dominance of the modest sized browns and better, but fewer rainbows. Best sized fish of all types was in the fourteen inch range. It was just a great day. Perfect weather and hungry fish.
Last Logbook Entry é for previous day
9/29-30: A pretty ugly trip to the Arkansas & Spinney tailwater (the "Dream Stream" - Not!). Heading South from Leadville we were amazed by the numbers of anglers on several places we'd hoped to cast on the Arkansas. Finally found the Tiger Lilly section available and did manage to release a handful of modest sized (8-12 inch browns) from the few eddies that were fishable in the canyon there. Fish seemed to take either the surface WRS or trailer pupa with about equal interest.
Also fished the River Park section at Buena Vista and did similarly well there, probably playing another dozen browns in the same size range. Had lunch & drove to Hartsel and again had nice success on somewhat smaller browns, but with the same fly combination.
Spinney tailwater looked great as flows have finally been increased to the point that the fish that still remain there can at least spread out a bit. We were probably too late in the day for surface fishing as the olive hatch - if it came off at all - was clearly done when we arrived. Fishing was very tough. Apparently CDOW has recently stocked the water with fingerling sized rainbows and I'd guess that the remaining larger rainbows & browns are pretty much satiated by eating as many of those stupid, tiny fish as they want, and that has to negatively impact the fishing as well.
I wooly buggered downstream for a mile before spotting a large rainbow sipping something in a tiny eddy by the bank. Twitched the bugger by it a few times with no success and changed to a WRS/baetis emerger combination. After a dozen more passes, the fish finally took the WRS of all things and we released a large, gnarly and obviously unhappy male of at least eighteen inches.
Further downstream another dumb rainbow took the black wooly bugger, but that was it for an hour & a half of work. In the evening we had not much better success, releasing only a couple more small rainbows.
Next morning was similarly lousy. Probably had on a handful of small browns and rainbows and gave up by 9:30 with the wind howling downstream already. Back towards Hartsel we drove, stopping at one of the pull offs above Spinney Reservoir. What a waste of time. Didn't see the vaguest sign of a fish, excepting a dead sucker. On to the Arkansas again and stopped at lower Granite. Decent fishing here, but tough casting wrong handed against another bitterly strong downstream wind.
Took one last shot at this river in the Hayden Meadows section and again saw not a single fish in what looked like decent water. Probably should have been streamer fishing.
---
Home, Main Fishing Page, Fishing Report, Eagle River Access, Local Ten Commandments, Successful Fly Patterns