July, 2004
7/2-5: Three out of four ain't bad at all. That's as in three great days of fishing and one lousy one over the 4th of July weekend. Unlike most years when we dread traveling over the holiday and generally hide out at home, we wondered if we'd find so much as a lonely rock to stand on given the expected massive crowds heading for the back country. As it turned out, we found not only plenty of space but excellent casting as well.
Picked up Sue with the vanagon in Glenwood after lunch on Friday and we headed back to our favorite stream. Got on the water by 3:30 and fished our regular stretch for the next three hours. Not a soul besides ourselves to be seen. Wonderful. The fishing was equally good. Although the previous week's caddis hatch had diminished, the memory of that event still worked in our favor and a double rig of floating dark bodied WRS and trailing antenna pupa still brought plenty of strikes.
The flow was still too strong for easy wading (530), but we managed to release a good couple dozen fine rainbows to eighteen inches and many more whitefish - the latter of which are still very active and continue to take surface flies as well. Camped that night next to the river and fished basically the same area the next morning. There was a nice PMD hatch going on, but our attempts to use that insect as an imitation proved fruitless so we returned to the setup of the day before and caught similar numbers and sizes of fish.
For a different kind of experience we then headed to Rio Blanco Lake and had all kinds of fun catching very nice sized bluegills and crappie along the weed beds in shallow water by the dam. Working our way around the impoundment we tried wooly buggers for the resident large and smallmouth bass but had very limited success. I suspect a boat would give us more flexibility and opportunity for these more wary fish.
That night it was van camping on a quiet mesa overlooking the forks of the Gunnison (320) and a great pasta dinner.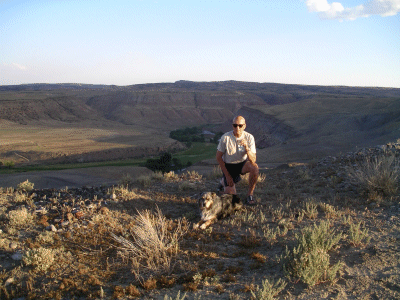 Next day we headed out early across the North Fork (230) and hiked quickly upstream hoping to beat some of the expected crowds up to our favorite waters. We didn't quite get up early enough so missed being able to fish some of the lower river's best riffles.
And the fish are still concentrated in the faster water. A combo floating/nymph rig still wasn't very effective. Despite fewer caddis on the shoreside bushes, these wary browns continued to prefer last week's setup of a leading gray bodied, dark winged WRS and trailing #18 or smaller brown bodied flat wing caddis. The latter fly has been extraordinarily successful on the last two trips here. The only way it can be fished successfully is in conjunction with a more visible attractor type as it sits completely in the film and is virtually invisible in the riffle water.
The fishing remained fabulous. Probably 99% of the releases were browns ranging from a couple of five inchers all the way to something over sixteen. And we released too many fish to even think of counting. It was just great.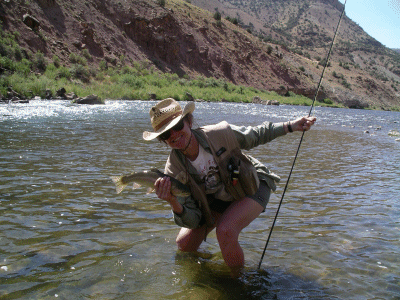 Most fun catch of the day though was a fat fourteen inch rainbow that Sue released in what she now wants to call "Sue's Riffle One", since she thinks she owns that water. Of course there's also a "Two", etc. All in all, it was probably the very finest fishing we've ever enjoyed on this stream.
That night we headed up the North Fork & camped just below Paonia Dam. On Monday morning the fishing - and us - more or less ran out of gas. The weather turned sour with downstream winds on both the North Fork and Crystal (460). It was tough to even buy a strike on both of these rivers still running too high for easy casting. A strike here and there was about the extent of our success today, but overall the holiday weekend turned out much better than we ever could have imagined.
7/10: With Sue off doing some "friendship" guiding for one of her relatives, the dog & I headed back to the Colorado at our favorite stretch near State Bridge. The river's still Colorado brown but eminently fishable and is as low as we've ever seen it. Apparently there have been no recent water calls on this part of the upper river which is allowing all the local reservoirs to be filled for later in the summer, and that's resulting in very limited releases through this section of the river with the resultant lowered flows.
It does make for wonderful fishing. Any holding spots near faster drops or riffles seemed to have plenty of fish today. We probably had a dozen fish on in the first fifteen minutes of casting. Although trying various rigs, the standard floating dark bodied WRS and trailing antenna pupa worked best throughout the session. Fish seemed equally split in taking one or the other.
As is generally the case here, nothing was really large sized and with only two (rainbow) exceptions, all were browns from 6-14 inches. The lower Piney yielded a half dozen small rainbows, and this latter river is still running a bit too high to be easily waded and fished down at the confluence with the Colorado. We do, however, hope to hike and fish the upper Piney in the Gore Range on Sunday.
7/12: Gore Creek's subsided from too much flow to almost too little (75) in what seems the blink of an eye. Biked out to the golf course section and cast in several of our favorite runs & pools with very little success. The afternoon sun was scorching - there were no hatches - and the fish were somnolent. Eventually managed to drag a handful of rainbows under twelve inches out from under some overhangs and from a deeper eddy, but the fishing was very difficult. Suspect that better fortune would have been had by deep nymphing - stubbornness prevented my changing to that approach.
7/14: Almost a duplicate of the above day - only on the village section of Gore Creek. Water temperatures reflect the air, and I'd guess the fish are feeding actively only in early morning and late afternoon. The only exception to rainbows of the other day was one pretty little eight inch cutthroat which are always a pleasure to see on this stream, given their relative rarity.
7/15-17: This late-in-the-week fishing expedition would best be described as a bad memory to quickly be forgotten. While waiting for Sue to leave work around 3:00 on Thursday, I had a bit of time to kill - so hopped down on the Roaring Fork below her condo and spent an hour fruitlessly casting with a variety of offerings on this very heavily hammered section of the river. The stream gradually rose and muddied as I fished due to upstream thunderstorms apparently impacting the Crystal, but I've no answer why I couldn't get a single hookup from any of the resident browns that sit by the shore this time of year. A half dozen strikes were it for here.
We then drove to our favorite river and with another thunderstorm building to the South, Sue elected to work on crossword puzzles and leave the fishing to me and the dog. I should have stayed in the van. The late hour in the day plus an unusual atmospheric condition of a building storm at my back coupled with bright light in front and the fast pace of the stream made seeing a fly literally impossible. I'd guess at 40-50 missed strikes in the two hours on the water. Eventually after changing to double (WRS) dries, I did manage to play perhaps 12-15 mixed rainbows and whitefish - yes, the whiteys are still coming to the surface. None of the fish were over fourteen inches - and mostly all self adhered to the fly, rather than my striking ability being the cause of the hookups.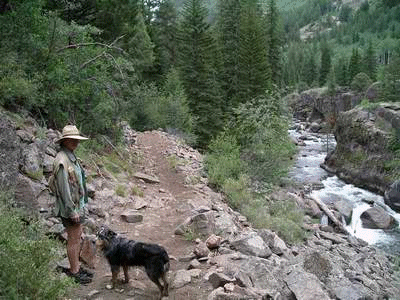 Next morning we drove to the South Fork trailhead, packed a lunch and hiked probably a couple of miles up this very beautiful canyon. While those who fish this area regularly might disagree with the following, we found long stretches of very flat riffle water to be devoid of fish simply due to no holding cover. Pocket water, deeper runs and pools all held a variety of sizes - mostly rainbows with a brookie or two here and there. Same rig that we used elsewhere seemed to be effective here - that being a #16-18 dark bodied WRS trailed by that antenna pupa. Hatches were sporadic - a few PMD's, some midges, maybe a few dun trico's, and a caddis or two. It wasn't great action, but I'd guess we played a good dozen to dozen & a half fish while on the hike.
My suspicion is that this river will fish easier and better when the flow reduces somewhat. It's very tough to walk beside the stream and although it's clearly mostly freestone, the rocks make for very cold, slippery footing. We'll probably take another stab at it later in the summer.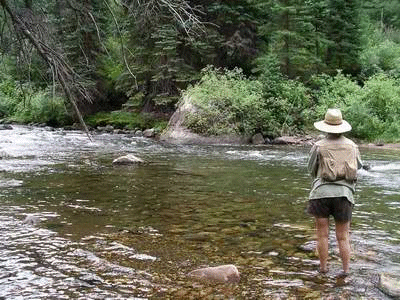 With storm clouds building we left the parking area and returned to our favorite part of the main stem and did the regular walk downstream intending to fish back to the car. Unfortunately another building thunder bumper spewed out wind directly in our faces making casting a joke. We struggled through the water and did manage a few strikes & hookups, but the fishing was really lousy. Eventually the storm hit hard, we ducked for cover, and got pretty much completely soaked. Sue broke for the car, but the dog & I stayed under cover until the storm passed, following which we almost immediately caught three nice rainbows from 14-18 inches. Same rig as above. On balance not our happiest outing of this summer.
7/22: Our daily thunderstorms are great for the fish and the quality of our local streams, but it's tough on the people who want to get on the water more than once a week. Stopped off at the East Vail section of Gore Creek for 45 minutes this afternoon (just before the latest storm) and had very modest success again. While I know the fishing is inevitably better later in the day, I still think fish populations are lower this year than in previous ones. No explanation for that.
Probably had a dozen strikes on the #18 dark WRS and only caught one small rainbow on a nymph - that being a #18 bead head buckskin. Have not been able to figure out what subsurface fly might be more appealing to these trout. As usual, all but one released were rainbows - the exception being an eight inch Colorado cutthroat.
7/24: Today was our annual hiking trip down the upper Piney River. Unfortunately it was also a busy summer weekend day and a few competitors got to the stream before we did. Usually hiking three miles puts some distance between ourselves and less active fisher people, but it was not the case today. Their casting ahead of us on our favorite stretch of water had something of a negative effect on our results.
Nevertheless the hike is always a fun excursion, and it's a pleasure to get to throw flies on a tiny, pocket water stream with lots of willows and other obstructions to try to avoid.
Sue fared a bit better than did I on this trip. She combined a surface WRS attractor with a trailing prince nymph and I suspect managed twice the strikes I received.
I stuck more to the surface and probably didn't optimize the setup for these somewhat wary fish.
We probably played a good two dozen or so fish between us, but none were particularly good sized - ranges were perhaps six to twelve inches max. Sue released one brookie and as far as I could tell, all the rest we hooked were browns. The better sized rainbows and cutthroats we've enjoyed in the past were not to be seen this morning.
7/26: With the dog in Glenwood having his annual vet check, and with the Outback low on gas, it seemed an opportune time to head over the pass to fish Ten Mile Creek and refuel (.30 per gallon less at Silverthorne than here in Vail). That stream between Copper Mountain and Frisco is lightly fished. The presence of I-70 following it closely through this stretch with limited pull offs doubtless accounts for that fact.
Despite the traffic noise the creek is lots of fun to fish. It probably holds four species of trout but is overwhelmingly dominated by smaller browns. It's mostly pocket water and trout populations are not high, but every decent piece of holding water will definitely contain a fish or two.
Unfortunately the daily afternoon thunderstorm was quickly approaching when I finally waded into the stream. Within a half hour I was racing back to the car to avoid a soaking but probably had a good dozen strikes, fish played, or released in that short span of time. All but one were browns, the lone exception being an eight inch rainbow.
Had hoped to continue fishing somewhere on the way back home after gassing up, but the storm was massive and further casting was rendered impossible.
Last Logbook Entry é for previous days.
7/27: Waited till the midday thunderstorms subsided and then headed out on the bike for one more session on Gore Creek. It was just great fishing this afternoon. The cloud cover coupled with my having not started casting until around 4:00 - plus some hatches (a few green drakes & some small caddis) brought fish to the surface and a smile to my face.
Trout had moved from under the rocks and ledges and were actively feeding in riffles, pools, and anywhere else they could see bugs on the water. Used a #20 dry WRS with a trailing unweighted prince. In all honesty the prince is a fly I don't like at all since I can't understand its allure. But since Sue had so much success on it last weekend on the Piney, I gave it a try today. And it worked. Most fish came to the dry, but at least a third sucked up the trailer.
Nothing was large - best was a fourteen inch brown and all else were smaller rainbows. Just great action though. Tomorrow we leave for Denver followed by Cheyenne's Frontier Days on Thursday and then some casting in the Snowy's and possibly the Encampment again before returning home on Sunday.
---
Home, Main Fishing Page, Fishing Report, Eagle River Access, Local Ten Commandments, Successful Fly Patterns