July, 2003
7/1: For anyone headed up to the mountains over the holiday weekend here are a couple of comments and suggestions. Gore Creek and the Eagle are still running too high to be easily wadable. Both are clear, however, and should fish well - wherever the fisherman can access some holding water.
These other streams might work better: Frying Pan, Roaring Fork, Colorado upstream of State Bridge & Kremmling, Blue below Green Mountain, upper Arkansas, S. Platte between Spinney and Elevenmile, and Gunnison lower portion.
7/2-3: On our way to Glenwood we stopped near the roundabout at the entrance to the town of Eagle and tried a few casts on that river in town. The stream's still clearly running too high to be handily accessible in our favorite spots, but I did release three identically sized (14") rainbows in a couple of places where the water could be reached. All took a surface sparkle wing WRS and caddis were present on the shore side bushes.
After lunch on the Roaring Fork in Glenwood we found fishing that was almost indescribably wonderful. It didn't start out that way, but gathered momentum as the afternoon progressed. Remember the numbers 1700-1900. At this flow rate the stream has not been accessed heavily along the banks, but the fish are still driven to be there by the strong currents midstream.
The only visible hatch on any magnitude were yellow sallies. A few larger golden stones, many midges, and a smallish mayfly (probably BWO's) were hanging out on the water. No fish were rising in the heat of this day. So logically we started out with a yellow stone hair wing fly and trailing bead head pupa. It was very slow going. Only had a handful of strikes in the first half hour of casting. Finally came to some deeper shore water and switched to a heavy cone head stone with the same trailing pupa. This worked better and we landed maybe 8-10 mixed browns and whitefish in sizes ranging from 8-18 inches.
Finally got to some shallower pocket water on a fast sweeping bend of the river and switched back to a brown sparkle winged WRS and trailing long antenna caddis pupa. Success! Almost every pocket held good sized browns and every so often a similar rainbow. The fishing was fantastic. Most fish took the dry - perhaps 25% the wet. The browns were wildly exciting fighters for a change. A handful jumped 4-6 feet in the air and more than that took off downstream like steelhead and broke me off. What a treat. I went through most of the new patterns and straightened out the rest of the hooks. The fish were fat and healthy and ranged between 12 - 19 inches.
It stayed hot fishing all the way through the afternoon. Don't know how many fish were released or hooked. Probably should have stopped, but once the water levels fall, we'll never see brown trout like this again all summer so it was worth the effort to continue as long as possible. Will be interesting to see if the (sparkle) wing modification to the WRS works as well when flows subside. Right now it's a real winner.
7/5-6: Because of the enormous crowds Vail generates over the 4th holiday period, we generally try to find a hole to hide in until things quiet down. However, since we had to go to the Minturn market on Saturday, the opportunity arose to throw a few flies on the Eagle just outside that town. That river is still running a bit high to be pleasantly wadable, but working the pockets along the banks where we could reach holding water, we were able to land a couple handfuls of the indigenous browns. Small sized and scrappy, they readily responded to our surface WRS's - especially given the presence of massive numbers of grannoms in the shrubbery along the banks. When the wind blew these brown caddis over the water, fish popped up everywhere to feed on them.
Today. Sunday. Since the Piney River has slowed to roughly 79 c.f.s. near the lake, we chose to do our annual hike downstream to the old beaver ponds and lucked out in only encountering another three fisher people the whole day on the four miles of trail we hiked. This stream too is a bit high to be waded in many of the better spots, but it was wonderful fishing.
Virtually every pocket held fish and they came eagerly to either the surface WRS or a trailing caddis pupa. Sizes are appropriately smallish for this kind of water although I did see a fat fifteen inch sized rainbow in a small eddy where he could not be accessed.
Sue was blessed with a grand slam of all our local species. I had all those types on at one time or another but only managed to release a number of browns and brookies. Sizes for all the strains ranged between 8-13 inches. Browns were generally larger. The fishing was fabulous as it always seems to be down here. Just a great experience. The only negative was the presence of too many deer flies - several of which simply ignored the liberal coating of deet we'd slathered on before setting off on the hike.
7/8: First outing on Gore Creek this year. Actually we could call it Gore River since the flow at its confluence with the Eagle is 473 as of this date. It's tough wading still - which is also a good thing since that fact makes it difficult for people unfamiliar with the stream to access many of the prime holding areas. Sorry, but I'm selfish in that regard.
Took the bike out to the golf course section for 45 minutes of casting. It wasn't overwhelming, especially at first. Given our 80 degree temperatures there was a flotilla of tubers coming past me for the first few minutes and that pretty much put most of the fish down. Also no hatches whatsoever in evidence. Cloudless skies added to the difficulty. Kept on the same rig that had worked so well on the Piney over the weekend and it was moderately successful. First run yielded a couple of 12 inch rainbows followed by a pair of brookies, one of which was a good 14 inches. Very unusual size for this stream.
Then I peddled up to "nevermiss" and the hole lived up to its name. Missed a handful of strikes from larger rainbows and then released another handful of smaller ones. The fish in all places took either the surface WRS or the trailing bead head pupa equally. It probably would have been more productive to nymph all day long but not nearly as much fun.
Thursday we head down to Glenwood to try the Fork again - then will move on to the North Fork Gunnison, main stem Gunnison, and some mountain lake & stream fishing on the Grand Mesa over the weekend.
7/10-11: It was another of those from the "penthouse to the outhouse" sessions over the past two days. With Sue in North Dakota at a sorority reunion the dog & I took the van on a long loop trip towards the Gunnison area. Heading up the Crystal (it's still running too high to be easily fished below Avalanche Creek) we did pull off in a favorite stretch near Redstone and had wonderful fishing for about an hour. Used the same surface WRS and trailing bead head pupa that's worked so well lately. Fish were laying mostly in shallow water near the bank and took either fly with the same abandon. Probably played 16-18 fish in this time frame. Mostly smallish. Best would be a 14" rainbow.
Headed up & over McClure Pass and then stopped at another favorite spot on the upper North Fork of the Gunnison. That stream's still quite colored as the releases from Paonia Dam are coming from the bottom instead of pouring over the top, and the sludge blends with the flow from Anthracite Creek to make a semi visible bottom. Flows are also still quite strong. This section changed shape markedly since spring runoff. Pocket water we found fabulous last year had disappeared. Happily the resident rainbows had simply moved to different locations and we enjoyed another hour or so of good releasing. Fish were roughly sized like those on the Crystal and again, they took either the surface or sunken fly with equal grace.
As we continued West through Paonia & Hotchkiss, the air temperature became almost like an oven. Thermometer on the bank in the latter town showed 107 at roughly 1:00 in the afternoon, so I suspect the Gunnison canyon was substantially higher when we began wading upstream at the forks. The dog hates this kind of heat & wallowed in the stream or hid under bushes as best he could. It was tough hiking the three miles upstream but eventually paid off in good fishing again. Flows on the main stem have doubled recently and this has somewhat changed the dynamics of where the fish hold and how they feed. Hatches were pretty much nonexistent with only a few yellow stones & caddis about. Grasshoppers were plentiful and a change to a double surface rig of that terrestrial plus a surface WRS brought good success.
It was interesting that more often than not the fish were lured to the surface by the larger hopper but they ended up taking the WRS. We hooked lots of mixed browns and rainbows in a variety of sizes. Best brown was roughly 16" and the longest rainbow about 14". Drank about a gallon of water on return to the van.
To get out of the heat and look at an area of the state we've never visited, we took highway 65 up from Austin into the Grand Mesa area. It's really a beautiful drive and the temperature really did drop substantially by the time we hit the plateau on top. Rather than belabor the point, I was pretty disappointed by the lakes on the mesa. They're almost all man made. We fished - or at least cast about on a couple of them and saw no fish at all. In fact while driving past many lakes, we saw not a sign of a dimple on the surface. I'm sure there must be fish in them, but with all the commercial development and vacation homes up here, perhaps the bait fisher people are cleaning them out. The lakes and joining tiny streams are dreadfully low as well. It just doesn't look like a healthy environment and is a place we'll not revisit.
With no decent camping areas at hand we headed off the mesa, down to Colbran and turned up towards Vega Reservoir hoping to camp there and also fish the tailwater. No luck that way. All private water. So we took off on the forest road back to 133 and camped overnight in the mountains.
Today the "outhouse" experience began. This morning we finished the loop and headed downstream again on Hwy. 133 turning left at the base of Paonia Dam and headed up to Erickson Springs on Anthracite Creek. Just looking at the creek gave us pause. It's still running too full and the valley looks like an "A" bomb went off in the stream bed. Apparently the runoff this spring was massive. All of our favorite holding areas were blown out and despite spending an hour here, we saw no sign of a fish. They'll come back, but I think we'll not for another year. Tough casting with a 20 m.p.h. downstream wind.
At the base of the dam we walked downstream on the Gunnison North Fork and did enjoy releasing another dozen rainbows. More tough casting into a strong headwind. Then we drove back up McClure and stopped at a new spot on the Crystal and had more success there, landing a few more rainbows, browns, and the only cutthroat of the trip. Tried the Crystal again below Redstone, but the raging downstream wind made any kind of presentation impossible so we retired back to Glenwood for the night.
That evening after dinner we tried the Roaring Fork near the condo. I managed to fall about 20 feet on to some rocks after slipping on the descent and now have more road rash than I'd previously picked up in a lifetime of climbing up & down stream banks. The most maddening problem this day was not the road rash but the downstream winds. We literally fished five different areas within 30 miles of one another on streams facing all 360 degrees of a circle and managed to have nothing but headwinds to contend with on each outing. It was inexplicable. My discussion with Mother Nature is unprintable.
7/14: Our trip to the county offices presented the first opportunity in a long time to try the Eagle in the late afternoon. The stream looks to be dropping quickly, but in all honesty, it was still a bit too swift for my taste especially in the part of the lease water where we tested it.
When the first couple dozen casts with an up & down rig of surface WRS and trailing caddis pupa produced absolutely nothing, it was incumbent change to a deep nymphing setup, but my mind rejected that logic. Eventually a stupid 14 inch rainbow in a pocket succumbed to the WRS and shortly later upstream a feisty 16 inch brown took the pupa. But that was it for the hour we spent casting. It was interesting that absolutely no hatches of any sort were present. Very unusual for this time of year. Couldn't even shake a stray caddis out of the streamside foliage. Within a week or two though this river should be fishing perfectly.
7/16: Last night's (blessed) thunderstorm (our first moisture in July) colored Gore Creek this afternoon. Wading was tough because of the increased flows. No hatches again were present. The same rig as on the 14th produced a handful of smaller rainbows & brooks in the East Vail section of town.
It's amazing how much the stream bed has changed with the enhanced runoff this spring. Actually it looks like the changed creek profile will produce better holding areas once the flows decrease to more normal levels.
Tomorrow we try the Colorado at our favorite spot above State Bridge - and this weekend - the first trip to the White.
7/17: The Colorado was roily and coffee brown when we drove down to it near State Bridge today. It would have been impossible to hike to our special spot along this river, so with flexibility being the order of the afternoon, the dog & I opted to wade up the lower Piney. Though the flow gauge is showing only 46 c.f.s. as a flow, the wading is surprising difficult at this relatively low rate. A narrow stream bed and slippery, variable sized freestones made it tougher to hike upstream here than ten times that flow would on a river like the Gunnison.
Happily the fish cooperated. Almost every pocket or deeper run produced a strike or two. Used the same conventional up & down combination rig. Drifts would probably have been more effective using only a surface fly, but the larger rainbows generally took the bead head pupa. Not that they were very large by normal standards. Suspect the best fish was in the fifteen inch range with most between 8-10 inches. Caught two whitefish, a couple of smallish browns, and a good dozen of the rainbows. Nice results for an hour or so of casting.
At Wolcott we picked up a cold drink and having some time to spare, drove back down the Eagle and found a short open stretch of pocket water to try along the bank. Here we actually saw some decent insect hatches for a change. Most flies in the air appeared to be BWO's, something I would have thought impossible on a hot summer day, but I don't know what else they could have been. Also a number of good sized caddis and a few red quills were about. As I was casting off handed again, my line control was simply awful and I managed to miss 70% of the strikes. Did manage to release a handful of mixed browns & rainbows - the best of which was a sixteen inch bow.
7/19-20: This weekend Sue was taking her two sisters on a short overnight camping trip in the vanagon and for protection from bad people & bears, they required that the dog accompany them. Consequently I was on my own for a different outing - - with no companionship. So loaded up the Outback with camping gear & a bivy sack, the obvious fishing gear, and headed up to the White River for the first time this year. That stream is still running on the high side with flows in the Buford area at roughly 460 c.f.s. Wading is tough, but doable if the wader has moderately sized cojones.
Arrived on the river above Meeker at the bottom of our favorite stretch and began the hike upstream. At first it was spotty fishing with only smallish rainbows coming to either the surface WRS or sunken bead head pupa. Eventually in the absolute heat of the day with no cloud cover, the fishing heated up fairly rapidly. A nice long pool produced a handful of rainbows in the 14-16 inch range and one fabulous brown of a good four pounds and 21-23 inches in length. I'd never even seen a brown on this river before today. And it took the surface WRS. Unthinkable lack of concentration on the part of a fish of this size and obvious intelligence.
The reality is that there was a very recent major stone fly emergence. In fact a few moving nymphs with shucks intact were still visible on the shore side rocks. So the coloration of the WRS and its general size turned out to be a lucky break. At the point that I finally understood (duh) that the fish's focus was stone oriented, I also shifted to a trailing stone instead of the caddis pupa.
The rest of the afternoon fishing was simply wonderful. This river may be the best I ever have fished or ever will fish. The quantities of amazingly full bodied rainbows far exceeds anything I've ever seen anywhere else in the country - - - and this is public water accessible to anyone.
Eventually I clipped off the hook points and simply "tag" fished - letting the trout taste the fly but with no hook point entry. Even by taking a few hours off from this part of the river to try the upper North Fork, I suspect that I touched something into three digits worth of various species today. Rainbows in the 14-18 inch range were abundant with a single brook and that single brown, plus several nice whitefish released before returning to the Outback just before 6:00 in the evening.
Then the cell phone rang.
Sue's sister camping trip had disintegrated, and Sue was calling from the vanagon about ten miles from Sleepy Cat on the road where I was at that moment taking off my wading sandals. We connected and spent the night at a wonderful (free) campground roughly eight miles above Buford. Today we revisited all the same water that was fished yesterday and experienced similar success.
The fish were more wary but results were similar. Happily today we also experienced a decent caddis hatch and found some nice red quills in the air. The new sparkle winged WRS's seem to generically match all these local insects as well as can be hoped for. I caught the only cutthroat of the trip and Sue's twenty inch rainbow was the best sized of that strain for the weekend. Life's almost too good. Next week we head North for Cheyenne's Frontier Days and then take a trip across the upper part of Wyoming on our continuing quest for that state's grand slam of cuts.
7/22: Unlike last weekend's outstanding success on the White, today's beginnings on a seldom fished section of the Eagle lease water (283 c.f.s.) was a disaster. While this portion of the river is not easily accessed and appears to have plenty of structural diversity, I've never had much luck on it. The few barely visible hatching insects were a few yellow sallies and some smaller caddis sitting on the bankside foliage. Many Pteranarcys shucks were on rocks by the shore indicating a major recent stone fly emergence.
But casting imitations of all these insects - both nymphal and surface types proved fruitless at first - with the single exception of a tiny brown. After 45 minutes of wading and casting, I thought the day would be a complete loss.
Then upstream an off handed toss of the surface WRS into a midstream eddy brought a huge rainbow to the surface. Naturally I struck several minutes too late. A few casts later the fish rose again and again I missed it. Ugly misfortune. There was no "third time's a charm."
Things got better from that point forward though. The big run below a rapids was very productive. A combination rig of surface WRS and trailing antenna caddis pupa worked wonders. The fish in this section were exceptionally good sized. Most were lured to the pupa by the surface fly and takes on the bead head were fierce. While I missed any number of surface risers, the pupa brought a good 7-8 fish to hand - all of which were in excess of 15 inches, the best of which was a solid 20. Interestingly I saw a couple more fish that were longer than two feet. Only one was a brown. All the rest were rainbows.
Tomorrow we head off towards Wyoming with an overnight stop on the Poudre for a bit of casting there before Frontier Days on Thursday.
7/23-28: Previous ventures into our neighboring state of Wyoming have given us a taste of trout fishing across the Southern and Western portions of the state. This year we opted to finish off the middle and Northern sections. After watching Frontier Days in Cheyenne we headed up I-25 and camped in the vanagon near the town of Buffalo. No fishing awaited us here. In Sheridan the next day we visited that wonderful bastion of Western gear - the King Saddles shop, enjoyed the on site museum, and of course left an appropriate number of tourist dollars in the shop itself.
Turned off I-90 North of Sheridan on U.S. 14. At the top of the pass we found a short stretch of a wonderful little stream (Prune Creek) where the nice - albeit smallish - rainbows and browns fell easily prey to our surface flies. Then it wan on to Alternate 14 at Burgess Junction where we turned off on a short forest service road down to the North Tongue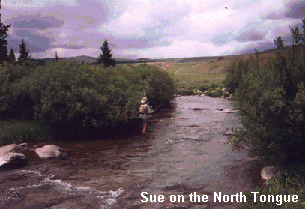 high in the Bighorn Mountains. This was probably the best fishing of the trip and the easiest access to good water. Had this stop come later in the trip we'd probably have spent more time here. Even directly off the public road the stream was chock full of small to medium sized rainbows. They loved our bushy WRS's and took them repeatedly. The catching was so easy we simply didn't spend as much time as we should have here.
On the assumption that the South Tongue would be equally good, we left the North and headed back down U.S. 14. Unfortunately where the road crosses this South fork, the flow was so minimal, it was basically unfishable. No other opportunities presented themselves until the bottom of a pass where we hit Shell Creek.
A beautiful bedrock type stream, we saw absolutely no fish in the short time we tried it. Then it was on to the town of Greybull and a crossing of the Bighorn River - which was murky and unfishable.
Eventually we got to Cody, drove through it and camped along the North Fork of the Shoshone. More bad luck. The river was still too high from a late runoff and was milky colored as if by glacial melt. We had a number of strikes and played a couple of fish by throwing wooly buggers in some eddies, but it was not decent fishing. Back in
Cody we visited the outstanding Buffalo Bill museum with its Whitney Art Gallery that contains works of extraordinary quality and could be revisited for many enjoyable hours of viewing.
Heading South through Meeteetse I tried throwing a bugger in the Greybull River where it passes through the middle of town and again had no success. The river was still just too high, and no holding areas existed. The local museum, however, was the highlight of this tiny Western town.
Just past Thermopolis we stopped at the Wedding of the Waters - where the Wind River becomes the Bighorn. No room to wade and the few casts we made with a bugger brought no strikes. The Wind River canyon (on the reservation) looked promising, but we had no permit to fish it, so passed on this water. The rest of the trip through Riverton, etc. we did not fish as we'd done some casting previously on the Popo Agie and its tributaries.
Finally got to Big Piney and headed up the South Fork of the Piney looking for the ever elusive Colorado cutthroat that Sue needs to finish off her cut slam. Same results in that regard. Saw zero cutthroats, but did land a few small rainbows. Drove over the Tri Basin Divide and back down La Barge Creek looking for the same thing. Again no cutthroats, but we did have some very nice fishing at the junction of Sheep Creek. Hooked and released numbers of smaller rainbows primarily on hopper imitations and caught a few nice whitefish with the trailing caddis pupa.
The next day we drove to the Green River tailwater of Fontanelle Reservoir. This is supposed to be terrific trophy fishing, but again we drew a blank. It's tough water to figure out - being wide and swift by the dam and then flat and weed filled further downstream. We tried every tactic we knew in the heat of the day with no strikes whatsoever. Probably needed to fish early morning or late evening, but we had not enough time to waste. That night we drove to a high plateau above Flaming Gorge & spent the night.
Monday we dropped down into Little Hole on the Green and did our regular walk up into the "A" section of this tailwater. As we'd never visited here outside of the spring and fall olive hatch, it was interesting to note the changes to the river in the heat of the summer months. Much more streamside and river bottom vegetation exists. It was tougher to find fish, but when a relatively light caddis hatch went on for a couple of hours, we caught numbers of nice browns and rainbows using a grey bodied WRS and the same trailing pupa that's worked so well this season.
So what's our impression of Wyoming fishing? On balance I think we have better quality stream fishing here in Colorado, and the streams are far more accessible. The only part of Wyoming we'd ever return to fish again would be the Jackson Hole area. The Snake, Gros Ventre, Hoback, and their tributaries offer exceptional cutthroat fishing and all in a relatively compact, easily driven area. It's absolutely true that many remote mountain regions of Wyoming contain unspoiled lakes and smaller streams with great trout populations, but access to those areas can be a problem if the fisher person is not also a back packer - or willing to employ the services of an outfitter.
Last Logbook Entry é for previous days.
7/31: Our first outing on the "home" section of Gore Creek today was something of a disappointment. Part of our lack of success was caused by the presence of several fishermen upstream ahead of us. This stream is so small that any passage of people will cause a good hour or two of disruption in feeding patterns - at least that's my excuse.
Tried pretty much the same floating fly/nymph combination that's worked so well lately elsewhere, but today every fish took the dry. It's a slightly modified "root beer" colored sparkle wing WRS. Missed several strikes early on and then released a handful of rainbows to 15 inches and one gorgeous 12 inch cutthroat. The latter was colored much like a Yellowstone, but as we're several hundred miles from that habitat, we'll have to declare it a Colorado strain.
---
Home, Main Fishing Page, Fishing Report, Eagle River Access, Local Ten Commandments, Successful Fly Patterns